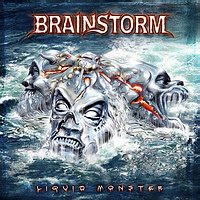 LIQUID MONSTER
» lyrics
» reviews

1. Worlds Are Comin' Through
2. Inside The Monster
3. All those Words
4. Lifeline
5. Invisible Enemy
6. Heavenly
7. Painside
8. Despair To Drown
9. Mask of life
10. Even Higher
11. Burns my soul

limited edition digibook comes with DVD "Streets, Stages & Studios":
30 min. on and off stage footage + extra audio track

Line-up
Andy B. Franck · lead & back-up vocals
Torsten "Todde" Ihlenfeld · guitars, back-up vocals
Milan "Mille" Loncaric · guitars, back-up vocals
Andreas Mailänder · bass
Dieter Bernert · drums
additional musicians:
keyboards · Ferdy Doernberg
additional keyboards on track 3 and 9 by Michael "Miro" Rodenberg
female vocals by Carmen Schäfer

produced by Brainstorm · all songs written and arranged by Brainstorm (Storm Your Brain-Music / Franck'n'Free-Music)
engineered and mixed by Achim Köhler @ House of Music Studios / Germany (Nov./Dec. 2004)
additional engineering and mixing by Ingmar Schelzel
drum editing by Dennis Ward
mastered by Achim Köhler @ Indiscreet Audio Jan. 2005

Bonus DVD (lim.Edition)
video footage by Mailänder, Loncaric, Franck · cut by Michael Schneider

audio track "Before The Dawn" written by Downing, Tipton, Halford

total artwork by Tom Thiel · layout and typesetting by Thomas Ewerhard
art direction and logistics by Andy B. Franck · photography by Alex Kühr

2005 / Metal Blade: 3984-14526-0 (digi) · 3984-14526-2
LIQUID MONSTER LYRICS
WORLDS ARE COMIN' THROUGH

Can you ever release me
Or do you fear the pain
You're the better part of me
And it doesn't matter where you've been
'Cause I'm counting broken pieces
And I'm taking over to the light
I fall asleep to meet you where
All my fears and dreams unite

Wherever you are
I'm hiding myself behind
But the sadness in your eyes
Makes me hold you tight

Never meant to lie
This is the last good bye
There's nothing else to do
When worlds are comin' through
Almost read my mind
Afraid of what I'll find
I'm coming closer to you
When worlds are comin' through

Why couldn't you tell me
About the perfection of pain?
Now you're coming over
From breaking all the boundaries of shame
But every time you think of me
I'm coming through walls
And picking up the pieces
Right before the darkness falls

There's no more laughter
There's nothing left undone
I'm leaving this insanity
And I'm leaving on my own

Never meant to lie
This is the last good bye
There's nothing else to do
When worlds are comin' through
Almost read my mind
Afraid of what I'll find
I'm coming closer to you
When worlds are comin' through

INSIDE THE MONSTER

All the words you said to me
Are bleeding me dry
All those colours you've shown me
Are fading away and I ask myself why

Through the looking glass
I'm too blinded to see
You shall not fall, neither shall I despair
In some way you'll remember me

You're blessed by the fate and it runs through my veins
Your mind's gone astray and you don't know my name

Inside the monster I'm alone
The nightmare continues and I'm on my own
Inside the monster I can see the force
I'm haunting my fears, I'm inside a war, inside the steam

The candles are burning out
Nothing ventured nothing gained
You never know where life will take us
But I hope to breathe again

Am I wasting my time
Am I losing my pride
Sift through the darkness, all I hope to find
Are the things that you hide

Escape from those things you put me through
I'll surrender but now I've failed you

Inside the monster I'm alone
The nightmare continues and I'm on my own
Inside the monster I can see the force
I'm haunting my fears, I'm inside a war, inside the steam

You're blessed by the fate and it runs through my veins
But now I'm free of the fear that you obtain

Inside the monster I'm alone
The nightmare continues and I'm on my own
Inside the monster I can see the force
I'm haunting my fears, I'm inside a war, inside the steam

ALL THOSE WORDS

All those words you hide inside
Won't last forever but they'll come true

I'm lost in the cold where rain turns to snow
I'm losing my mind there's no highs only lows
And you see my tears freeze on my skin
Confused by the dreams and illusions inside
The memories you fear are the shades of your pride
Whatever remains, it won't be the same

You're screaming out my name
When the snow melts around me
But I can't take back those words I said
Much to my regret

All those words you hide inside
Won't last forever but they'll come true
I'm on the edge of dark and light
And something more than what I knew

Time drifted away but your day came true
One second to leave's like nothing for you
You're nowhere to be found as I've looked around
I'm here to bleed, my world's standing still
The haze inside my brain, I can't get my fill
Whether sorrow or pain, all looks the same

Am I supposed to be the one
To set the snow on fire?
It will begin to burn within
That's for your desire

All those words you hide inside
Won't last forever but they'll come true
I'm on the edge of dark and light
And something more than what I knew

All those words you hide inside
Won't last forever but they'll come true
I'm on the edge of dark and light
Reflections in my mind of something I once knew

LIFELINE

We're breaking through and now I'm here
You'd better listen to things and show no tears
On the line, awake to see
Again you've got to capture me to set me free

All the laughter in my brain
All the memories drive me insane
Time to change my thoughts for you
I feel your breath but what can I do?

I stared you right between the eyes
And put your life on the line
I stared you right between the eyes
And lay your body next to mine

Through temptations all around
I make the tears come out of you and let them drop down
You're the victim to stir my pride
I'll try again to find a passage out before I lose my mind

That's all I'll do, that's all you need
Unfinished business, I'll make it complete
You can't take it, it's so unreal
What you deserve and how I feel

I stared you right between the eyes
And put your life on the line
I stared you right between the eyes
And lay your body next to mine

Your desperate tears you cried in vain
Don't fool my friends it's treated all the same
That's what I do, that's what you need
Unfinished business, now made it complete

I stared you right between the eyes
And put your life on the line
I stared you right between the eyes
And lay your body next to mine

INVISIBLE ENEMY

In the absence of light all my voice I've been giving
It turned me around and got me believing
You're watching my world but I don't mind
My soul begins to scream, it's a matter of pride

Soon my dreams will disappear
Caught somewhere between my fears
A poisoned mind conspiracy
It calls my name, the invisible enemy

I came across all those things I'd never have seen
Long after dark I still try to fall asleep
My tongue betrays my fears and mind
Who I once was has slowly died

Soon my dreams will disappear
Caught somewhere between my fears
A poisoned mind conspiracy
It calls my name, the invisible enemy

HEAVENLY

Here I am, never found the words to ask you why
I've seen you laughing and see you cry as you walk by
You've been to where I'm from but my dreams will take you there
It's all in your hands, don't wake me up and meet me there

And you wonder how I ever could have been so blind
I believe in you, you've never been on my mind
Heavenly home of my dreams
Too close to see, you captured my heart
Heavenly home of my dreams
Colour my tears, where dreams fall apart

So if you're going to save my words all the words I tried to say
And I guess all my fears are just a breath away
Maybe I'll find a way and another chance to be sure
You send a smile to my skin, like you ever did before

Can you really show me how you feel inside?
As for the first time I'm looking in your eyes
Heavenly home of my dreams
Too close to see, you captured my heart
Heavenly home of my dreams
Colour my tears, where dreams fall apart

But it's bending my mind again and all that it's supposed to be
You were always there but you better get your hands off me
Heavenly home of my dreams
Too close to see, you captured my heart
Heavenly home of my dreams
Colour my tears, where dreams fall apart

PAINSIDE

Through the eyes of a man to his soul deep inside
Illusions appear as the morning will rise
It makes no sense to me
Oh father can't you see

My desperate need to be together
Now I'm leaving my fears to hold on to never
There's no one beside me
The answer to the mystery

Away from the dark and the night
I'm away from the years
I'll never leave the pain inside
And hide myself in tears

All I hear now, these words you say
All my thoughts drive me hopelessly insane
All I see now as I lie awake
Sell your soul, never to return to life again

I'll take a look at the sky where the night turns to day
My depression descends now it's time to pray
It's no more what it seems
Like in your wasted dreams

Swallow my fears and illusions of lies
The truth always hurts, so you're telling me lies
Your words in mind I lie awake
Wondering how much I can take

Tearing up the place
As I wait for this to pass
When my heart begins to race
All I hear is the sound of falling glass

All I hear now, these words you say
All my thoughts drive me hopelessly insane
All I see now as I lie awake
Sell your soul, never to return to life again

DESPAIR TO DROWN

I'm trying to forgive you
I'm trying to forget you
I'm trying to believe the words you said
I'm trying to regret it's in your head but now...
I hate the way you talk to me
I hate the things you'd like to see
I hate the words that come out of you
It's more the fear to love to hate you

Despair to drown
Every moment that goes by the future disappears
Despair to drown
As I'm running out of time my world dissolves in tears

I can't believe what I've seen
I can't believe it's not a dream
I can't believe it anymore
That my belief is like a whore
They pull the strings and lift you up
To end your life or interrupt
They pull the trigger in the name of god
They pull the plug... so thanks a lot

Despair to drown
Every moment that goes by the future disappears
Despair to drown
As I'm running out of time my world dissolves in tears

MASK OF LIFE

The smile in your face hits the dark light
Another day passes you by
Try to escape fro within to the outside
But something tells me to stay

I'll open my eyes and I'm losing it all
And again the pain slips away
There's nowhere to hide but it seems like
You ask yourself why do you fear the day?

You're in my dreams
I'll focus my attention
As I'm browning in cries
I'm close to the edge, there's so much fear deep inside

So far away, I fear your sorrow
We all go blind if there's no tomorrow
So far away, I call it hollow
The mask of life brings no tomorrow
So far away

I'll face the rage and escape from within
I'm crawling out the walls where you locked me in
Those acts of sin made me your slave
Trapped inside my world, where nothing is save

You hear me whisper when I try to speak
A waste of time cause you make me sick
With no redemption my soul will be burnt
You try to teach me what you've never learned

You'll escape from within
With all your thoughts you make it fade
The darkness is coming in
While I'm breaking up but for you it's too late

So far away, I fear your sorrow
We all go blind if there's no tomorrow
So far away, I call it hollow
The mask of life brings no tomorrow
So far away, I need to breath
The mask of life shows my believe

EVEN HIGHER

I can't believe...
For a moment in time I got rid of myself and acted like a clown
For what crumbles and burns but still I'm around
Now I'm losing my faith...
I'm ready to speak while all the lying is making me weak
As this is not what I seek

But do I deserve to walk away
I've tried to make it through
Seems there's no place to stay
As long as I don't know what went on with you

I should have known, right from the start
And turn my back away from the dark
Now I'm on my knees or walk the wire
Don't hang me high, even higher

Oh, I'm not like you at all...
But your words will keep me awake at night
Still in my ears and all in the mind so I turned on the light
But now I'm on my way...
There are things in life I cannot choose
I was trying to trace your path but there's nothing to lose

Remember these words I've never said
Why I would never let it go
But I didn't really feel the cold at all
As long as there's no one to hold

I should have known, right from the start
And turn my back away from the dark
Now I'm on my knees or walk the wire
Don't hang me high, even higher

BURNS MY SOUL

You're trying to take what's in my mind
For all the pain that I shared with you
I'm losing my faith, from one direction into another
No faith, but I know where you're going to

Within your need, you're here alone
These empty rooms you call your home

Someone's around you and someone will care
It burns my soul and you'll be aware
That someone will die for and someone will cry
It burns my soul and clears my mind

Look at the passed time, my reason to live
Your hate inside will get you nowhere
But don't touch my mind, don't try to make me afraid
Now I'll surrender but it seems that no one cares

The stench of my sin is surrounding me
Through your disguise I brought you to your knees

Someone's around you and someone will care
It burns my soul and you'll be aware
That someone will die for and someone will cry
It burns my soul and clears my mind



LIQUID MONSTER REVIEWS


Sacred Embrace · 9.5/10 · Clare B.
After hearing Brainstorm's 2001 "Metus Mortis" album, it quickly dawned on me that I had become a lifelong Brainstorm supporter—so when I got the "Liquid Monster" promo in the mail, I nearly shit my pants with excitement. After hearing the record, that act would have been entirely justified.

Excusing my vulgarity, I will attempt an explanation.

"Liquid Monster" presents all the elements we'd expect from these Germans: hard-hitting riffs, pounding drums, incredible lyrics, killer production…There's sufficient familiarity to reinforce Brainstorm's unique character, yet the band has progressed enough to prove they won't stagnate anytime soon.

On the whole, "Liquid Monster" is very memorable; after merely one listen, I had retained numerous songs, which is extremely rare considering my poor memory! There is so much diversity in the pieces, while the band has remained true to their distinctive selves. They have exaggerated variety in pacing (we even have a ballad!) and melody—particularly in the vocals. Andy B. Franck's trademark, understated vocal melodies are still dominant, but within them we have gained more diversity and catchiness. Plus, he shows off his massive range (about four octaves), something which the previous album ("Soul Temptation," 2003) sorely lacked. The improved vocal melodies with the continued musical aggressiveness really create balance and freshness.

Brainstorm, while they release more standard music (meaning they're not Progressive), have an excellent sense of composition and arrangement. Whoever writes and organizes the music knows exactly what they're doing. One thing I've always appreciated abut them is their use of keyboards, though there isn't actually a keyboardist in the band. Overbearing, whizzing, Finnish-style keys would kill the music, but the subtle synths, when implemented, augment the creations. "Liquid Monster" has the usual Brainstorm mechanical-sounding keyboard blips, but they album also presents the neutral sounds of strings and oboe, which help hype up the emotional factor—especially in the ballad, "Heavenly."

Also contributive to the emotions are the lyrics—they're in the same style as we're used to. Now, that's one thing I hope won't change. I often cringe at 'Power Metal' lyrics, but Franck is the author of veritable poetry, both in Brainstorm and Symphorce (you should check them out, too). The words are melancholy, poignant, cerebral, introspective… Franck expresses himself better than many native English speakers, while still being largely cryptic. The often aggressive or 'venting' style fits the driving music to a tee.

"Worlds are Comin' Through" was a good choice for an opening number—while it's not my favorite song, it kind of picks up where "Soul Temptation" left off, yet it projects the more melodic style of "Liquid Monster" efficiently. The following "Inside the Monster" is a strong, heavy outfit with a great chorus. Track three, "All those Words" (the single from the album) is one of my favorites, and is one of the more emotional pieces. There's also a counter-reference of sorts to a "Soul Temptation" song, "Highs without Lows" with the phrase 'I'm losing my mind, there's no highs, only lows,' which might amuse other Brainstorm aficionados. This mid-pacer also has a female singer (Carmen Schäfer), who joins Franck in the refrain.

Other choice numbers include "Lifeline," "Painside" and "Mask of Life," another emotional song. Special mention has to go out to the aforementioned "Heavenly," the first Brainstorm ballad since the "Ambiguity" album in 2000.

"Liquid Monster" ends with "Burns my Soul," a really emotional and solid piece. The somewhat upsetting lyrics and groovy pace marry well, forming a satisfying conclusion to the record. Those are just the standout tracks to me personally, but I love the whole damned album, from start to finish.
Since discovering Brainstorm, I've always enjoyed what they had to offer, but I feel like they've truly created a masterpiece this time, and I hope "Liquid Monster" will be hailed as such.

Metal Temple · 4.5/5 · Grigoris
A friend of mine, once "bonded" to all the principles flowing around the term "Heavy Metal", asked me what's up with the "new blood" in our - both, 'till the mid 90s - favorite music genre. It would be obvious to start chatting about dozens of bands, from Shadows Fall and Labyrinth to Bal Sagoth and Damageplan. Around that time, a promo issue of the upcoming Brainstorm album fell into my hands for review and - all of a sudden - the skies cleared up and I (re)obtained this lethal weapon against the armies of "Hey-Metal's-Dead" advocates (I gave my friend this album for a "quickie" - his comments are featured at the final paragraph).

German metallers Brainstorm were formed in 1989 by Torsten Ihlenfeld, Milan Loncaric and Dieter Bernert. The addition of Andreas Mailander, the release of three demo recordings (Marcus Jurgens as vocalist, later on) and the support role for acts like Stormwitch, Exciter and Rage resulted in the band's first record contract and the subsequent release of the "Hungry" (1997) album. Whoever purchased this CD back then, surely remembers the pure excitement 'bout these "rookies". Next came "Unholy" (1999) and I began to accept Brainstorm as Europe's main "answer" against the a-la Iced Earth U.S. Metal. More was to come...

One of the (now) leading voices in this country, Andy B. Franck (Symphorce), stepped in and - how weird - the band's level develops FTTSOF (faster than the speed of light) so as to "gain" a contract with Metal Blade Recordsl. "Ambiguity" (2000) featured Dirk Schlachter and Sascha Paeth on production, plus overwhelming reviews that created a fabulous "feedback", fulfilling the quintet's souls with mega-wishes. It's a pity "Metus Mortis" (2001) didn't become 'Album Of The Month' in ALL the Metal mags, still Brainstorm finally got the recognition they had worked their asses out for. 2003's "Soul Temptation" was the fifth full-length album in a 6-year-old career. These hard workers...

Let's cut the crap. "Liquid Monster" is (nearly) a masterpiece. And there's no exclamation mark needed to "enforce" this opinion, since from the very first seconds of "Worlds Are Comin' Through" to the last harmonies of "Burns My Soul" I can't find a weak moment, an average vocal part, a dull guitar chord. What the hell? And I consider myself to be rather "old-school"... Start counting: a) Andy B. Frank: the man is great. In the "vein" of Rob Halford, this guy deserves all the best he can achieve. He has guts, he has passion, he has melodies, he has breath, he has character, b) Torsten Ihlenfeld - Milan Loncaric - Andreas Mailander - Dieter Bernert: to mix the roar of "Painkiller", the savage poetry of "The Dark Saga" and the color of "Imaginations From The Other Side" is - anyway - a complex mission. What about if you just take a "shot" from each monumental album, transcript it and pour endless passion for real Heavy Metal music, the way it MUST sound today? Get outta here... c) If only I knew who's behind the producer's seat (Achim Kohler?). How do you say "you kicked Metal ass, bro!!!" in German? Equally balanced between modern elements and traditional ideas, I just can't stop praising this monstrous release. So simple...

So, then "why not a 10/10 rate?" someone may wonder? Hmmm... I guess 'cause I already mentioned something. You can get the ultimate if you can - among other achievements - create a new path for others to follow, a new way of thinking. Brainstorm don't do that, yet they show a certain way of...

"How Heavy Metal IS in the 21th century. Not Power, not Thrash, not Avante Garde, not Nu, not anything else! Only today's Heavy Metal! ". I didn't say that... Still, judging from an ex-brother who awaits for the limited first edition of "Liquid Monster" (including a bonus DVD "gift") to hit the stores.

PitRiff · 10/10 · Shawn Gould
BRAINSTORM's 2003 release Soul Temptation was an awesome display of melodic power metal and finished in my top 10 albums from that year. I have been anxiously anticipating a new album from the band, especially since the genre is becoming so popular right now with great bands like MASTERPLAN, SILENT FORCE, IMAGINERY and SANDALINAS. With the release of Liquid Monster BRAINSTORM has proven beyond a doubt that they deserve to sit atop the mountain of pretenders and contenders. This album picks up right where Soul Temptation left off and just gets better every time I play it.

So what sets these guys apart from all the rest? First off it is the power of the bands riffs. Torsten Ihlenfeld and Milan Loncaric are simply awesome, there is just no other way to put it. The crunch of their guitars and the depths of their solos are just that much better than everyone else. These chords are backed up by the heavy rhythm of bassist Andreas Mailander and drummer Dieter Bernert. All combine together to make songs with unbelievable depth that just slams into the side of your head. It is just a barrage of stunning tracks one after another, "Worlds Are Coming Through" "Inside the Monster" "All those Worlds" "Lifeline" "Despair To Drown" "Mask of Life"....I could go on and on, there isn't a pooch on the album. All these are belted out with amazing force by uber singer Andy B. Francke, who also leads SYMPHORCE. I have long considered Jorn Lande the frontrunner for this style of music, but I think after the last two BRAINSTORM albums I would now say that Francke is the man.

PITRIFF RATING - 10/10 - I made a vow to myself this year to be even a tougher reviewer than I was in 2004 when I gave out far less 10's than 2003. That had been an easy vow to keep so far because there hadn't been an album that really made me consider dropping the 10 bomb. BRAINSTORM has broken through the barrier with Liquid Monster though, just like Soul Temptation, I can't imagine taking off a point for some silly reason. Early frontrunner for album of the year!

Thoughts Of Metal
After the succesful "Soul Temptation" accompanied by a big tour supporting EDGUY, but also playing solo shows, much was expected for the follow-up to that album. It's the fourth album since Andy B. Franck (also in SYMPHORCE) replaced Marcus Jürgens as singer of this powerful band and little by little Andy started to put his stamp on the band, on the sound, the songs, ... creating a powerful and melodic sound that makes it very recognizable when you hear a BRAINSTORM-song. Just like MANTICORA has its own unique sound, in my opinion.

Where "Unholy" sounded a bit rough, things started getting better with follow-up "Ambiguity". This album introduced Andy as the new singer, but at the same time the production was more polished without neglecting a powerful sound. "Metus Mortis" was also a strong album, though there weren't that many changes in terms of sound. "Soul Temptation" then was mindblowing, with a very melodic sound - sometimes even symphonic, since they asked Michael "Miro" Rodenberg to play some keyboards on the album -, very heavy riffs, nice changes in speed and rhythm, powerful vocals, great solos... all of this also amazing on stage.

But how much further could the band go? Could they even come up with a more powerful or catchy album? Knowing that they are/were growing with every album, BRAINSTORM wasn't expected to relax a bit. "Liquid Monster" is a nice successor, with again a very nice tracklist full of melodies, power and speed. And not forgetting their sound. To me, "Soul Temptation" is their best album so far. But don't get me wrong, because the new one might lack certain things from the previous album, but it's still a very good album. One might say the songs are lighter or slower than on "Soul Temptation" or one of the other previous albums and in a way, I can't disagree. But then there are songs that sound even a bit heavier than some of the previous works. So, 'lighter' is the wrong word here, I'd say 'different'.

Again, great artwork covers the album and fills the booklet as well. Tom Thiel and Thomas Everhard are responsible for that, under the watchful eye of, indeed, Andy. ;-)

The first sounds of "Liquid Monster" remind me of "Soul Temptation", followed by heavy riffs. "Worlds Are Comin' Through" is a 'slow' song - good for headbanging ;-) -, but a very typical BRAINSTORM one. Driving up the pace a bit is the next song, "Inside The Monster", which will be great to hear live, and also has a nice guitar solo. "All Those Words", being chosen as the first single and for which a video has been shot (available on their website), is not such a heavy song, but still quite nice and good to sing along with the chorus.

Power and ferocity is delivered by the breathtaking "Lifeline". This song is one of the reasons why I love BRAINSTORM: heavy, cutting riffs, speedy drums, great melodies. Here as well, it's easy to sing along. And then there's the guitar solo... wonderful! One of the best songs on the album, for sure. A pity though it only lasts 3 minutes. Next time, make songs like these a couple of minutes longer please. :-)

It's not all power and heaviness, but o suprise, there's a ballad! "Heavenly" starts calmly, sung beautifully by Andy. A nice heavy piece completes the second half of the song. The chorus has an emotional basis and this is a job well done.

When "Painside" starts, it feels like someone stopped the cd after "Invisible Enemy" to give some playtime to "Heavenly" and then resumed with the rest of the songs after that, if you see (or hear) what I mean. I could compare it with playing a cd, then pushing the pause or stop button to look at the news and after that continue with the cd. I'm not saying it's bad, certainly not. I just have this impression.

The following song "Despair To Drown" is another great song. The first riffs promise a heavy and speedy song, which the drums confirm. Nothing more to say but 'thumbs up'. "Even Higher" also belongs to the club of uptempo songs and is nice to listen to as well. "Burns My Soul" finally is a slower song, with short, heavy riffs. To be honest, the band did a pretty good job here as well. It doesn't always have to be hard, heavy and fast. ;-)

In other reviews, there are (small) complaints about Andy's accent still not being English enough. Yes, in "Heavenly" and "Mask Of Life" - where Michael Rodenberg plays the keyboards again - you can hear he's German, but it's so hard to notice and if you're using that as a reason to give the album a lower score, then you don't know what you're talking about. When he sings again with his 'powervoice' it's even harder to notice an accent. ;-) Another 'complaint' was that the band hasn't evolved (much or at all) with this new release. What do you expect then? This is BRAINSTORM and in my opinion they don't need to change thàt much. Given scores were between 6.5 and 7.5. You know I don't give scores, but to counter these low ones, I'd give it between 8.5 and 9/10.

Final words then. If you like BRAINSTORM, you won't have a problem with "Liquid Monster", I assure you. If you want decent Powermetal, get this as well. This may not be as superb as the previous "Soul Temptation", but it sure is a very good album. Let it digest a bit, give it some time if you don't like it right away. In the end you WILL like/love it. ;-) And if your budget allows it, get the limited edition with DVD. On this DVD you'll find some video footage from the travels of the band and their time in the studio as well as a bonus track "Before The Dawn", orginally by JUDAS PRIEST.

Vampire Magazine · Neithan
Brainstorm is active already since 1989 and from the start with three members that are still active within the band, and a line-up that has been together since 1999: no wonder that this German band sounds truly as a band! On their fourth Metal Blade release they provide us with sheer power metal, mixed in somewhere perfectly between the German, Swedish (the choruses) and the US sound, heavily supported by the two guitarists and lead by the great vocals of Andy B. Franck? To put it simple: if you like typically quality German/Swedish power metal, this is one of the best ways to spend your money!

A spacey keyboard entry introduces opening track ?Worlds Are Comin? Through?, a heavy pompous track. On this album Brainstorm displays a very transparent sound; gone are the dark passages from the past. Most songs are mid-tempo, although on occasions (?Lifeline?, ?Even Higher? and especially ?Despair to Drown?) the band puts the pedal to the metal. Especially ?Despair to Drown? is a thrashing power metal track that could have fitted on ?The Dark Saga? album from Iced Earth. Another top class US act that I can compare Brainstorm with is legendary Jag Panzer, due to the way Andy sings, like The Tyrant, although I must say that Andy is better, especially regarding keeping the tune.
Quality is the keyword to this ?Liquid Monster?; everything is at a hugely professional level. Is there no criticism possible on this album? Yes, there is? Never do I hear a passage that I?ve never heard before and therefore sounds refreshingly original; the album sounds reliable, yet never really surprising. On the other hand, there are only a few bands that can bring that special edge into their song, so there is nothing to be ashamed of on this ?Liquid Monster?; within the genre of power metal Brainstorm is without doubt way above the average level. Brainstorm does not bring any new ingredients into the dish of power metal, but they use the best ingredients available?

Although Brainstorm will tour Europe with Saxon, Brainstorm plays a whole different ballgame: if you don?t know them yet, think of an act somewhere between Evidence One ? just heavier ? Mob Rules, Dream Evil and a little less heavy than Iced Earth and Jag Panzer. Not the worst acts to be mentioned with in one breath, yet Brainstorm deserves it!
The release date is April 4th, yet if you want to hear it earlier, join one of the release parties that will be held throughout mostly Germany (one in France); check the dates on the band?s site. You can win some prizes, and if you don?t win a thing, I am sure there will be a bar with beer. If the beer is of the same quality as this album, it will be one hell of a release party?

Metal Review · 5.3/6 · Nin Chan
Depending on your perspective, the words "power metal" will either titillate or repulse you. To many, such words conjure contrived images of Manowar fur pelts, grandiose arenas, soaring, testicle-wrenching falsettos, leather and chains, every wanton, stereotypical excess that heavy metal has spawned. To others, the words assume a quasi-religious significance, a beauteous amalgamation of musical virtuosity and epic, evocative storytelling, all siphoned through the majestic grandeur of the power metal vocalist- heavy metal at the apex of its creative powers.

Personally, I stand with one foot in each of these camps- while I vehemently detest the overblown schlock of bands like Dragonland, Rhapsody and especially Dragonforce, my longstanding affinity for stalwarts such as Blind Guardian, Jag Panzer and Metal Church will never be extinguished, nor shall my burgeoning yen for more progressively minded outfits like Eidolon, (older) Fate's Warning, Pagan's Mind and Pyramaze. While each of these bands operates and expands upon a similar aesthetic, the tangent they embark upon is decidedly different, and the degree of self-indulgence varies TREMENDOUSLY between them. As such, power metal has always been a genre fraught with risk- there are great bands, and conversely, abhorrent, masturbatory piles of excrement that should never darken a studio doorway again (let alone grace the stereo of an impressionable youth, lest said youngster chooses to propagate the atrocious din).

Having read positive reviews of Brainstorm over the past few years, I approached their new offering with less trepidation than most. Favorable comparisons to countrymen like Blind Guardian and Gamma Ray actually cultivated an eagerness to listen to and critique this record, and for the most part, such anticipation was justified. Track 1 opens with a chunky, hefty tugboat of a riff that wouldn't sound out of place on a latter day Kreator track, further propelled by the startling, sparkling vocals of Andy B. Francke, whose voice somewhat resembles a crossbreeding of Bruce Dickinson (range) and maybe Warrel Dane (aggression). Francke's voice is absolutely PERFECT for this band, emoting whenever necessary, seething with fury when the song requires such, hitting celestial, flashy peaks with effortless ease.

I have no idea what their previous endeavors sounded like, but the songwriting on this record is pretty damn impressive. Brainstorm certainly have a knack for crafting majestic, progressive tunes, but never allow their songs to wander into self-indulgent, melodramatically grandiose territory (Luca Turilli, anyone?). Flourishes of tech-thrash ala Megadeth surface throughout the record, the band opting for a far more aggressive and visceral approach than many of their more flowery peers. Pulverizing mid-tempo passages abound throughout, supported by a breathtakingly precise and furious rhythm section, recalling Nevermore with the dramatic grandeur knob turned down and the melody switch cranked up. Tempo switches are never overemphasized, technical flourishes are never overstated or overindulged, everything is compact, tightly executed, ridiculously catchy. Unafraid to embrace linear, pop structures and condensed song lengths, Brainstorm renounce the cinematic aspirations (or pretensions?) of many power metal outfits in favor of choruses and solos that firmly engrave themselves into your consciousness. No solo rambles on for too long, no vocal sustained for a second more than absolutely necessary.

Granted, not everything works- the ballad "Heavenly" can get a little nauseating by-the-numbers balladry (though the dynamic followup "Painside" more than redeems its contrived predecessor with its insistent rhythms and overwhelming NWOBHM melodies), the vocal phrasings VERY rarely get a little irritating, but the good THOROUGHLY outweighs the very, very meager bad. It's truly fascinating how the band shifts from Megadeth shred (and even a Mustaine-sounding vocal performance on the verse of "Despair To Drown) to fluid, speed-picked Helloween/Grave Digger passages to vast, classy sections that sparkle with all the pomp of Blind Guardian.

Everything on this record positively glistens with an accomplished gleam- the production is polished and thick without sounding anodyne or plastic, the guitars are crisp and rich, the bottom-end is given just enough room in the mix to provide a staunch supportive foundation, and the drum sound is deserving of all sorts of superlatives- the bass drum is full and throbbing without sounding artificial, the snare, toms and cymbals cleanly distinguished by a recording that captures the nuanced musicality of the playing on this record.

While he doesn't crowd already frantic and dense songs with busy fills, Dieter Bernert's double bass work on this record is truly commendable on several levels- he displays a tremendous sense of restraint, even in the most manic passages of the record, playing within the parameters of the track as opposed to attempting to usurp attention from the churning guitars that encircle each track. Yet, this doesn't mean that he is boring by any stretch of the imagination- his cymbal work shows flashes of invention here and there, plus the double bass rhythms are always PERFECTLY in sync with the music, adding musicality as well as incredible intensity to the song structures. His playing is steady, dependable, miked flawlessly by the producer to provide one of the highlights to a very solid record.

This is power metal stripped of contrivance and almost exclusively hollowed of cheese, a streamlined affair crafted especially for naysayers of the genre. While I am in no way a power metal enthusiast, I can, with solemn certainty, offer my highest recommendations for this.




Rock Hard · 8.5/10 · Tobias Blum
Mit "Metus Mortis" haben sich BRAINSTORM seinerzeit ebenso beeindruckend wie elegant auf den deutschen Power-Metal-Thron geschwungen, und "Liquid Monster" ist ein weiterer Beweis dafür, dass sie nicht daran denken, in nächster Zeit abzutreten. Schon der Opener ´Worlds Are Comin´ Through´ ist ein Song, wie ihn kaum eine zweite Band in Deutschland schreiben könnte: Mächtigste Riffs, der kraftvolle, trotzdem melodische Ausnahmegesang von Andy B. Franck und ein Refrain, der trotz aller Härte sämtliche Qualitäten einer großen Hymne aufweist, lösen schon Sekunden nach dem ersten Durchlauf Suchterscheinungen aus. Das ist schon sehr beeindruckend und bleibt die nächsten Songs lang auch auf diesem Niveau, wobei das fast beschwingte ´All Those Words´ mit seinen großartigen Gesangsmelodien einen weiteren Höhepunkt markiert.

Viel hat sich nicht geändert am Sound der Band; vielleicht ein wenig verspielter ist er geworden. Das äußert sich beispielsweise in der enorm pathetischen Ballade ´Heavenly´, dem mit etwas Psychotik angereicherten Brecher ´Despair To Drown´ oder dem mit einem dezent überfrachteten Gesangsarrangement versehenen ´Burn My Soul´. Am besten sind die Jungs jedoch noch immer dann, wenn sie ihre Gitarrengewalt mit großen Hooklines verbinden, was insbesondere in der ersten Hälfte des Albums in imposanter Regelmäßigkeit geschieht, nachzuhören beispielsweise bei ´Lifelines´, dem schleppenden ´Invisible Enemy´ oder dem mit einem fantastischen Ohrwurm-Gitarrenriff ausgestatteten ´Painside´.

Keine Frage: "Liquid Monster" lässt die Konkurrenz nicht mal auf Sichtweite herankommen.

Amazon · Boris Kaiser
In den letzten Jahren haben sich die Schwaben Brainstorm an die Spitze der deutschen Power-Metal-Szene gespielt. Mit Liquid Monster will man es nun endgültig wissen und dürfte gute Chancen haben, auch ein Mainstream-orientierteres Publikum anzusprechen. Dafür sorgen neben den typischen Krachern vor allem der Ohrwurm "All Those Words" (gleichzeitig die erste Single) und die eingängige, pathetische Ballade "Heavenly". Aber auch Alt-Fans dürften hier kaum Probleme haben: Sämtliche Trademarks - zum Beispiel hammergeile Gitarren, ein pumpendes Rhythmusfundament, glasklare, aber trotzdem aggressive Vocals, Power vom Fass - sind erhalten geblieben und wurden zum Teil sogar noch ausgebaut. Einen fast lupenreinen Thrasher wie "Despair To Drown" konnte man in dieser Form jedenfalls kaum erwarten. Brainstorm darf man zwar immer noch guten Gewissens als "deutsche Vicious Rumors" bezeichnen; auf der anderen Seite tönt die Combo mittlerweile so eigenständig, dass sie in Zukunft wohl selbst als Referenzband herangezogen werden wird. Was will man mehr?

Metal.de · 9/10 · Audaron
Man ist mit richtig Vollstoff auffer linken Autobahnspur, meilenweit kein Verkehr (weder rückwärtig noch davor) nur in rund fünf Kilometern Entfernung ein Lkw ganz rechts. Dahinter ein 45 PS Polo, der auch schön die ganze Zeit hinter dem Brummi klebt … und just in dem Moment, wenn man fast auf gleicher Höhe ist, zieht die dumme Sau im Polo links rüber und bremst einen völlig aus; denn wenn man ihn überholt hätte, würde er ja nie mehr hinter dem Lkw, den er schon 5 Stunden vor sich hat, vorbeikommen. Oder anders : Man ist gerade so schön beim Vögeln, da ruft irgend so ein verwirrter Vollbluttarzan mittendrin an … oder ein völlig Beschossener klingelt an der Haustür. Noch anders : Man sitzt entspannt in der heißen Wanne und bekommt den Kälteschock, wenn man drin einpennt. Oder noch ein bisschen anders, aber noch viel schlimmer : Man zieht sich die nahezu geniale Mucke von Brainstorm rein und kurz bevor der einsetzende Bewegungszwang übermächtig wird und man sich gerade dazu anschickt, das Wohnzimmermobiliar über den Jordan zu schicken, wird die Lautstärke abgedreht und eine bekiffte Stimme kommt mit dem perversen Spruch : "Nu Bränstoam album "liquet monsta" in stores forss of äbril dusausendfeif." Und das auf jedem verdammten Lied (außer dem schon auf der Bandpage "erhältlichen" Single "All Those Words").
Vielen Dank auch an die Journailletypen, die die Promos schon vor dem Streetdate ins Netz stellen. Jetzt haben wir die Quittung in Form dieser beschissenen Audio Stamps vor den Latz geknallt bekommen. Tolle Wurst!
Fein, dass ich als "BS" Fan ohnehin bald drauf das nett aufgemachte Digibook plus die olle Single in den klammen Pfoten halten durfte. Abgesehen davon, dass die Optik bei dem Büchlein ne recht feine ist, ist da auch die "richtige" Platte drin! Ätsch!
Und was können die Schwaben nun wirklich neben soliden Autos mit hohem Wiederverkaufswert bauen und Spätzle fressen?
Einfache Antwort : den besten Power Metal machen, den man sich in deutschen Landen und weit, weit darüber hinaus geben kann.
"Liquid Monster" IST der große Wurf, den Andy B. Franck, Herr Ihlenfeld und Co. angestrebt haben. Zunächst scheint die Hitdichte nicht ganz so hoch zu sein, wie auf dem Hammeralbum "Metus Mortis". Doch das liegt nur daran, dass der Fünfer anno 2005 noch nen Tacken verspielter und vielschichtiger als auf besagter Scheibe und noch experimentierfreudiger zuwerke geht als auf dem bärenstarken "Soul Temptation". Das flüssije Monster (könnte Bier sein, wie man munkelt) braucht ein, zwei Anläufe, um durchzuzünden, doch dann gibt es kein Halten mehr. Das Songwriting ist noch überzeugender, ausgereifter, gewachsener als auf den beleibe nicht üblen Vorgängern, verbindet noch treffender die großen Stärken der Band, thrashige Härte, knackige Riffs mit einfühlsamer Melodie und erinnerungswürdigen Chören zu kombinieren. So ergeben sich Kleinodien, die aktuelle Priest blass aussehen lassen und zeigen, wohin Blind Guardian sich ihren klebrigen Bombast mal kräftig reinstecken können.
Und auch das Monster hat sie noch : die typischen BS Hymnen, die zu keiner Zeit aufgesetzt und pathetisch wirken. "Painside" (nur um einen Track mal zu nennen) ist so eine Granate, die zunächst mit charakteristischem Gehirnstürm Riffing aufwartet, um dann wieder einen dieser höchst eingängigen Chöre abzufeuern, den man nach spätestens dem zweiten Durchlauf verinnerlichen und mitträllern kann. Aber auch die Dampframmen kommen nicht zu kurz … so ist mit dem flotten "Despair To Drown" oder dem vertrackt-schwermütigen "Invisible Enemy" eine mächtige Attacke auf sämtliche Bangerknochen angesagt.
Und was wären Gehirnstürm ohne ihren begnadeten Andy Franck? Sicher immer noch eine saustarke Powermetaltruppe, aber seien wir ehrlich! Es ist der bekennende Egoshooter-Maniac, der die Songs mit seiner Ausnahmestimme adelt und auf eine ganz besondere Stufe hebt. Neben den furiosen Soli, die allerdings nie zum Selbstzweck verkommen und im Gegensatz zu den alten Langrillen noch überzeugender ausfallen, sorgen vor allem Francks Vocallines für Gänsehaut und manches Mal für ein Tränlein im Augenwinkel. So geschehen auf der Ballade "Heavenly", die nicht eine Sekunde peinlich wird. Reife Leistung! Auch das kommerzieller ausgerichtete "All Those Words" (siehe Single) ist schlicht und einfach wunderschön (!!!) geraten.
Einzig das streckenweise für BS Verhältnisse zu geradlinige Drumming (das an anderen Stellen dafür aber auch bestens überzeugen kann) ärgert und vor allem die missratende DVD im Digibook, die die Band albern, besoffen(?!?) und schlafend auf Tour zeigt, hätte man sich sparen können. Da sind Aufnahmen von Kinderkommunionsfeiern erquicklicher. Aber "Liquid Monster" ist kurzum gesagt DIE Power Metal Scheibe des Jahres. Punktum!
Was kann jetzt noch kommen?
Achja : Ich weiß jetzt, zu was ihr Schwäblis alles imstande seid. Nur eines könnt ihr zum Verrecken nicht : HOCHDEUTSCH!

Darkscene · 9/10 · DarksceneTom
2005 scheint ja ein überaus gutes Jahr für echte "Non Schlagerkarussell" Power Metal Fans zu sein! Erst sprengen COMMUNIC mit ihrem Jahrhundertdebüt sämtliche Hirnfasern der Gemeinde, dann legen KAMELOT ihr bis dato bestes und wuchtigsten Werk vor, so ganz nebenbei reformieren sich noch die heiligen MORGANA LEFAY und dem Guten nicht genug darf man mit "Liquid Monster" obendrein den neuen Sprengkörper von Deutschlands bester Power Company verehren.

Die Klasse, die Macht, die unumgängliche Erotik, die BRAINSTORM seit dem Einstieg von Andy B. Franck und spätestens seit dem Meilenstein "Metus Mortis" ausstrahlen, hab ich ja bereits in den vorhergehenden Reviews bis zum erbrechen gehuldigt, die Ausnahmegüte der Single "All Those Words" wurde auch schon in lobendste Worte gefasst und so könnte, sollte und wird man diese Beurteilung mit Aussprechen einer extraordinär wichtigen, unausweichbaren Kaufempfehlung und der kleinen Fußnote, dass wieder mal jeder einzelne Track dieses XXL fett produzierten Power Metal Albums per Excellanze, ein Gaumenschmaus für qualitätsbewusste Konsumenten darstellt und BRAINSTORM nach wie vor die beste deutsche US Power Metal Band sind, locker in die Box fahren! Am Rande erwähnt könnte man natürlich auf ein Neues die ultrafetten Riffs verherrlichen, die mächtig wummernde Rhythmusfraktion ebenso bejubeln, wie die gewohnt genialen Vokals und das ausgefeilt abwechslungsreiche Songwriting mit Gespür für hymnische Refrains ohne Kitsch und Ballast - tun wir aber nicht ;-)

Also, genug geschwafelt, jedes Wort sinnlos, jedes Wort ein Zeitverlust im Rennen gegen die Uhr: Gehen, kaufen, abbangen, abfeiern und mit Nackenvibratoren wie dem thrashig schremmenden "Despair To Drown", überirdischem Liedgut wie "Inside The Monster", schweißtreibenden Halbballaden der Marke "Heavenly", oder simpel gestrickten Effektivschädelrüttlern wie "Painside" einfach nur glücklich werden!

DO IT!

Evilized · 8/10 · Daniel Korth
Wenn jede Band soviel Qualität in ihre Veröffentlichungen stecken würde wie die Schwaben von Brainstorm, dann wäre die Downloadproblematik sehr schnell beseitigt. Nicht nur musikalisch kann die Band um Aushängeschild Andy B. Franck erneut vollends überzeugen, sondern vor allem die grandiose Verpackung weiß den Käufer zu einem fairen Preis zu überzeugen. Nachdem schon das Vorgängeralbum "Soul Temptation" durch die edle Verpackung und die Bonus- DVD überzeugen konnte, wurde bei "Liquid Monster" beim Drumherum wiederum geklotzt statt zu kleckern. Diesmal ist der musikalisch hochwertige Inhalt in ein richtig fettes Digibook eingebettet worden. Und anstatt die CD und Bonus- DVD in einen nervigen Schuber zu stecken, hat man sie in Plastikinlays gesteckt. Zudem war die Limited Edition bei meinem Kauf auch noch einen Euro billiger als die normale Version, die erneut in farbiger Hülle daher kommt. Da kann sich wirklich jede Band und Plattenfirma etwas von abschneiden.

Musikalisch überzeugt das "flüssige Monster" von vorne bis hinten, auch wenn ich "Soul Temptation" für einen Tick stärker empfinde. Ist letztendlich aber Geschmackssache. Im Vergleich zum Vorgänger gibt es zwei Neuerungen zu vermelden. Zum einen sind die Keyboardparts (gespielt von Ferdy Doernberg) ausufernder geworden und zum anderen hat man mal wieder eine Ballade eingespielt. Schon "Far away" vom "Ambiguity"- Album wusste trotz eines äußerst hohen pathetischen Kitschfaktors zu überzeugen, aber was die Mannen mit "Heavenly" abgeliefert haben ist kaum in Worte zu fassen. Grandioser und mitreißender kann man eine Ballade eigentlich nicht einspielen. Auch Kitsch sucht man vergeblich. Zudem kann der "schöne Andy", wie er in Frauenkreisen genannt wird, nun nicht nur mit seinem Aussehen bei dem weiblichen Geschlecht glänzen, sondern auch mit sehr einfühlsamen Gesang. Normalerweise ist vielen Frauen der US- Power Metal von Brainstorm ein wenig zu hart, aber allein "Heavenly" wird dafür sorgen, dass das die Teile des weiblichen Geschlechts, welches bisher nicht so viel mit der Band anfangen konnte, auch überzeugt werden können. Zwar müssen sie dann bei den thrashigen "Despair to Drown" (eigentlich als B-Seite gedacht, aber aufgrund des starken Einspruchs der Presse bei der Listening- Session, entschied man sich anders) und "Lifeline" die Skiptaste betätigen, aber ansonsten dürfte ihnen die im Vergleich zu den Vorgängern weichere Linie Brainstorms voll und ganz zusagen. Die beiden Kracher treten aber mit Anlauf in den Arsch jedes Hörers und animieren zum kräftigen Bangen. Mit der ersten Single "All those words" hat man einen absolut radiotauglichen Ohrwurm abgeliefert, der trotz des "Tralala"- Refrains und der zarten weiblichen Vocals (klingt ein wenig nach Kesicis "Leaving you for me", bei der Nightwish Tarja mitträllert) im Hintergrund vollends zu überzeugen weiß.

Ansonsten regiert der Midtempobereich und jeder Track kann überzeugen, auch wenn sich nicht jeder Song als Überflieger erweist. Als solche muss man aber "Inside the monster", "Mask of Life" und den fantastischen Opener "Worlds are coming through" erwähnen, die vor allem durch die abwechslungsreichen Gesangslinien zu überzeugen wissen. Auch die Instrumentalfraktion liefert wieder fantastische Arbeit. Die Gitarrenfraktion um Torsten "Todde" Ihlenfeld und Milan Loncaric rifft und duelliert sich wieder so vorzüglich, so dass neben dem immer besser werdenden Gesang von einem Markenzeichen der Band sprechen muss, welches man sofort heraushört. Zu guter Letzt muss man noch die sehr druckvolle und glasklare Produktion erwähnen, die die guten Songs in das ihnen angemessene Licht stellt.

Die Bonus- DVD hat dem neben dem Audiotrack und Judas Priest Cover "Before the dawn" noch 25 Minuten "Streets, Stages & Studios" zu bieten. Ein ums andere Mal ertappt man sich dabei beim herzhaften Lachen, auch wenn die Bildqualität der teilweise sehr kurzen Sequenzen natürlich zu wünschen übrig lässt. Dafür begleitet man Brainstorm fast rund um den Globus und sie werden nahezu überall richtig abgefeiert. Nichts für Ästheten, aber für Fans ein gefundenes Fressen. Insgesamt also eine äußerst runde Angelegenheit, die die Band auf einem Champions League Platz in der Metal- Bundesliga festsetzt. Wer anhand der musikalischen Qualität und der tollen Aufmachung nicht zugreift, dem kann nicht mehr geholfen werden. Da "Soul Temptation", wie eingangs erwähnt ein fettes 9 Punkte Album ist und "Liquid Monster" einen Tick schwächer ist, gibt es 8 Punkte mit starker Tendenz zur 9.

My Revelations · 11/15 · Thorsten Dietricht
Die süddeutschen Power Metaller von Brainstorm haben seit Jahren konstant gute Alben veröffentlicht und ihre Duftnote in der Szene gesetzt.
Mit jeder Platte wurde das Songwriting verbessert, ohne den ursprünglichen Stil der Band zu versauen. So ist auch die sechste Veröffentlichung "Liquid Monster" die logische Fortsetzung des Vorgängers "Soul Temptation". Man sollte sich nicht von dem metaltypischen Klischeecover abschrecken lassen und direkt in die Platte eintauchen: Die Stimme von Vorzeigefrontmann Andy B. Franck (ebenfalls Symphorce) thront souverän über den fetten Riffs des Gitarrenduos Todde und Milan, so dass die manchmal beim Vorgänger leicht zu präsenten Keys etwas mehr in den Hintergrund (wo sie hingehören) gedrängt wurden. Die Mischung aus speedigen Abrissbirnen, Midtemposongs und wenigen ruhigen Stücken steht Brainstorm noch immer gut zu Gesicht, auch wenn nichts Neues geboten wird. Dafür haben die Stücke aber die Klasse des Vorgängeralbums, an welche auch die Introsequenz des Openers "Worlds Are Coming Through" erinnert. Diese klingt nämlich genau wie bei dem Hit "Highs Without Lows" vom Vorgänger. Bei "Liquid Monster" halte ich die Refrains allgemein noch für einen Tick fetter und besser ausgearbeitet. Fett ist wie gewohnt der Sound und so bietet "Liquid Monster" außer dem fehlenden Überraschungseffekt überhaupt keinen Grund zur Klage! Sackt dieses Teil also ein, am Besten in der limitierten Auflage mit DVD!

Schweres Metall · 8.5 · Pit Schneider
Waren schon die Vorgängeralben eine wahre Pracht, so können die Schwaben dieses Niveau mit ihrem aktuellen Output locker halten!
´Liquid Monster´ deckt in großartiger Weise die gesamte Bandbreite des Power Metal ab, und Andy B. Franck untermauert einmal mehr seinen Anspruch auf einen Platz unter den besten europäischen Sängern des Genres.
Melodische Groove-Monster wie "All Those Words" & "Heavenly" stehen den gewaltigen Doublebass-Hämmern "Lifeline" und "Painside" gegenüber, aufgelockert durch Midtempostampfer der Marke "Inside The Monster".
Dieses Album erreicht in seinen stärksten Momentan gar die Klasse des legendären Vicious Rumors Albums ´Welcome To The Ball´!
Das müßte eigentlich als Anhaltspunkt genügen...
Mit Überflieger-Bands wie Brainstorm, Silent Force, Edguy & Co. braucht einem um die deutsche Metal Szene wahrlich nicht bange zu sein.




Metal.pl · Mag
http://metal.pl/recenzja.php?id=81



Rock Pages
http://www.rockpages.gr/reviews/2005/Brainstorm-LiquidMonster-gr.htm