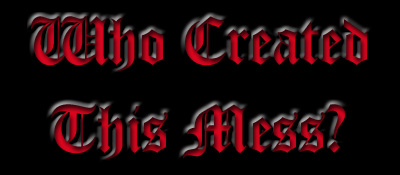 ---
POLICE FILES
CRIMINAL RECORDS
Name: Aris
Surname: Stremmenos
Nicknames: Deathspirit and Wraith or |WRAITH| Date of birth: 12/07/1981
Place of birth: Athens, Greece
Current status: Uncomited
Residence: Athens, Greece
Age: 18
Height: 1 m 90 cm
Weight: 105 kg
Hair: Black
Eyes: Green
Religion: None
Favorite bands: Gamma Ray, Iron Maiden, Helloween, Blind Guardian, Grave Digger, Manowar and more
Favorite movies: The Rock, Lawrence Of Arabia, Star Wars Trilogy, Indiana Jones Trilogy, Twister, Braveheart and more
Favorite books: The Hobbit, Lord Of The Rings Trilogy, The Name Of The Rose, all H.P. Lovecraft novels, all Jack London nature novels, all Jules Bern novels and more
Favorite food: Souvlaki, pizza, and generaly Greek, Italian and Mexican foods. (Currently on major diet)
Hobbies: Computers, RPG's, home theatre, going to cinema, fencing, reading and of course HEAVY METAL music!
Current whereabouts: Finished going to the EPL of Athens lyceum, hangs out in #kingsofmetal (DALnet) and #ravern (Othernet), goes to many heavy metal concerts and as always tortures his familly!

---
ARRESTS
12/07/1981 Athens, Elena Venizelou Hospital:
Arrest for disturbance of peace and silence
Various Dates Athens, various places:
Arrests for murder 1st degree, extortion, piracy, computer piracy, smugling, conspiracy and many more!!!
---
DEDICATED TO
(Old dedication: I don't know!!! My self!!! :PPP)

Many ppl! :P They know...
---
IN MEMORY OF
My two uncles John and Costas and Ingo. May you all rest in peace.
---
VERY VERY SPECIAL THANKS TO
My friends Stathis "Psathas" Gianakopoulos, Ahilleas "Foskolos" Barlas, Aimilios "To Milo" Tziros and the rest of the Lykoporia gang (!) for their friendship and good times, all my netfriends (Rodrigo, Landy, uni, kingy, troll and all the others! :), all my RPG gangs, Bill for reviving my passion for true music (heavy metal). And not to forget Panos "Mounopanas-Chief Pussy-cloth" Kafkas, you are a worthy leader but you have to retire one day!!!
---
SPECIAL THANKS TO
Every web master that I took pictures and/or information from his page, all these wonderful bands that don't give a shit about trends and play the music they love called heavy metal and above all Gamma Ray, Helloween and Kai Hansen just for being there by my side in good and hard times with their music when no one else was, Mark Briody for supporting my work on this page and everybody I have forgotten.
---
THANKS TO THESE COMPANIES FOR THEIR PRODUCTS
Suse for Linux 6.1, Adobe for Photoshop 5, Mm Software for 1-4-All Editor and Informatics for the computer machinery.
---