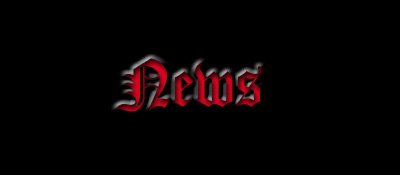 ---
1999
17/10/1999
New live video on VHS/DVD by Manowar will be out sometime on November, possibly named "Hell On World". It will not only contain live songs, but scenes from backstage as well. Also Manowar will be touring Scandinavia on November, with Dio and Motorhead. This event is not to be missed!
The second part of Virgin Steele's new album, is planned to be out during the first months of the new year.
New album by Hammerfall is expected near the summer.
---
1998
26/4/1998
New album by Bruce Dickinson and again with Andrian Smith and Roy Z on guitars.
New albums have been released by Cannibal Corpse, Mercyfull Fate, Soulfly (Max Cavalera), Candlemass and Cradle Of Filth.

27/3/1998
Two members of Iron Maiden, Blaze Bayley (vocals) and Dave Murray (guitar), came for a brief visit here in greece.
There was a panic for Iron Maiden's new album "Virtual XI" the first days of it's release.
New album by Rage called "XIII" featuring the "Lingua Mortis Orchestra".
New album by King Diamond called "Voodo".

27/2/1998
One of my favorite groups Virgin Steele are releasing a new album. It's name is "Invictus" and as rumors say it sounds like "Noble Savage".
New album by Helloween too. It is called "Better Than Raw" and here is the FANTASTIC cover:

Better Than Raw cover (quite big)
Stratovarius' new live album will be released in a few days. This album is called "Visions Of Europe" and it was recorded here in Athens, Greece (I was there) and in Milan, Italy. Here is the album cover:
Blind Guardian's new album is almost ready and it is called "Nightfall On Middle-Earth". Does the name remind you of anything?
New albums in some time by Jag Panzer, Nevermore, Slayer, Sepultura and Max Cavalera.
Michael Kiske wrote a book.

19/2/1998
Maiden's new album is called "Virtual XI". The band will promote it with a tour of soccer matches.
New album by Running Wild called "Rivalry". The first print will have 3D cover.
The following bands will go on tour in the next few months: Running Wild-Primal Fear and Iron Savior-Edguy.

6/1/1998
Iced Earth are searching for a new lead guitarist because their x-guitarist Randall Shawver left the band because as Jon Schaffer said he lost his passion for music.
Sepultura didn't finaly broke and they continue without Max Cavalera. Now they are searching for a new singer/guitarist.
Iron Savior will come to Greece on the 12 of April for only one show at Rodon.
Iron Maiden album's name will be "Virtual Eleven". It will be released on February.
New album by Virgin Steele to be released on February. Probably "Marriage... Part 3".
Kreator will come to Greece on the 25 of January.
New album also by Slayer. They claim that it will be their heaviest album. Let's see.
The following albums have done well on the international charts: "Jugulator"-Judas Priest and "The Wake Of Maggelan"-Savatage.
New albums released by old legends: Venom ("Cast In Stone"), Manowar "Hell On Wheels-Live") Judas Priest ("Jugulator"), Metallica ("Re-Load"), Anvil ("Absolutely No Alternative") and Exciter ("The Dark Command").
Collections and best-of by: Manowar ("Anthology"), Helloween, Ozzy Osbourne ("The Ozzman Cometh") and Nuclear Blast.
---
Older
Savatage will visit Greece during their second european tour on February-March.
Iron Savior will probably come to greece on March. They will make a second album.
Helloween's new album name will be "Better Than Raw".
Rotting Christ's new album has got many good reviews and comments from many international magazines.
New albums by Judas Priest ("Jugulator") and Metallica ("Re-load").
A promising Greek power metal band from my neighborhood called Ice Divine signed at Noise.
Iced Earth's new album will be released on March or April.
Stratovarius' new live album will be released on March.