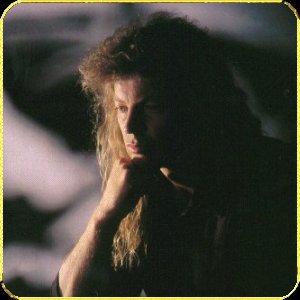 Roland started playing guitar at the age of 12. At school, he played some short gigs just for fun and people seemed to love it.
He joined his first professional band, Rampage, at the age of 19. The two records released with him were a mixture of Journey and Judas Priest. Roland played guitars and did one of the three lead vocals.
Right after the release of "Kaleidoscope", Roland's band made a tour opening for Kai Hansen's Gamma Ray and, at the end of the show, Roland was called to join Kai and Henjo on a jam to play "I Want Out" and "Future World" with three guitars. Roland and Kai are good friends today.
Roland's studio is called "Crazy Cat", the same name of a song he wrote for the "Chameleon" album. He loves cats and even has one, called Felix.
On the "Chameleon" album, the song "I Don't Wanna Cry No More" was for his brother Rainer, who had passed away some time before.
When Roland left Rampage, he was replaced by guitarist Henjo Richter and took Kai Hansen's place in Helloween. After a few years, Henjo Richter joined Gamma Ray, which was the band Kai Hansen created after he left Helloween.
This same Henjo Richter was the responsible for the artwork and booklet design on Roland's second solo record, "Kaleidoscope", and also on the Shockmachine debut, on which Roland plays a solo. Henjo is very talented in doing booklet designs.
Two of Roland's songs on the "Chameleon" album, "Music" and "Step Out Of Hell", were actually compositions he did when he was on Rampage. "Step Out Of Hell" is the song "Victims Of Fate" with different lyrics.
Unlike most people think, Roland didn't join Helloween only when they started recording "Pink Bubbles Go Ape". Kai Hansen left the band on the middle of the "Keepers Tour", and Roland replaced him until the end of the tour.
Roland's compositions are the most popular ones on the "Pink Bubbles Go Ape" album. "The Chance" and "Mankind" became Helloween classics, and are sometimes played with Andi on vocals.
Roland played for a lot of artists: Ferdy Doernberg, Michael Vescera, German Rock Project, Axel Rudi Pell, Squealer, Dracker, Dr. Sin, Imperio, Metalium, Andi Deris, Shockmachine, Catch The Rainbow, Locomotive Breath and Timo Kotipelto.
One of the "Master Of The Rings" b-sides was a shredding neo-classical intrumental song called "Grapowski's Malmsuite 1001 (In D-Doll)", obviously dedicated to Yngwie Malmsteen. By that time, Roland was really into neo-classical stuff.
Another b-side of "Master Of The Rings" was "Closer To Home", a Grand Funk Railroad cover. Roland is a great fan of the band and Mark Farner, and not only did the guitars on this cover, but also did all the vocals.
Roland wrote fast songs and ballads for Helloween and solo career, but his main skill after "Master Of The Rings" were darker songs, like "Mr. Ego (Take Me Down)", "The Time Of The Oath", "The Four Seasons Of Life", "Kaleidoscope" and "Escalation 666".
On Helloween's live album, "High Live", Roland did a few lead vocals, on some parts of the songs "Steel Tormentor" and "Where The Rain Grows". He also screamed a lot with the crowd before the song "Mr. Ego (Take Me Down)".
Some people say that Roland should pratice his voice, considering that he has talent on singing, but he says that now it's too late, he's already over 40, and so on. He says that he's good on singing mid-tempo tunes, but not metal ones.
Roland's wife, Silvia, wrote the lyrics for "Take Me Home" and helped on the lyrics of "The Four Seasons Of Life".
People complain about the lack of Roland's songs on "Better Than Raw", but he helped a lot on Uli Kusch's compositions and even created some riffs on "Push". He just didn't want any credit for that, since he didn't consider it an important part.
Three of Roland's band members on "Kaleidoscope" are former Yngwie Malmsteen members.
When Roland joined Helloween, he knew that he should write heavier songs than the ones he did on Rampage. By that time, Yngwie Malmsteen, a personal friend, became one of his greatest influences. But on each album he develops more his own style.
"Kaleidoscope" has the bonus track "Separate Ways (Worlds Apart)", a cover from Journey, one of Roland's favorite bands.
Barry Sparks was rather busy during the "Kaleidoscope" tour, and Jens Becker was called to replace him live.
Famous musicians did guest appearances on Roland's solo albums: Axel Rudi Pell, Ralf Scheepers and Jens Johansson.
During the "Kaleidoscope" tour, Roland's band played two Helloween covers: "The Chance" and "Dr. Stein".
The songs "Hidden Answer" and "Reaching Higher" were compositions originally made for Helloween, but "Hidden Answer" was replaced by "Push" on "Better Than Raw", because the band wanted something heavier.
Roland loves cars, and always says that he would be a car mechanic if he wasn't a musician.
Roland appreciate bands that uses a modern influence in the music, like Rammstein or Skunk Anansie.
Roland doesn't remember exactly, but the first band he played on was called Prisma or Virus.
When Roland got his first guitar, his father took him to a guitar teacher. However, Roland thought that the theory part was too annoying and boring, and hated reading music, so after some time the teacher told his father that Roland had no talent for guitar playing. So he learned by himself, having Michael Schenker and Uli Roth as main influences.
Roland is not proud of the work he did with Rampage. It was more like an experience than an actual good job.
Roland has an impressive guitar collection. It includes Strats from 1956, '58, '61 and '63, some japanese Yngwie models, the first American candy apple red Yngwie Strat, a Ferrari red Strat, a couple of clean wood Strats, some Les Paul mode guitars by Dommenget, a Guild Brian May model, a Messenger hollow body with aluminium neck, a 70's Velino chrome guitar and more.
Roland suggested that Helloween made a cover of The Who's "We Won't Get Fooled Again" for "Metal Jukebox" covers album. But the only suggestion of him accepted by the band was Jethro Tull's "Locomotive Breath". Although he enjoys ABBA and Focus as well.
"The Dark Ride" was originally a regular four minutes song, among other compositions. With the help of Roy Z, Roland mixed some of the different original ideas he had and everything ended up on the track we all know today.
Anders Johansson, the drummer of Hammerfall and brother of keyboardist Jens Johansson, e-mailed Roland once, telling how much he loved "Kaleidoscope". According to Roland, a funny fact is that, some weeks before, Anders didn't know Roland too well, and sort of ignored him at a festival, even though he knew Jens had played on "Kaleidoscope".
Before writing songs for Helloween or his solo records, Roland usually keeps listening to non-melodic bands, like Pantera, to keep his mind clean and avoid copying something from other power metal bands when composing.
Roland has created some guitar riffs for a television commercial. Actually, he sort of recreated a Metallica riff, for the ad of a German business magazine, called "Money". Actually, he was called more by luck than because of recognition.
Roland is kinda against MP3 files. He thinks that, when people start buyings less CDs, the bands get less money, and cannot record good albums anymore. MP3 are good for new bands and rich bands, but discrete bands like Helloween need the money.
Roland really liked Roz Z's production, because, according to him, Tommy Hansen seemed to have no respect for his work and used to prioritize the other members, saying that Roland did a good production by himself, and didn't need his help.
"Escalation 666" was very difficult for Roland to write. He finished it when the album was already being recorded.
Roland likes Internet and usually keeps tracking the news and reviews about his works.
Before "Master Of The Rings" was recorded, Roland took some lessons from a spanish guitar player. The song "Still We Go", one of the best and most popular songs of that album and Roland's career, is the direct result of these lessons.
Roland likes to express his feelings on the lyrics, when people he knows do something he doesn't like. The songs "Mr. Ego (Take Me Down)" and "Escalation 666" are examples of these feelings, but he usually doesn't reveal who he's refering to.
Johnny Allen, the tour manager, calls Roland "Roli", and Roland likes to call himself "Rolando", because he likes to think himself as a cuban, or something like that. A lot of friends, specially in South America, also call him "Rolando".
In some of the picks Roland uses on gigs, it's written "Roland Ray J. Grapow". This name is actually a parody he made for all those guitarists who always like to wrote their middle names on the covers, like Yngwie J. Malmsteen and Steve Ray Vaughan.
Roland's dog, Tammy, did a guest appearance on "Kaleidoscope" howling at the beginning of "Reaching Higher".
The song "Angel Face" was written more than 20 years before being recorded for "Kaleidoscope". Roland wrote it about a special girl he met when he was 17 and almost forgot about it, never recording it until 1999.
"Mr. Ego (Take Me Down)" was written to Michael Kiske, former Helloween singer, at a time when Kiske and the band were really upset with each other and Roland was influenced by Michael Weikath's opinions. Nowadays, Roland kinda regrets having wrote those lyrics and have nothing against Kiske anymore. He thinks that there was enough time to heal all the wounds.
The lyrics for the song "The Chance" were written by Roland about his opportunity to play on Helloween.
Roland had a cat called Oskar, but it died some time ago.
Roland has two dogs: Tammy, a white shepperd, and Jana, a white shepperd and labrador mix.
Roland always says how he loves Brazil, and would really like to live there.
Karsten Heyer and Jörg Schädlich, two former Rampage bandmates of Roland, passed away some time ago.
Roland co-wrote 11 songs for Rampage, wrote 18 songs for Helloween, 14 of them alone, and 25 songs for his solo career, 18 of them alone. Obviously, he also composed most of the solos he did on guest appearances.
Helloween's covers album, "Metal Jukebox", was supposed to be called "Dream Concert", but it was changed before the release.
The cover for the song "Something", of The Beatles, was supposed to be a track of "Metal Jukebox", but the Helloweem members thought that the album already had too many ballads, as well as another Beatles song, and it ended up as a b-side.
The cover for the song "Faith Healer", of The Sensational Alex Harvey Band, was chosen for "Metal Jukebox" tracklist by Helloween's manager, Harrie Smits. It's one of the less popular tracks. Roland himself doesn't like it.
During the "Chameleon" tour, Helloween's drummer Ingo Swchichtenberg was ill due to hereditary schizophreny and drugs, and was replaced by a drummer called Ritchie Abdel Nabi. However, Ritchie ended up being fired because he couldn't handle double pedals properly, which were important for Helloween's music. He still was a great drummer, according to Roland.
The title "Master Of The Rings" was a mixture between the concept of "Keeper Of The Seven Keys" and the book "Lord Of The Rings", by J. R. R. Tolkien. It was supposed to continue the saga of the seven keys, but the idea was soon forgotten.
The song "The Time Of The Oath", written by Roland Grapow and Andi Deris, was inspired on the prophecies of Nostradamus. The prophet said once: "Rain, blood, milk, famine, sword, plague. In the heavens shall be seen a running fire with long sparks. Death comes out of snowfall, whiter than white" for Anno Domini 2000, the period known as the time of ther oath.
The lyrics for the song "Step Out Of Hell" were written for Helloween's drummer Ingo Schwichtenberg, who had some serious problems with drugs by that time. The whole band was very worried about him. He would commit suicide after being fired from the band, by jumping on the front of a train. A message to him was written on "The Time Of The Oath" album.
Helloween recorded a cover for Kiss' song "I Stole Your Love" as a b-side for "Sole Survivor" single, but it was mistitled as "I Stole Your Heart" on the single cover. The chorus was exactly the same, though, without that mistake.
Helloween and Roland made covers for a lot of bands and artists: Uriah Heep, Carl Perkins, Thin lizzy, Grand Funk Railroad, Kiss, Status Quo, Jean-Michel Jarre, Judas Priest, Scorpions, Jethro Tull, ABBA, David Bowie, Faith No More, The Beatles, Focus, The Sensational Alex Harvey Band, Frank Marino, Cream, Babe Ruth, Deep Purple, Journey, Kansas and Led Zeppelin.
Michael Weikath called Roland to join Helloween almost seven years after seeing him on a Rampage concert.
The Rampage albums with Roland can't be recorded on CD because the original tapes were destroyed by a member of the band. And he has no interest in re-releasing those anyway, since he is much more proud of his work after.
The title "Kaleidoscope" doesn't have any special concept, it was a suggestion and a word that Roland likes, since it sounds well and expresses the multi-coloured spirit of his album, with a lot of different concepts, styles and guitar lines.
Roland invited Yngwie Malmsteen to play on his first solo album, but the japanese label of Yngwie refused. He then called Axel Rudi Pell, who would later invite Roland to guest on one of his albums as well, as kind of a retribution.
Roland is a personal friend of the photographer Wolf Hoffmann, who worked for Accept and other great bands and did the photos for the "Kaleidoscope" booklet. They became good friends after that specific photo session.
Helloween's covers album, "Metal Jukebox", was supposed to have Herman Brood's "Saturday Night", but the band decided later to replace it with Faith No More's "From Out Of Nowhere", the only song of the album originally from the early 90's.
By the time when Roland recorded his first solo album, "The Four Seasons Of Life", his english was not very good. He avoided giving interviews about Helloween and even wrote the lyrics with the help of his wife and an english teacher.
Roland is a great fan of Grand Funk Railroad, and about seven years ago he played on a cover band of them. For the next year he's planning to reform this cover band and play some gigs in Hamburg, just for fun, not to record albums or anything.
Unlike the first solo album, "The Four Seasons Of Life", which had the single for "I Remember", no singles were released for the "Kaleidoscope" album because the japanese label considered the market for metal bands too weak at that time, due to recession.