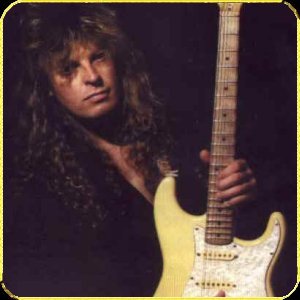 Which was Roland's band before Helloween?
Roland was a guitarist for the band Rampage, that had a style between Judas Priest and Journey. Roland released two albums with this band.
What's the opinion of Roland about Napster and MP3?
He doesn't like it. Since Helloween is not a band who sells millions of records, the MP3 affects them and they get less money. That affects the production and the band can't record their next albums properly.
Why Roland decided to call Mike Vescera to sing on his second solo album?
There were two reasons. Roland couldn't sing a play guitar live properly, and also the press didn't like Roland's performance on the microphone, so he decided to have another singer. He says that he's good singing mid-tempo songs from the 70's, but not power metal stuff.
Why "Better Than Raw" doesn't have any songs written by Roland?
Because all the tracks Roland wrote didn't fit the style of the album properly, but he helped creating the riffs for "Push" and "Revelation".
When and why Roland joined Helloween?
Roland got a call from Weiki and joined Helloween on Christmas 1988, replacing Kai Hansen during the "Pumpkin Fly Free Tour". Michael Weikath remembered Roland from a Rampage gig he watched seven years before and was really impressed.
Why Roland called only former Yngwie Malmsteen band members to play on his second solo record?
It was just a coincidence. He liked their style.
Who are Roland's greatest influences?
Mark Farner, Michael Schenker, Steve Lukather, Uli Roth, Ritchie Blackmore and Yngwie Malmsteen.
Why the style on "Kaleidoscope" is so different from the style of "The Four Seasons Of Life"?
When Roland recorded "The Four Seasons Of Life", he was really into neo-classical guitar and Yngwie Malmsteen. Later, he developed his own style and decided to record an album with a band feeling.
Why Roland toured with Kai Hansen's Gamma Ray?
To play live the songs of his second solo album, "Kaleidoscope", and also to show the fans that there was nothing wrong between Helloween and Gamma Ray anymore. Kai Hansen himself have heard "Kaleidoscope" and asked Roland to tour together.