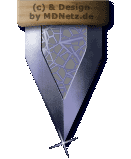 The Vault (SER)
???
1) Logar's Diary - that's a cool name for a band. Could you explain to people who don't know where does it come from?
Christoph: Well, Logar´s Diary is a concept band, telling the tales of the magician Logar in the Earthdawn universe. The CDs are always about one adventure Logar experienced. He writes his adventures down in his diray. So we are the band Logar´s Diary.
2) Many people still haven't heard of you. How would you describe in your own words the music that you're doing?
Christoph: We are playing Power Metal. Our music lives from Power Metal riffing, medieval parts, much atmosphere, powerfull drumming, strong melodies and choirs. All in all we try to vary within our style a lot to sound different from song to song, although I think that we have our own style carried by the typical Logar-melodies. So if you like Fantasy-Power Metal, give us a chance.
3) Do you think that the concept you committed yourselves to could be a restraint? Don't you think it might tighten you up to just one subject and that you might loose the inspiration soon?
Christoph: No, we don´t think so. We love what we do and if you love something/someone, you can do similar things without getting bored. We just put our borders lyrically, musically we limit ourselves by our tastes, so you´re right: We never will play any other kind of music. But that´s okay in my view! If we want to do something different in the future, we will see what will happen, but as fas as it concerns me, Logar will have many adventures. And believe me: We will never be boring with our music, it will always be varied within our style, and Power Metal has so many possibilities to vary within the style.
4) Your debut album is named "Book 1: Iostros". It's interesting that you've released it yourselves.
Christoph: That was a long and hard way. We wanted it to do the best way we could and tell the scene and the business that we are a strong band who is able to compete with other bands, even if we don´t have a contract. And be honest: I think with the artwork, the booklet, the concept and the music we are at least as good as bands with a contract…! Nevertheless, the release of an own CD was always a dream of us and now it came true.
5) I think that your lyrics are pretty interesting. Would you like to add some other interesting thing connected to them?
Christoph: Hmmm, I don´t know. Steven and Hagen write the lyrics and that´s not my part, but I think that they already told everything inside the lyrics. But you can imagine that it is pretty hard to have a look on the fact that the lyrics and the music must fit together, even more if you are concept band.
6) What is metal scene in Berlin currently like?
Christoph: Not as good, as many people would think, because of the size of the city. Berlin has too many choices for young people, so we don´t have one strong scene here, we have a million different scenes. Metal-concerning we are the only one Power Metal band here with a contract, gigs are done not often. We have somewhat of a Black Metal scene here, but this scene is full of fascist-like children and we don´t like them a lot. I work besides as a DJ in Berlin´s biggest Metal-disco and I do once per month a so called "Steel Attack"; I play only Power Metal this night. And we have only about 30 - 100 people there, although it is the only chance for a Power Metal fan to listen to your music.
7) What is your general opinion about the metal scene in the world? I can see that you appreciate the bands like Crystal Eyes, Zandelle, Elvenking, Drakkar, and we had the opportunity to interview all of them and they were all very kind and interested in co-operation with us and they've sent us their materials straight away. What do you think about the bands I specifically like, Falconer and Lost Horizon?
Christoph: I´m proud to say that I´m a part of the Power Metal scene. It´s like a huge family all over the world. A very strong scene full of nice people. I work also as an editor for a Power Metal fanzine called Fame of Metal () and as a part of my work there I got in contact with so many (underground) bands. We sometimes write us letters or emails and keep a lose friendship together, that´s pretty nice. Also the link between the editors of fanzines is very strong. I have many friends in Power Metal bands all over the world and they greet me (and Logar´s Diary) in their CDs, that´s a really nice feeling. Friends like Nicke from Dragonland, Tomas from Freternia, Mikael from Crytstal Eyes or Damnagoras from Elvenking are really nice persons. I think that makes the difference between the scenes in the Metal genre.

Lost Horizon is a brilliant band, I really love their debut, it´s one of the most powerfull CDs I have (and I have about 3500 CDs)!!! Falconer´s debut was amazing, too, but the second CD was much weaker in my opinion. I missed the strong, fast songs and brilliant riffs from the first CD.

8) Are there some other bands, in your opinion, we should consider in the near future?

Christoph: Thousands! Let me think for a moment…! Celesty, Axenstar, Frozen Tears, Medieval, Kaledon, Holy Gates, Ancestral, Sabatan, Blade of Spirit, Dies Ire, Excelsis…! If you need more infos, write me an email. The links to most of them you can find on our homepage. 9) Where have you been playing 'til now?

Christoph: We played only twice so far. The first gig was a "test-gig" for our friends. We played in Berlin in front of about 100 people, it was really cool! We performed the whole "Book I" and two cover versions: "Riding the Storm" from Running Wild and "Metal Warriors" from Manowar. The response was very good and we had a lot of fun together. We also did a bit show on stage with torches, candles, firebreathing and some theartrical acting.

The second gig was on a festival 200 kilometres away from Berlin with bigger bands like Wizard and White Skull. And I´m very proud to say that we had more response than both of them! Really amazing, although not many people knew us before. It was a very nice experience. And also we know that we have to learn a lot more for the future if we want to become better. There´s also a lot to improve!

10) Do you plan to film some video and, say, put it on your next CD as some kind of multimedia bonus?

Christoph: Not yet. It´s a good idea and we thought about it for a while, but we decided against it, due to a lack of money and time. Do you know that there exists a "Logar-valley" in Austria? I always think it is a good idea to film something there…!

11) Your new album - are you working on it and did you conceive the visual look? (the first albums cover design is fabulous!!!)

Christoph: At the moment we are doing the songwriting for the second CD. 2/3 are finished. All I can say about the new songs is, that they are faster, more technical, more various and in the same style as the debut. We will have real drums now and a better sound. And we negotiate witn the artist, who did the artwork for the first CD in order to get him also for this one. But it´s a matter of money…! Let´s hope the best.

12) Since I see that you totally support and back up the underground scene, what is your relation with fanzines? How often do the people contact you?

Christoph: That´s a matter of time. As soon as I get some time I write reviews, do interviews and put them online. The contacts with the people from the underground (bands and editors) are done every day. Often we talk just about new CDs, bands, developments in the scene, discoveries and so on… Fan-stuff!

I´m very grateful for the work fanzine editors do, cause it´s not paid and much, much work! I really appreciate this. I think fanzines have the power to help young bands to get to a higher level. And as far as Logar´s Diary develops the more I have to quit my work for Fame of Metal, cuase I haven´t the time anymore. That´s hard for me, but the band is more important.

13) What are your 'current' thoughts, what would you like to accomplish or achieve in the near future and that is linked to Logar's Diary, of course?

Christoph: I hope that our new label (Metal Fortress Entertainment) is able to push us a little more further with the next CD. We want to make more people happy with our music than we did with the first demo-CD. Than we would like to do some gigs, to gain experience, maybe a samll tour with a bigger band? Let´s see…! The story will go on and I´m proud to be part of it!

14) I like to ask this question: If you decided to do some covers (I say IF), what bands and songs would it be?

Christoph: We already did two covers: "Blood of my Enemies" from Manowar, now released on Northwind Records in Italy, and "Riding the Storm" from Running Wild, which will be in a competition to be part on a maybe forthcoming Running Wild tribute. On the official RW-homepage people can choose which songs will be part of the tribute and we hope that we have good chances. We also did nearly a Blind Guardian tribute, but we hadn´t enough time. We would have done "Traveller in Time", but only because "Lost in the Twilight hall" and "The last candle" were already picked. Now we are asked to be part of a Heavy Load-tribute but I doubt if we will do this…

Personally I´d like to cover so many songs. "Halloween" from Helloween would be a favourite. Or "Armageddon" from Gamma Ray.

15) Since I know about your role models, what are your favorite albums of the absolutely UNIQUE Running Wild?

Christoph: Hehe, great band, we all love them a lot! My 5 favourite CDs are in the following order: "Black Hand Inn", "Pile of Skulls", "Port Royal", "Blazon Stone", "Death or Glory". Then come the latest efforts and then the first CDs. But that´s only my opinion. I adore hymns like "Powder & Iron", "Billy the Kid" or the best song from Running Wild "Treasure Island"!!!

16) Ok, so far for now. I salute you all and I hope we'll stay in contact. For the end close this interview the way you like.

Christoph: Thanx a lot for the interesting questions and for the time you spend in supporting us. Metallic greetings to all Metal fans out there. The future is ours! Keep an eye on Logar´s Diary!

Interview by Maya "Savage" Stanimirovic