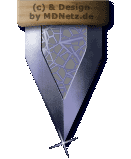 Metal Magick (NL)
www.truemetal.org/metalmagick/
As the old saying goes "don't judge a book by its cover", well that's not the case with Logar's diary Not only does it have a great cover but what is held within this "book" is some amazing fantasy power metal. Logar's Diary is a new Fantasy power metal band from Germany and 'Book 1: Iostros' is their demo release. The music is influenced by bands such as Blind Guardian, Gamma Ray and Running Wild, however, this is not a clone band. Logar's Diary may not be breaking new ground but they have their own sound. There is a lot of folk and medieval influences combined with majestic choruses, some female vocals and well played power metal. All this really adds to the atmosphere. As if this was not enough, the album follows an enchanting concept story (YES! I love concept stories!!!) dealing with a Magician named Logar who wanders through the Earthdawn-universe (Earthdawn should sound familiar to all Roleplaying fans). 'Book 1: Iostros' is his Diary telling of his adventures. Both the music and lyrics fit perfectly together to accompany you on your journey filled with love, hate, friendship and betrayal, joy and fear. There is no lack of talent with the band. Hagen Hirschmann's vocals fit the music perfectly. He does not sound like countless other power metal vocalists, in fact his voice is very unique which is a nice change. His voice is rougher in the vein of Hansi Kürsch (Blind Guardian) and Rock 'n Rolf (Running Wild), but he does possess the range to hit some high notes (just take a listen to "King's Hall"). He also sings with a lot of emotion and various tones. As for the rest of the band, Christoph Uhl (Lead & Rhythm guitars) and Steven Schubert (Rhythm Guitar) twin guitar harmonies and riffs complement the music without over powering it. Felix Gretzer (Bass) adds to the rhythm section and Michael Kwandt's keyboards enhances the atmosphere. Production wise, it could have been better but keep in mind that everything (Production, studio, songwriting, artwork, pressing, promotion, selling) was done by the band. So you can only imagine what a great release you will get once the band has the backing of a record label.
The album starts off with the usual intro which sets the mood for the rest on the album. Next up is the high speed 'Lonely on the Serpent River' with blistering double-bass drumming and Running Wildish guitar riffing. 'Traveling to the Blood Woods' carries on with the speed. After that things slow down with 'Ti'An - A Troubadour's Ballad' which opens with a Blind Guardian like acoustic intro and features some nice guitar and vocal work as well as a grand chorus. Things once again speed up until 'My Love Still Exists', which is another great ballad. It features both male and beautiful female vocals. The album ends off with the instrumental 'Déjá Vu'.
I highly recommend this album to all metal fans!. These guys have the talent to go far and I am sure once they get a record deal we are going to hear great things from them. The album is available from Logar's Diary members for DM.20 or US$.12 (including postage).
Favorite Tracks: Travar - The Golden City, Lonely on the Serpent River, Iostros, My Love Still Exists
Review by Justin "Amorphous"