Throne of blood

Lux aeterna

Spider

Murder by degrees

No sign from above

In gein we trust

Flesh and fury

No touch

Hack it off

Forbidden zone

She´s fading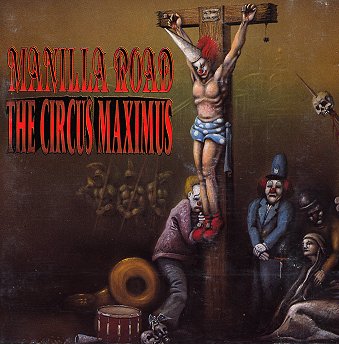 Album cover of the band CIRCUS MAXIMUS with Manilla Road-logo on it...
It is true: This is no official MANILLA ROAD album. Mark Shelton decided to start a solo project but after a while it was a solo project of three musicians: Mark Shelton, Aaron Brown (Drums and Vocals) and Andrew Coss (Bass, Keys and Vocals). Every member of this "project" has done lead-vocals on this album when they wrote a song for it! Sure the Mark Shelton - songs sound pretty much like MANILLA ROAD, for example Throne of Blood.
All in all this CD is a very good rock and metal album with some commercial songs and some kind of "weird" tunes by Aaron Brown. If you can´t get enough of MANILLA ROAD you can also enjoy this special CD!!