The dream goes on

Cat and mouse

Far side of the sun

Street jammer

The empire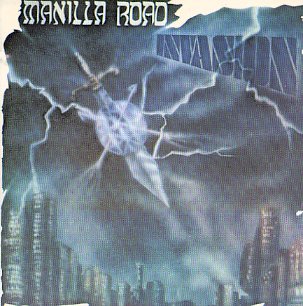 Invasion album cover
Most Manilla Road fans never had a chance to get a copy of this debut recording from 1980. It was distributed and self financed and so today it is very hard to find. I also just have a CD bootleg version and no original vinyl copy (too sad...). Maybe you can find a copy of this CD in Europe but donīt contact the company Reborn Classics...it is not easy to produce CDīs in jail, ha ha!

This record contains a lot of great songs even it is not the sound you know from albums like Crystal Logic or even later Manilla-stuff. The album opens with "The Dream goes On" and this is more rock-based than Heavy Metal. "Far Side of the Sun" can be found also on the second LP "Metal" and on the 1988 live album "Roadkill" - a hard rocker! "The Empire" is a great and long space-rocksong that sounds like an improvisation. The album has a special live character due to a very rough production.

If you find a copy of INVASION somewhere and it costs you less than a new car (lol!) then buy it! You donīt need a lot of time to realize that this is already MANILLA ROAD...it is the beginning of a great band.