Dragonheart is an Italian metal-based record-company and they got the license to release OPEN THE GATES. Now in March 2001 the product is finnished and available for all the Manilla-maniacs worldwide!
I own the original vinyl and CD from OPEN THE GATES (Black Dragon Records, 1985) and sure these are collectors items today and they still will be in future. The original vinyl version came with a free 12" containing two long tracks "The Ninth Wave" and "Witches Brew". For many people here in Europe it was the debut album of the band because the previous releases had no distribution here (Crystal Logic was released later on blue vinyl on Black Dragon Records)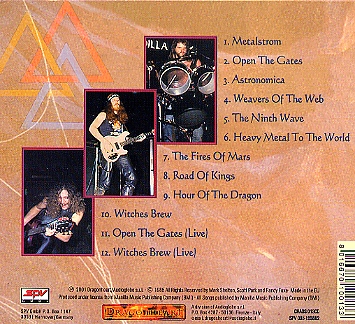 OPEN THE GATES is one of the bands most important releases. It features Randy Foxe on drums for the first time and it is more Heavy Metal than the previous releases. The sound was also by far better than on "Crystal Logic" or "Metal" and "Invasion". The cover-artwork by Eric Larnoy is outstanding!
The 2001-reissue comes in a digi-pack-version with a booklet inside, containing all lyrics, the original (and new) credits and some words about the records. If this website wouldn´t exist, I could say that there are 3 never seen before pictures as well. Two live-bonus tracks are added: "Open the Gates" and "Witches Brew"!
The sound is by far better than the original version. There is more bass and more presence, also it is more stereo than before. Especially the cymbals and the voice appear much better now.
All in all OPEN THE GATES is the third reissue of classic MANILLA-stuff and it important for the whole metal scene with all the talking about "true metal" that is is available again!
ORDER INFORMATION:
Germany: This record should be found in every record-shop and if not they can order it at SPV. The ordernumber is SPV 085-123882 and the barcode is: 8016670100133.
You can contact DRAGONHEART to ask for mailorder-prices (I will have them here soon!):
DRAGONHEART
P.O. BOX 4287
50136 Firenze
Italy
http://www.truemetal.org/dragonheart-records/