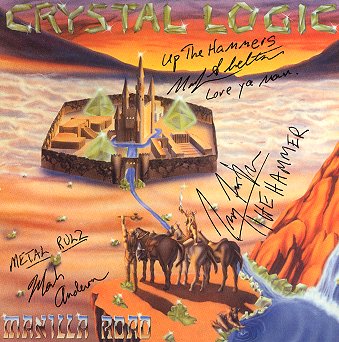 Crystal Logic CD-cover with autographs (2000)
...some still think that this is the debut of MANILLA ROAD. Well, they are wrong but also right. CRYSTAL LOGIC is the first classic MANILLA ROAD album with all typical trademarks: The characteristic vocal-lines of Mark Shelton, epic songs and the incredible MR-atmosphere that is unique in the world of hardrock and metal. This record contains some of the best MR-tunes ever. "Dreams of Eschaton" is my favorite song with its bardic intro and the "melodic metal thunder" after. Wow - this song is not of this world! It was covered by MESSIAH, a Death Metal band from Switzerland on their "Rotten Perish" CD (without the intro and with grunts) and there are rumors that MR entered the Japanese charts with this song!! It would be no wonder... But I also have to mention the short and pregnant opener "Necropolis" which is in your head for hours if you once hear it. A kind of Manilla-hit! All other songs are classics too except of "Feeling Free Again". This song was written to get radio airplay and it is a rock standard (but meanwhile I even like this song too!). Mark told me that this song was the wish of the producer.
Black Dragon released C.L. in a blue vinyl version for Europe. They forgot to put "Feeling Free Again" on the playlist of "Side A"...
The CD version is easy to get today because it was released in 2000 by Iron Glory. If you live in Germany you shouldnīt have a problem to find it in CD-shops (the company has the same distributor as the Backstreet Boys, lol!!). If not just contact Andi from Iron Glory, also a true Manilla-fan and supporter! (Adress and their website on the left).
You need this CD not just because of the bonus track...it is a metal classic!
(NOTE: If you canīt find it in the metal department of your local CD-shop filed under "Metal M" then have a look at "Metal C"! The title of the CD is on top of the cover and so some stupid people think that CRYSTAL LOGIC is the name of the band...sic!)