Metalstorm

Open the gates

Astronomica

Weavers of the web

The ninth wave

Heavy metal to the world

The fires of mars

Raod of kings

Hour of the dragon

Witches brew

MARCH 2001 information:

OPEN THE GATES is available on CD now (Dragonheart-records, Italy).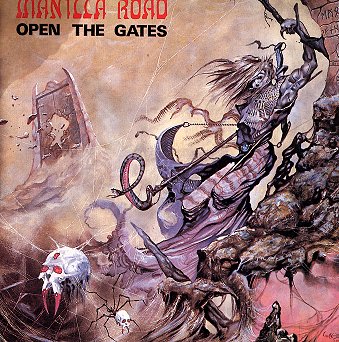 Open the Gates Album Cover
.

OPEN THE GATES is maybe the best known MANILLA ROAD album here in Europe because it got massive promotion when it was released back in 1985. There was even an interview in the mag Metal Hammer here in Germany when Mark was on a promo-trip. Also it contains a great cover artwork by Eric Larnoy which canīt be overseen! OPEN THE GATES is the first album in the classic line-up with Mark, Scott and the new drummer Randy Foxe (who doesnīt show all his "finesse" on his fist MR record).

The music on this classic record ranges from typical epic material to real Heavy Metal ("Metalstorm" or "Heavy Metal To The World"). The production is by far better as on Crystal Logic but still rough and true. The best tracks on this album are the long epic songs like "The Ninth Wave "(9.30!!), "Witches Brew" or "The Fires Of Mars". This is real perfection!

You have a lot of fun listening to this record while reading the lyrics. After 55 minutes you want to start again...I promise! I own OPEN THE GATES since (I think) 1987 and still it sounds fresh to me.

Since OPEN THE GATES you can call MANILLA ROAD a Heavy Metal band (Crystal Logic was metal too, but the sound was a little "thinner"). For some it is the best MR-album!