Dementia

Shadow in the black

Divine victim

Hammer of the witches

Morbid tabernacle

Isle of the dead

Taken by storm

The deluge (trilogy)

Friction in mass

Rest in pieces

SOON AVAILABLE AS CD THROUGH UNDERGROUND SYMPHONY, ITALY!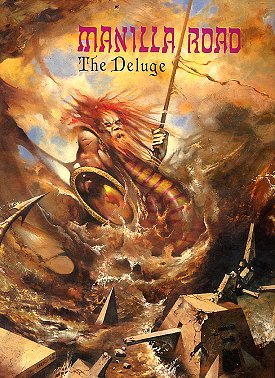 Part of the DELUGE album cover
A short guitar feedback..and then...metal madness with "Dementia"! This is the first MR-record where you can realize how unique drummer Randy Foxe is! This was my first MR-LP and so I have a special relationship to this album. First I was attracted by the strong coverartwork and when I started to listen to THE DELUGE I knew I found a band that really is unique in the world of Heavy Metal.

THE DELUGE is the consequent follow-up to OPEN THE GATES. Maybe it is a little more progressive and most songs are shorter but still it is pure epic stuff. Beneath those great songs like "Shadow in the Black" and the titletrack (a trilogy!!), there is a great sing-a-long track called "Divine Victim" on the album. All in all there is not one song on THE DELUGE that is not really good!

Watch out for the Italian re-release of THE DELUGE. You will be addicted to this CD after the first few notes...I promise!