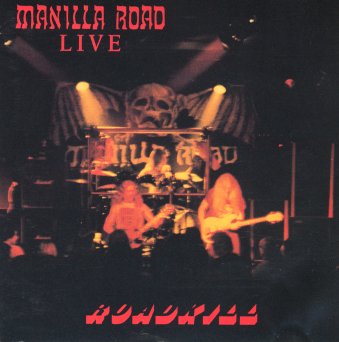 The ROADKILL cover
"Did you like that? Are you ready for some more crazy stuff?" (Mark Shelton on "Roadkill")
ROADKILL is the only live album of MANILLA ROAD. It was recorded on their Mystifiction Tour 1987 and it contains songs from Mystifiction, The Deluge, Open The Gates and "Far Side of the Sun" from Metal and Invasion. The quality is very good and the album really sounds live...but not the audience that you can hear on the record! Mark told me that there were between 500 and 600 people at the shows but you hear maybe 10000 on the album. He also told me that Black Dragon thought "We need more crowd!" and so they mixed a few people more to the original master tapes...that is really sick. But still it is much better than listening to "fake live recordings" like "Unleashed in the East" by Judas Priest ("Unleashed in the Studio" would be the right title!).
This live-album proves that the band is able to play this complex material on stage and especially that Mark is able to sing and to play guitar (even solos) the same time!! Great job!! This album proves that Scott Park is a solid bass-player between a solo-playing Mark Shelton and a weird drummer like Randy. He is the one that keeps it all together (like Roger Glover in Deep Purple). And this is another cool moment of this live recording: Before "Far Side of the Sun" starts Mark is saying "Mr. Thrasher, take us away!" and he does...
If you see the LP somewhere just buy it! But if you see the CD-version then you really need this! It contains a lot of bonus tracks (see title list on the left) from The Deluge and Mystification!!