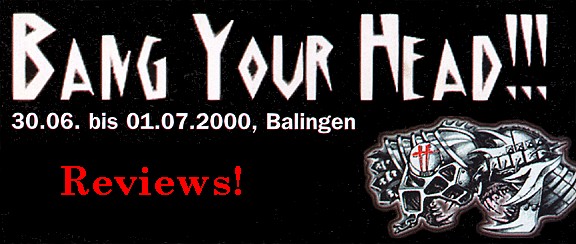 ---
2 months after the BANG YOUR HEAD Festival the first reviews in the German press are here. In the Eighties the German press havenīt found many good words about MANILLA ROAD but since the re-release of CRYSTAL LOGIC and a lot of bands calling MANILLA ROAD as one of their influences the German press has realized that this band is one of the best metal bands in the world - not "just" a cultband! And each magazine wrote about the devoted fans!
ROCK HARD, Germany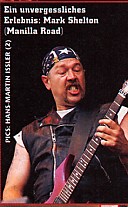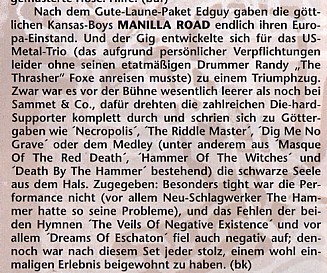 Above is the regular review of the German mag Rock Hard. They write that this gig was a triumph (in German: Triumphzug) for the band. Also they say that this gig was an "experience" and everybody was proud to be a part of it. Negative comments: The set was not too tight (new line-up) and the missing of two songs: Dreams of Eschaton and The Veils of Negative Existance.
Below is another article of the same mag/same issue. Gerrit Mutz was the merchandiser for Metal Blade records. He also sold the few MANILLA ROAD shirts that were available (yes, the red ones you can order at Iron Glory, see Merchandise Page here). He tells Rock Hard how "bizarre" the fans of MANILLA ROAD were on this day, especially the fans from Greece: "They were totally crazy! These guys bought these shirts in dozens!!" Rock Hard writes that the next day the place was red. One of the Rock Hard guys said: "It looked like the fire brigade runs this place" (In Germany the fire brigade is red).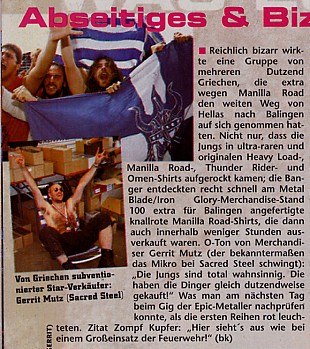 METAL HAMMER, German Issue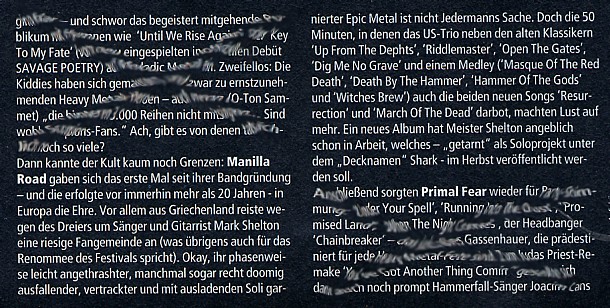 The same in METAL HAMMER: The fans from Greece - again with a picture! The review is also good, but there are some mistakes in the text: Anybody knows the songs "Up from the Depths"??? You know "Hammer of the Gods"??? Well, METAL HAMMER is not the mag it was in the Eighties and it shows in mistakes like this
METAL HEART
One of the newest German metal-zines also wrote a review: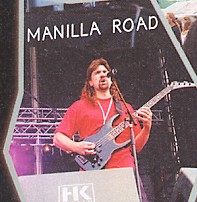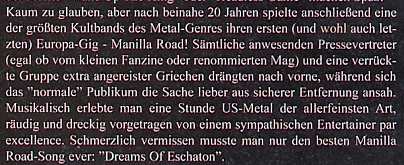 And again: The fans from Greece are in this article! Congratulations to Greece! They write that the people got "50 minutes of fine US-Metal" and that not just the fans of the band were in the first rows but also the complete people from the press (from the small fanzine to the big magazine). Mark Shelton is "sympathic Entertainer par excellence", they write and the only negative thing...we had that before...was that they haventt played "Dreams of Eschaton".
All in all a very positive collection of reviews! It seems like MANILLA ROAD has to play "Dreams of Eschaton" next time! If they do so in Wacken 2001 then they will be god - even for the German press!