manilla road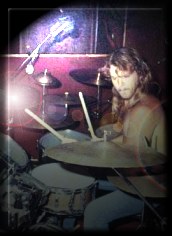 First of all what's going on with Manilla Road today?Is the group active?Are there any plans to make a new record or some live gigs?
The group is active. I am, however, no longer involved. We were working on a new album, though I do not know the fate of it. Mark and I had a parting of ways. I won't speak badly of him, though. He is an incredibly gifted musician, composer, and performer.
Apart from you and Mark who are the other current members?
As it stood just before we parted, Mark and I were the only real members. He has a bassist with whom he has been working on a solo project. I believe that is the bassist for the "new" Manilla Road. I know nothing of the new drummer.
How you became a Manilla Road member back in 1984?
Oddly enough, Manilla Road's management saw me playing guitar in another band. They had heard me say that drums was my main instrument but that I would not go back to playing the drums unless I found a guitarist who was better than I. Shortly afterwards, that band's vocalist found religion and we disbanded. MR's management approached me with an audition for Manilla Road. Meanwhile, Mark and Scott had grown weary of auditions at "The Road House" (the Roadster Records headquarters) and, when told about me, decided to come to my house and listen before allowing me to audition. I played for about thirty seconds when they stopped me and asked if I could play double-bass. I did about fifteen seconds of double-bass when they stopped me and asked when I could audition. I was in the band after the first evening of playing together. Obviously, I found a guitarist who was better than I!
Do you know from where the band took the name "Manilla Road"?
Sorry, the name predates my involvement. I don't know it's origin.
Are there any unreleased songs from the past?If yes are you going to release them?
To my knowledge, the only "unreleased" song was an incomplete song from the "Mystification" sessions. It's been doctored and will be included on the "Mystification" rerelease. There were, however, many songs which we never recorded. For example, the original song which carried the name "War in Heaven", which was totally unrelated to the song on "Out of the Abyss" was a massive forty-five minute long epic and that was after several severe cuts! It was an amazing piece of music. There were many, many others.
What music do you listen to?
Virtually anything except country music. Also, I'm not fond of most rap. I listed to a very wide variety of music.
Which are your favourite bands/musicians?
Currently, I've been listening to a lot of Devin Townsend's projects: Strapping Young Lad, Ocean Machine, Infinity, etc. My other two favorite musicians would be the late Brian MacLeod (R.I.P.), of Chilliwack and Headpins, who could just rip on guitar, keyboards, and drums, and Mick Tucker, the drummer for The Sweet. I know these may seem to be odd choices for a "metal" drummer, but, again, I listen to a variety of music. Favorites of all time would include (in no particular order) Chilliwack, The Sweet, Headpins, Devin Townsend, City Boy, Bernie Torme, Crack the Sky, Black Sabbath, Frank Zappa, T-Ride, Mott the Hoople, Thin Lizzy, Deep Purple, Touch, Godley/Creme, Ambrosia, The Guess Who, Pink Floyd, Todd Rundgren, UFO...the list would go on and on. I have somewhere near 2500 record albums and over 1000 compact discs in my collection.
How's this for a cliche: music is my life. It's true, though. I also own six guitars, two keyboards, several sound modules, and my kit which, when fully set up, includes twelve drums, eight cymbals, fourteen electronic pads, the two previously mentioned keyboards, four pedals, and five footswitches. Incidentally, on "The Courts of Chaos" if you listen closely you'll find that the drums and keyboards happening simultaneously are each being played with one hand. That's how we performed them. I played drums with my right hand and keyboards with my left. There were various exceptions: the beginning of "Into the Courts of Chaos" was two-handed keys, "The Road to Chaos" was just a performance intro(up until the guitar and bass come in), and "D.O.A." was a hand switching nightmare!
Also, at one point I was experimenting with left handed guitar (all hammer-ons and pull-offs) simultaneously with right handed drums. However, I was hauling more equipment than both Mark and Scott combined so I didn't pursue it.
How is the american metal scene today?
There really isn't an American metal scene today.
Which are your favourite Manilla Road album and song?
Favorite album: The Courts of Chaos. Favorite song: The Prophecy.
Have you ever come to Greece?You are very popular among the metal fans here(especially after the bootleg compilation that Metal Hammer magazine released).
I would love to but doubt I will ever have the opportunity.
Do you know any Greek bands?
I'm afraid not. I really don't listen to much metal. Manilla Road was metal to me. It was most of the metal I needed.
What's your opinion about the following bands:
Manowar
Mark is, or at least was, a big fan. Great musicians, no doubt!
Dream Theatre
I really enjoy Dream Theater, especially Awake. I also have several of their "side project" discs and enjoy them as well.
Deep Purple
Nothing like them, ever! I still buy their albums and cannot say enough good things about them. Their latest, "Abandon" is one of their absolute best!
Omen
Sorry, I'm not familiar with them.
The Beatles
This may sound cliched, but it is heartfelt: they changed music forever. They were so very much ahead of their time. I cannot imagine current music without their influence. I wish they could have reunited before John's tragic death.
Iron Maiden
I remember buying their first album on the strength of the artwork alone. I was not disappointed with the music either! I was a big fan for many years but seem to have lost track of them. I am aware that there is something of a reunion in the works and will probably buy the new album.
Metallica
Kill 'Em All: very promising...Ride the Lightning: excellent!...Master of Puppets: a true masterpiece...Justice: some great material but where's the bass?...anything after: no thank you.
Immortal
Sorry, I'm not familiar with them.
Boney M
Sorry, I'm not familiar with them.
Manilla Road
Well, I don't often listen to the recordings because they aren't the best performances of the songs. We practiced and played a lot! The recordings are the best performances we could do with an eye on the recording budget.
As a drummer what's your opinion about the following persons:
Cozy Powell
He always had a "big" sound and "big" performances. I always think of his work with Rainbow, particularly "Rising", when I think of him. I believe he used large sticks like I do: 3S drum corps sticks.
Ian Paice
A ground breaker! He changed the role of the drummer in rock. I remember hearing "Burn" and being amazed at how he was practically soloing through the verses!
Dave Lombardo
Though I'm not a Slayer fan or a Grip, Inc. fan he is a monster drummer.
Mike Portnoy
A true virtuoso drummer. He's inspiring a whole new generation of drummers.
Randy Foxe
I'll leave that opinion to my critics...however, there was one critique that I liked. I'm paraphrasing because I don't know where it came from..."He couldn't play a straight beat to save his life." I liked that. I never wanted to play "straight" beats. I don't like repeating myself or anyone else.
What do you want to say to the Greek metal fans?
Thank you for your support! It means a lot to know there are still fans of our music! It was very important for me and I'm thrilled that it still means something to people today!
PART 2
-You said that you left Manilla Road. Could you give some additional information about how it happened?
The short version of the story is that the partnership of which I believed I was a part no longer existed. Without that partnership, I didn't see any point of continuing.
-Are you involved with another band at this moment? Any plans for a solo project?
I've been recording some solo material. However, I have to warn you that it's not anything like Manilla Road. I don't know if it will ever be released. My solo material is sort of a "therapy" for me...it keeps me sane and makes me happy.
-Do you earn your living from music?
I'm afraid not. I truly wish I could but, as I mentioned, I have a family to support.
-Last time, I asked you your opinion about some bands and there were some you didn't know. So let me enrich your knowledge and reach the point of the question. "Omen" is an epic metal 'cult' band. Some describe them like "Iron Maiden on the battlefield". Their old stuff is very good but their reunion dissapointed everyone. Keep an eye for them... The next one was Immortal. A popular black metal band with some epic stuff. I wanted your opinion about Black/Death metal.
I've always been uncertain where the definitions of Black/Death/Thrash/etc. metal lie. I have a Death Angel disc that I like a lot. I just never was exposed to much Black/Death metal.
-I was surprised that you didn't know Boney M. They were one of the most popular disco groups. Perhaps you 've heard their greatest hit "Rasputin". Nevertheless, do you like disco?(I mean the old 'original' disco and not today's commercial garbage)
I'm not a big disco fan, old or new. There was some interesting disco in the seventies, but I was listening to more complex, progressive music at the time. During the seventies, when disco was new, I was trying to teach myself several instruments and I wanted to work with music that really pushed my abilities.
-I was surprised that you play so many instruments.How old were you when you decided to play music?
I took piano lessons when I was five or six years old. However, they were forced on me and, unfortunately, I really didn't learn much at that time. I started playing the snare drum when I was ten and learned various percussion instruments over the next few years. I started playing the drum set at fourteen, the same year I started teaching myself guitar. I got back into piano and other keyboards at sixteen. I got interested in the different style of playing bass guitar, as opposed to six-string, at about eighteen. Drums is the instrument that is the easiest for me to play. Lately, however, I've bee n enjoying playing bass guitar a lot.
-Our "fanzine" has to do with internet. How often do you use the "new technology"?
I check my email most every night when I get home from work. After I work on music for a while, I "surf" until I get sleepy enough to go to bed. I work an unusual shift (not by choice) that makes a normal sleep schedule impossible.
-Do you play video games?What do you do in your spare time?
I used to play computer games. I still do on rare occasions. My favorite is the Descent series and both System Shock games. I was totally immersed in the worlds of those games. Lately, however, I've been trying to dedicate more time to my family and to recording.
-What's your favourite book/movie?
That's a very difficult question. I read whenever possible and have always loved movies. As for books, I enjoy Douglas Adams ("The Hitchhiker's Guide to the Universe), Terry Pratchett (the Discworld novels), and early Clive Barker. However, the book I've read the most is William Peter Blatty's "The Excorcist" which I've read at least ten times.
As for movies, it's even more difficult to choose. The movies I've viewed most would be "The Fifth Element", John Carpenter's "The Thing", "Cannibal Apocolypse", and most any Peter Jackson film. Peter Jackson is my favorite filmmaker. I've watched "Bad Taste", "Dead Alive" (the U.S. title for "Braindead"), "Meet the Feebles", and "The Frighteners" many, many times. I'm awestruck by the effects in "The Frighteners" and I think there were some incredible acting performances, as well. I also have a fondness for old black-and-white movies, especially comedies with Cary Grant, Danny Kaye, or The Marx Brothers.
That's all...Your answers will be edited translated word-for-word on the 26th of June (and not July as i have written). The only thing we'll change is the order of questions. I hope there is no problem...no, that is not a problem.
Thanks again and we wish you a nice summer!
You are quite welcome! Thank you for giving me the chance to speak to the fans! You have a wonderful summer, as well!