manilla road - music till death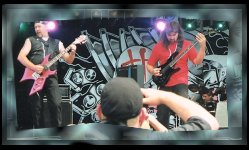 They count as one of the most misjudged bands of metal history: mocked and reviewed into the ground by the gloating censors. just now, after about 20 years of band history, the americans MANILLA ROAD finally get to know the honour they deserve. surprising enough that the band around mark 'the shark' shelton is still active... and not only this: in a short while the godfathers of epic metal will set foot on the old continent for the first time in order to play live. guess where that'll be? right! in balingen, at a tiny happening called bang your head!!! that many metalheads are looking for.
mark shelton too can hardly await it: - i'm excited as hell that we'll finally be able to play in germany. i've been looking forward to play in europe for a long time. who else will be playing besides yourself and randy 'thrasher' foxe (drums)? - mark anderson is gonna play the bass, he's tremendous talented. randy is obviously not in the band anymore, though. we haven't played for 2-3 years cause he's dedicating his time to his job at some airline. we've asked him if he wouldn't like to come with us, but he replied he couldn't get off from work long enough in order to play in europe. i do believe that he really wanted to, though. we've been waiting for him for 8 months in order to play a couple of new parts for a upcoming MANILLA ROAD-album but it seems that he simply can't find enough time to continue his musical career. we now have worked with troy olson, who is a graduate in music on the wichita state university here in kansas. i promise we haven't made any regression.
too bad. it's supposed to have been legendary how randy was able to manage his drums and the keyboard at the same time through live- gigs in the states. how did he actually do that? did he get a third arm grow? - randy is a fantastic musician, he didn't need a third arm. he managed the keyboard with his left hand, while he played the drums with his right hand. well, about the keyboards, thats not a big problem because the only songs we used them on were the ones from 'the courts of chaos', and even there only a few parts. it also won't be possible to bring your quite expensive and complex stage-show with you. do you regret that? - yes, it's quite a pity that we can't bring all our stuff, but that won't keep us from delivering the best show that we can offer. through a poll at the bang your head website you're requesting >> which songs you guys should play. what were the results so far? - we're planning to play as much stuff as we can. since 'crystal logic' was just re-released in germany by iron glory records, we'll of course play a bit from that one, as well as material from 'open the gates', 'the deluge', 'mystification', 'out of the abyss' and 'the courts of chaos'. although we won't play anything from 'circus maximus' since that wasn't a real MANILLA ROAD-album, but a solo- project that the record label released under the name MANILLA ROAD in order to make money. i'm still mad about that today! well, apart from that we'll also play a few new songs.. i've heard that besides a MANILLA ROAD-album there'll also be a solo-project by yourself.. - yes, that's what i have been working on the past 7 months. it'll be called SHARK. we just need to record 2 more songs and we're done. it sounds quite similar to MANILLA ROAD and will also incline lyrically in that corner and it something like a continuation of 'the deluge'. of course there are differences to MANILLA ROAD, but it still is very heavy and epic. i believe, everyone who liked MANILLA ROAD will like SHARK as well.
we'll be curious about it. what about your lyrics, they're usually rather a bit gloomy and deal with the darker sides of literature, myths, cults etc.. what fascinates you so much about these things? - well, i have the feeling that we all are stuck in a too modern world and have lost alot of wisdom that the old world did own. i've always tried to keep the contents of old philosophy with my music. all cultures are fascinating me and i always know how to tell a good adventure tale. is that argument between the dark aspects in history and the society also a argument between your own personal shady sides? - i think you could say it like that. i believe that in ourselves there's always a argument between good and evil. in order to make a life in balance possible, there have to be both sides of the medal, the positive and the negative. are there hobbies or interests of yours that would surprise the ones that know your music? or does your interest in these things coin your whole freetime-activities? - well, yes. i am what i read. i'm reading huge amounts of literature of the same kind, where most of my lyrics influence to. but i'm interested in anything. for example, i love western movies but also like old black/white-movies and thrillers. could you name your favourite three books, movies and albums? - for the literature that would be about everything by robert e. howard (the creator of conan the barbarian - the author), h.p. lovecraft (master of substile horror, made the cthulu-mythos popular - the author), 'macbeth' and 'hamlet' by shakesspeare and 'the hanes taliesin' (got to pass here, but i think usually taliesin is the merlin of the artus-saga - the author). oh, sorry, that already were more than three. no problem. - ok, for the movies that would be 'jason and the argonauts', 'braveheart', 'from beyond' and all audie murphy-western movies. and again it's four favourites.. no problem, just go on like that.. - new music: the soundtrack of james horner of 'braveheart', voivod with 'negatron', 'jugulator' by judas priest and 'nemesis' by grip inc. for the old stuff that's: deep purple, mozart, black sabbath, bach, jimi hendrix and hawkwind.
so, nice list i think. but, when talking about old and new music: you already mentioned there'll be a new MANILLA ROAD-album - when will that be? - well, like i said before: we've been waiting for 8 months that randy submits his drum-parts. so, by now, i think we'll do the project without him after we have finished all the work on the SHARK-album. do you think that the new millenium (i hate that - obviously not fitting - term, please excuse this bullshit) finally could become the MANILLA ROAD age, after you were quite misjudged for a long time? - every time is ok for me. no matter what happens: i'll never stop making music because that's my vocation. do you never feel like giving up everything when you're frustrated? - i do. for a while i weren't doing anything else but taking care of my family. i had the feeling that my musical career and everything about MANILLA ROAD would be over. but the interest in MANILLA ROAD throughout europe and my music brought back my strength. i am more convinced than ever to try again. i've always wanted to have enough money to live from my music but i will accept what the gods bring for me, and i will play music and write lyrics until i die. it's quite strange: by now there are quite a bunch of people who consider MANILLA ROAD one of the most important and jutting bands in metal history, and especially in epic metal. isn't it sad that other unimportant and less independent bands celebrate a much bigger success than you do? - that's surely true, but i am still quite happy that i was able to produce and publish about 100 songs in my career. i don't know many people who can look back on such a active career in the music business like i can...
(Thanks to "Universe" for the tanslation of this German interview!! Thanks to "Heavy oder Was" supporting MR!)