The new old album - "Mark of the Beast" (aka. "Dreams of Eschaton")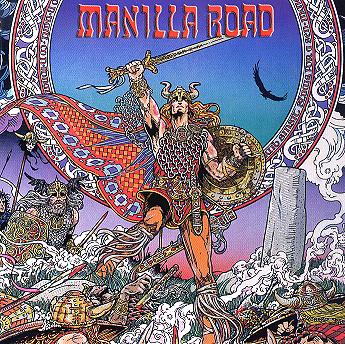 2003 - Monster Records, USA (Monster MCD010) www.monsterrecords.com
Bootlegs often are no fun, neither for the band nor for the fans who have to deal with low sound quality and poor package. Most parts of this album were available as a bootleg but now you can own this masterpiece in the best possible sound quality! If you carefully browsed through this site you may already know what to find on this CD/DLP: The lost album which was recorded between "Invasion" and "Metal" in 1981. At that time the band was not very happy with the material so it remained officially unreleased. The music is not what people call metal and I think this was the main cause for Manilla Road to scrap the project. "Mark of the Beast" owns a strong 70ies rock feeling but nevertheless most of the songs have the typical epic Manilla-feeling. Songs like "Court of Avalon", "Avatar", "Venusian Sea", "Triumvirate" or the title track are epic masterpieces! Not as heavy as the usual stuff but full of emotions and feeling. This is rockmusic in its perfection!
Monster Records had the hard job to restore these recordings and bring Žem on CD. Even this record is not useful for HiFi-fetishists they managed to let it sound clear and rough the same. Great job! The coverartwork by Jim Fitzpatrick is incredible and the booklet contains a lot of really old pics of the band youŽve never seen before. Lyrics and liner-notes are included too. It is also available as double LP in a gatefold cover.
"Mark of the Beast" simply is a MUST for all Manilla Road fans! Get it now!! You can order the CD or/and the LP at www.monsterrecords.com . In Germany you also can order at www.hellionrecords.de .