manilla road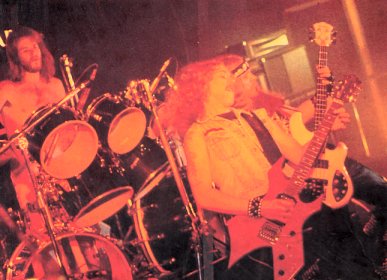 MANILLA ROAD are from Wichita/Kansas and they exist since 1977 as a trio with Mark Shelton (voc/guit.), Scott Park (bs.) and Randy Foxe (dr.). In the USA they already released three albums on their own label Roadstar Records (yes, thatīs a wrong name! Neudi), another album was cancelled because the band was not satisfied with the result. The actual concept-LP "Open the Gates" is the first available record here in Europe with the great total playing time of 54 minutes! Early in the morning we woke up Mark to do the following interview:
Hello Mark, it is quite late in the USA now, or?
Yes, it is three oīclock in the morning here but thatīs no problem. I havenīt found the time to sleep because we were in the rehearsal room till 1 one oīclock!
A concept-album is a seldom thing in Heavy Metal. Why have you made such a concept-album and what is the idea behind this?
The lyrics of this album are about the time of King Arthus. We are no band that just talks about the usual things. We want to bring fantasy into Heavy Metal and we want to include our own originality.
A mix of art and history lessons?
Yes, but Open The Gates is no record in a historic sense. We talk about such a thing in our own way. Fantasy is the most important thing, along with the message that the balance of the things you do is very important. The more you do for one thing the more you let go another thing which may also important for you but in this moment you may not know it!
So you mean that Heavy Metal is not just "going wild and having fun" but also a method of communication?
Yes, exactly! Music is the method of communication No.1! It is the most important thing in our life. I have studied a few years anthropology and history here in Wichita, a thing that is very interesting to us. Our lyrics are a result of this!
Do you have any plans for touring through Germany and Europe?
Not in the moment. We did a few tours in the states with Point Blank or Ted Nugent and Ted is a very nice person. We all hope that we will make it this year!
Do you have a special liveshow?
We do not plan our shows becaue it must be spontan. We want that all shows are always different to the previous shows. But they all contain a lot of action!
Do you want to say something to the readers of Metal Hammer?
Well, we believe in european metal. Keep the hammers raised high and donīt lose your faith!
Original Interview: Jens Schmiedeberg, Metal Hammer