My name is Andreas Neuderth, but most people call me Neudi. I was born in 1971 and my father was a drummer in a rock band. I grew up with his music (CCR, Status Quo, Beatles and the Stones). I learned to play the drums at the age of 8. My first two records was KISS "Alive!". When I was 9 years old my KISS-addiction began. When I was 10 my father took me to a KISS show but there was a support band first: IRON MAIDEN. I got the record at x-mas...and this was the beginning of a new life: Heavy Metal! I had my first band with 12 and more and more I tried to get records from England (NWOBHM). I had a friend who was already 18 years old and he wrote for a magazine. He had all the records from Angel Witch to Zoetrope... When I was 16 I started my own Heavy Metal-TV-show on a local channel. This show was called "Heavy Metal Battle" and I had liveguests like Kreator (playing live for an hour!) and many others. I started to get good contacts to the record companies and Black Dragon from France sent me "The Deluge" from Manilla Road...huh! I had new favorites! When I was 17 I got my first record deal at Gama (Paul DiAnno, Tokyo Blade etc.) with the band SUDDEN DARKNESS, a rough thrash band. We recorded one LP but it was never released...Gama stopped their activities. Still doing the monthly TV-shows I had a new band in the early nineties called ECONOMIST. We got a deal with Massacre Records (King Diamond, Fates Warning etc.) and we released the CD "New built ghetto status" (Thanx Mark for listening to this CD and for the good words about it!). We got very good reviews but the record company promoted our power metal as "Industrial Progressive Metal"...how stupid! We toured a little bit, recorded a second (unreleased but finnished!!) CD and then I left the band. In the mid-nineties I joined the band "SHOTGUN MARRIAGE" and we recorded two CDīs for High Gain Records (Pink Cream 69, Pro Pain etc.). We had a few TV-gigs and a short tour...but again we split up! In 1998 I joined the gothic band GIANTS CAUSEWAY and I recorded their third album "Destination Insecure" with them. I left the band after a tour with Crematory because it really wasnīt my cup of tea... In late 1999 I was hired to play the tour of a new band called CENTURY. We toured with HIM through Germany and even it is no true metal it is a lot of fun to play that songs (yes, this can happen to metalhead!!). I joined the band after this and again we toured, first with Crematory and then with Paradise Lost. In September we will be in the studio to record the second CD for BMG. Letīs see...
Since late 98 I have my own radio show on radio K2R called BATTLE. This monthly magazine is a true metal show. I play new stuff and re-releases, still I have good contacts to the record companies.
MANILLA ROAD is my favorite band since I got THE DELUGE. Sometimes I think that this is my favorite record of the band but the next day I tell you it is "Courts of Chaos"...so better donīt ask me, lol!
Beside of all this I am a collector of US-Metal and N.W.O.B.H.M stuff. I love the rough and true style of the 80ies but you should never forget that we have a lot of great bands today too (no, I donīt speak about Korn or Kid Rock!!). Also I love the 70ies with Black Sabbath, Hawkwind (Hello Mark!), early Judas Priest, Atomic Rooster, Budgie, Deep Purple etc.
I donīt know if it is interesting for you but here are a few pics of me:

Me (left) with the soundman totally drunk in the nightliner (Crematory/Century tour)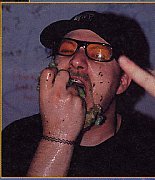 Catering should include fresh fruits! (Crematory/Century tour)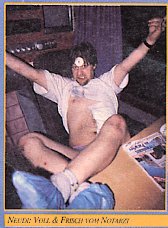 Just out of the hospital, in the nightliner (Crematory/Century tour)
Pics 1 - 3 belong to Break Out magazine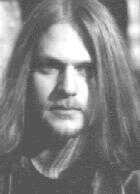 me in 1998 (Giants Causeway)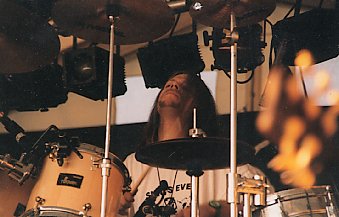 Live in 97 (Shotgun Marriage)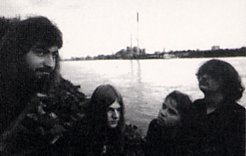 ECONOMIST (me left, 2nd) 1993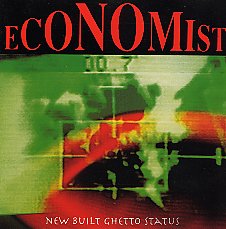 album cover 94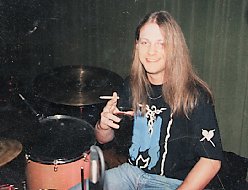 me in 198?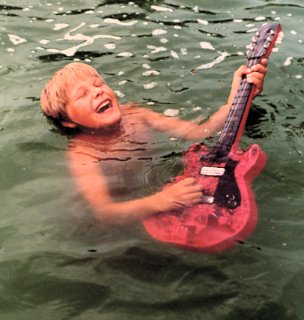 me, 9 years old...
THATīs ENOUGH NOW!! My email: shotgun28@hotmail.com