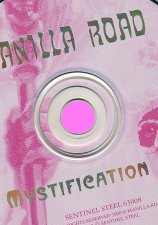 INTERVIEW
with Denis Gulbey of Sentinel Steel Records
SENTINEL STEEL Records is one of the few companies where true metal fans can buy CDīs without pre-listening them because itīs a SENTINEL STEEL-release. No...I donīt get any money to say this, itīs the truth. With a combination of classic (underground-) re-releases and CDīs of new bands, the company has made a name in the metalscene - kind of a trademark like Neat Records in the early eighties or the first years of Metal Blade. MANILLA ROAD fits well in the catalogue of this US-company and it sure shows that the label-boss Denis Gulbey has a very good taste in music! But who is this guy releasing "Mystification" in remixed version? Letīs start with the interview (email, Oct. 2000):
When did you start with Sentinel Steel and what did you do before?
Sentinel Steel started as a fanzine that ran for 3 issues. In the first issue I had a advertisement for some CDs, LPs, and cassettes I was selling. They quickly sold out and I had many requests for more classic 80's heavy metal records and CDs at good prices. So I went around to the shops and started buying out the heavy metal sections of store stocks. This was the early 1990s and many stores did want their 80's heavy metal vinyl anymore. Everyone thought true metal and vinyl were both dead! So I started a catalog list and began selling stuff in a serious way. The sales became big very quickly. Soon I began selling new CDs. At the same time I was still receiving demos to review for Sentinel Steel magazine. And one of the tapes I received was from the GOTHIC KNIGHTS. They soon became the first band on the newly formed Sentinel Steel Records label. While this music business was happening, I was also working at DC Comics as an inker and a graphic services consultant. But eventually the work with Sentinel Steel was too much so I decided to quit DC Comics and do Sentinel Steel full-time. Sentinel Steel began as a fanzine and part-time job in 1993 and became a full-time job in about 1996.
It seems like you care a lot about the quality of your products -sound and cover/booklet - much more than some major companies do. Isnīt it very expensive to release high quality CDīs of underground bands?
Thanks for your words. It is expensive but it must be done! I want to make the CDs in such a way that the fans and bands will be really pleased with the whole package. And most importantly I must be pleased 100% as well, as the CDs I release will also go into my own collection. I also like what Germany's HIGH VAULTAGE does with their reissues. Good quality too. (Note: High Vaultage is a German company owned by Oliver Klemm who also is a well-known journalist here. He put out a whole bunch of classic metal-CDīs that were never available on CD before)
Isnīt it difficult for you to find out who owns the copyrights of the records you want to re-release as CD?
No, it's not difficult. I always go directly to the bands and get the information. In some cases the original record label is no longer in business or the original contract has expired. Everything is done legally so there are no problems.
Please let us know when you first had the idea to release a Manilla Road CD.
I had the idea for a while but an aquaintance by the name of Anish Bhatia, from Pantheon Records, contacted Mark Shelton about this first. After discussing things with Anish, we agreed to do the reissue together. That was a very kind gesture on the part of Anish. Sadly he could not get involved as much as I had hoped, as he had some overseas committments. I first heard Mystification when my friend Iron Mike (see the AXEHAMMER booklet) gave me his original Roadster Records pressing of the cassette tape. I was unable to find a copy before so Iron Mike's tape was my only hope. And I was blown away by the greatness of Mystification as soon as I heard it. I was already a fan of Out Of The Abyss and Open The Gates so Mystification was another "10" in my book.
The sound of "Mystification" is absolutely great. Compared to the original vinyl or the bonus track of it on the "Roadkill" - CD it is 100 % better. Can you tell us a little bit about the process of remixing/remastering?
Mystification was remixed from the original master reels at Trax East Studios by Eric Rachel and Steve Evetts, so they deserve most of the credit. I carefully watched and listened to their work in the studio, mostly asking that they raise the guitars in certain sections, as I like the guitars loud and powerful, which was not the case on the original album. Eric and Steve have great ears and they were able to vastly improve the sound quality. To be honest, the new mix was done very quickly back in 1998 so there would be a few minor things that I would have added, but overall I agree, the album sounds 100% better than the original version. And the mastering work of Alan Douches cannot be missed either, as the new Mystification sounds super hot and in your face due to Alan's massive mastering. Just a trivia note: Alan Douches was the engineer for EXXPLORER's Symphonies of Steel back in 1984! And Eric Rachel did many cult metal bands like TANTRUM back in the 80's. Now both guys are famous for bands like SYMPHONY X, BEASTIE BOYS, WHIPLASH, SKID ROW, MISFITS, and so on. Sentinel Steel is really fortunate to work with such skilled engineers and producers.
What is your favorite track on the CD?
This is a difficult question because I love every song! I could not select one song but here are a few: Haunted Palace, Spirits of the Dead, Death By The Hammer and Masque Of The Red Death
What will be the next releases of Sentinel Steel?
SACRED OATH A Crystal Vision + bonus tracks SACRED RITE Rites of Passage Vol. 1: Sacred Rite + The Ritual (live songs) + demos SACRED RITE Rites of Passage Vol. 2: The Ritual (studio songs) + Is Nothing Sacred + more ANGUS Track Of Doom + Warrior of The World (2 albums on 1 CD, Warrior is remixed) Plus some new bands which must be kept a secret for now! More news soon. Thank you for your interview and for your continued support! And many thanks to MANILLA ROAD for being such a great band. -- Denis/Sentinel Steel
Scroll down for more details