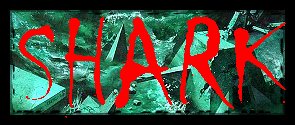 SHARK is the new band-project of Mark "The Shark" Shelton. This is the line-up:

Mark The Shark Shelton - Guitars and Vocals

Troy Olson - Drums and Percussion (Other Pic of Troy click here)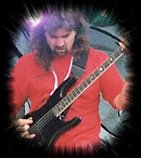 Mark Anderson - Bass Guitars and Acoustic Classical Guitar
Kelly Grey - Guitars
Bryan Patrick (HellRoadie) Drums and Percussion and Backing vocals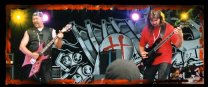 There is also a guest vocalist on "Atlantis Rising" and his name is Darby Penticost
The band still is in the studio recording their first CD. These are the tracks you will find on the CD:
Megladon
Lemuria
Atlantis Rising
Sea Witch
Resurrection
Decimation
Flight Of The Ravens
March Of The Gods
Siege Of Atland
War Of The Gods
+ 1 more (not named yet)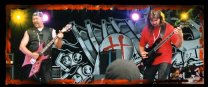 FIRST EXCLUSIVE INFORMATION:
"This whole project, except for the first song Megladon*, is an epic concept. It is sort of like part two of The Deluge. I always thought that I should have expanded on the Atlantis thing and so now that is exactly what I am doing. If you like Manilla Road for the dark concepts based in Mythos then you will love the SHARK CD for I believe it is my best epic concept work to date." (Mark Shelton, July 2000)
(* the song is about the prehistoric grandfather to the Great White shark)
You canīt compare SHARK to the CIRCUS MAXIMUS-project! While this was a project of three individual musicians performing together on a record, SHARK sounds like a band. SHARK is metal music on a very high level, good musicians perform great songs. A lot of songs are not just epic but also slow and hard, but I donīt want to use the word Doom Metal here, because SHARK donīt sound like Candlemass or Black Sabbath. There is a lot of space for those incredible vocal-lines. The vocals sound very Manilla-like with all those long endings and the vibrato in the voice. Of course another trademark can be heared: The solos! SHARK is unique!
I am sure the SHARK CD will not only reach the Manilla Road fans! They will get also new fans with this very good material. Welcome SHARK!!
Click the band to go to the mainpage: