PLEASE TELL THE WORLD ABOUT THE BIRTH OF SOLEMNITY AND THE MUSIC YOU PLAY
Solemnity was founded back in 1998 and the intention of it was to combine raw metal music with a gory horror metal live-show. The entertainment factor at showcases seemed to be forgotten somewhere in the 80´s so Solemnity tries to bring it up again. You will see tons of pyros, hankers, burning swords, flying axes, skulls, chalices full of blood, on stage execution, vampires and much more at our show, so everyone´s eyes will get total metallic satisfaction.Our music is a melange of power, thrash, epic doom, speed or whatever people say..I call it Heavy Horror Metal!!!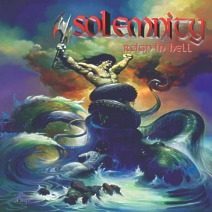 CD-Cover "Reign in Hell"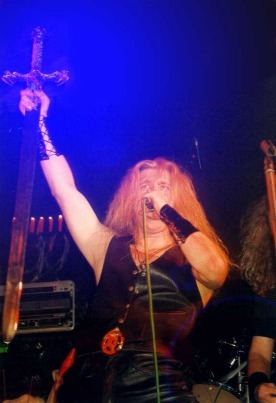 Sven
SOLEMNITY CONTAINS A LOT OF US-METAL-GUITARWORK AND HAS (FOR ME) NOT MUCH TO DO WITH THE CURRENT "TRUE METAL" MOVEMENT (HAMMERFALL, RHAPSODY etc.). WOULD YOU AGREE WITH THAT?
Absolutely!!! It was my intention from the beginning on not to sound like a typical German band. It is US-metal influenced music what we are doing and I tried to mix the album in a really rough style like it was at the end of the 80´s. If you listen to bands such as Hammerfall or Primal Fear they have a clean radio-production without any bass or kick in the sound and that´s not what Heavy Metal was ever all about. Metal was meant to be aggressive as this music is a statement of frustration and anger. If other bands like to sing happy melodies about even happier wizards it´s not my business.
I don´t like the word "true"-metal too much as it seems to me that everybody who still makes this kind of music has to excuse himself for it with this foreword "true". There is only "metal" and people should realize this again as all those Nu-Metal acts like Pain Of Salvation, etc. are not even good enough for fire and have nothing to do with the music we love.
THIS INTERVIEW IS ON THE HOMEPAGE OF MANILLA ROAD. IN SEVERAL INTERVIEWS AND ON THE INFOSHEET OF THE RECORD COMPANY, THE NAME MANILLA ROAD APPEARS. ALSO YOU OWN A TATTOO ON YOUR RIGHT UPPER ARM SHOWING THE FAMOUS SKULL FROM CRYSTAL LOGIC. SO, WHAT DOES THIS BAND MEAN TO YOU?
I love Manilla Road!!! There are a thousand bands that sound like Iron Maiden or Queensryche, but only one band on this planet sounding like Manilla Road. It is Mark Shelton´s very unique voice that creates so special vibes and I have never heard a singer sounding the same. A million bands call themselves epic, but Manilla Road are epic – if you are a real metal-head you have to love them!!! To show the world that I am a real metal-head I have tattooed the Manilla skull on my arm, because only those who are true at heart will recognize the sign of metal and know what this means. If someone asks me what this tattoo means I know immediately that THIS was no metal-head knowing nothing about our music. If I look in the mirror I see metal on my arm and that´s what is in my blood and in my heart. A damn metal-lover!!!!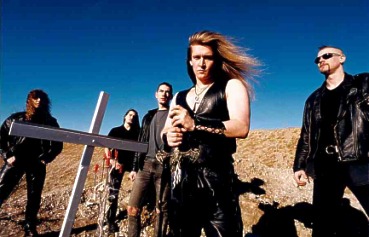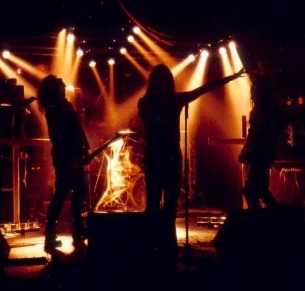 WHEN DID YOU HEAR THE ROAD FOR THE FIRST TIME?
I guess it was back in ´88 or so when I was tape-trading some demotapes and a friend of mine copied me the track "Riddle Master" at the end of a tape to close it. Unfortunately it was cut off in the middle but I went nuts hearing this for the first time! At this time it was really hard to get anything of Manilla Road at the stores so it took me some weeks to find "Crystal Logic" at a record-market. Simply said, it blew me away hearing this piece of gigantic music!!! From then on: Up the Hammers forever!!!
HOW DO MANILLA ROAD INFLUENCE YOUR SONGWRITING?
I don´t like to copy someone, so I hope they don´t influence me too much if you know what I mean. Solemnity tries to create an own style of music, but you always make music in the way you were influenced most in your life. So I think some of our songs have a slight Manilla Road touch as well, but you can hear as well some other influences such as Overkill, Metal Church, early Manowar, Death SS or Cirith Ungol and many more...
WHAT IS YOUR FAVORITE RECORD OF MANILLA ROAD?
Crystal Logic & Mystifictation, though I love everything of Manilla Road, but these both are really special to me.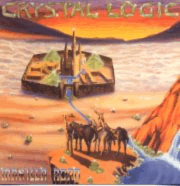 DID YOU EVER THINK ABOUT DOING A COVERVERSION?
Yes, of course! I´d love to do "The Prophecy", but without a keyboard-player it wouldn´t be the same and in Solemnity there is no room for a keyboarder. That´s good in a way because it takes a lot of your aggression if someone is playing piano in the background, ha, ha.
My favourite other songs would be "The Spirits Of The Dead" or "The Veils Of Negative Existence". If I do a solo-record in a couple of years there´s will be definetly one of them on there!!!
ARE YOU A RECORD COLLECTOR (US-METAL or NWOBHM etc.) OR DO YOU JUST BUY WHAT YOU REALLY LISTEN TO?
I got a huge collection with about 7.000 records so I am pretty much in the scene if you mean this, but I´m not really collecting records. Collectors are people for me who buy everything only to say that they own a special vinyl, those guys don´t really listen to the music and only care about how rare this piece of music is. I buy what I like and that´s almost everything under the banner of Hard Rock and Heavy Metal and I damn listen to it and sing along with these immortals anthems. Metal Forever, Manilla forever!!!
HOW CAN PEOPLE CONTACT SOLEMNITY?
Homepage: www.solemnity.de
By Email: SolemnityMail@aol.com
Or by snail-mail:
Solemnity
C/o Sven S.
Von-Hoesslin-Str.4
D-86153 Augsburg
Germany
Up The Hammers friends all around the world!!!
Sven The Axe