MANILLA ROAD
The Interview Part 1: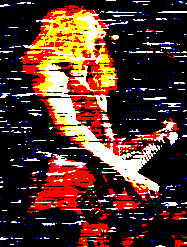 This interview with Mark Shelton will be soon the biggest and most complete Manilla Road-Interview you´ve ever seen! It will be updated here part by part, so check this site often!
part 1: From the Beginning to "Invasion"

When did you start playing guitar and which guitar-players influenced your
play back then?

Actually I started on drums. I played in jazz bands, country rock bands, rock bands and the first band that I ever put together was called Embryo. This was all back in the late 60's and early 70's. I started messing around with bass guitar in 1972. I bought my first six string guitar in 1973. In 1974 I put together a three piece band call Apocolypse which was the first band that I ever played guitar in. We did all original music and it sounded a lot like Motorhead but this was before Motorhead. At the time I think Lemmy was playing with Hawkwind. My big guitar influences back then were Jimi Hendrix, Johnny Winter, Brian May, Michael Schenker, Toni Iommi, Ritchie Blackmore, Rory Galliger, Alvin Lee, the two guys from Wishbone Ash and of course David Gilmore. There are probably more for anything you listen to influences you one way or another. Even if you hate what you hear from some band or composer it influences you to never write a screwed up song like the one you hate.

How did you meet Scott Park and Rick Fisher?

I went to school with them. Rick and I are the same age and we both were in the same classes in High School. Scott was a couple of years behind us but he was at the same school and hung out with the same party crowd that we did.

Was there a demo-tape before "Invasion"?

Yes. It had three songs on it. The first version of Far Side Of The Sun, Herman Hill and Manilla Road.
Extremely primative recordings.

Independent-Labels were something special back then. You started to run your
own company Roadster Records. How came this idea? You heared about the New
Wave Of British Heavy Metal and the Punk Scene from Great Britain with all
their indepent-labels?

Actually we started Roadster Records because we realized that we were not going to get a label deal in the states so we decided to be our own label and sell and distribute the albums ourselves. We did not even have any idea what was going on in Europe at the time. I knew that Judas Priest was kicking my ass.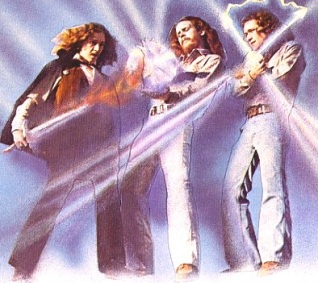 "Invasion photo"

There are only six tracks on the album but two are very long. "The Empire"
on the B-Side reminds me of songs like "Run of the Mill" by Judas Priest or
"The Necromancer" from Rush. Were you inspired by bands like this when you
wrote that long song(s)?

That's funny that you mentioned those two songs. Jeff Wagner of Metal Maniacs magazine here in the states just asked me the same question a few days ago. I was very inspired by Alex Lifeson. Rush put out at least 4 totally classic albums as far as I am concerned. Fly By Night, Carress Of Steel, 2112 and A Farewell To Kings. Songs like Bytor And The Snow Dog, The Necromancer and the concept of 2112 were very influencial in my style. Judas Priest from day one was at the top of my best band list. I still have great respect for Rob Hallford and the other band members as well.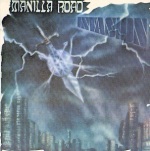 How did you sell the LP - you had a distributor in the USA and overseas?

We started out just selling it locally. We did not get hooked up with a distributor untill we did Crystal Logic. We serviced all the record stores in a 3 state area from 1980 to 1983. When we put out Crystal Logic we worked out deals with several different distributors in the states and a distributor in Sweden.

Did you play live in the studio?

Yes. The whole band played live in the studio. We did add the vocals later and also the second guitar part in The Empire but other than that the whole thing was basically jammed live.

There are two versions of "Invasion". How came that?

Two different presses. We had sold out of the first pressing and one of the distributors here in the states insisted that we press more. We were using a different pressing plant at that point. So we had to do a diferent version of the cover.

What did you do after the release of "Invasion"? Was there some touring or
airplay?

We played here locally in Kansas and the University radio station picked up on it but things were rather un-eventful around the first two albums. Now in 1982 we did start becoming a local favorite and the promoters were putting us with bands like Ted Nugent and Krokus.
End of Part 1 - (Part 2 "Metal to Crystal Logic" can be found here soon!)