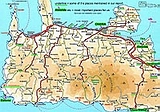 Friday May 18th - flight, first night in Almirida

click for the West-Crete map »

After almost 3 years we would finally go back to Crete, to the west this time! We found an apartment in Almirida online, of a good Cretan travelagency (Smart Holidays). We booked it and a flight seperately, from Brussels to Chania. So, finally May 18 came and we were picked up by a shuttle bus at 11.45am. We would fly at 3.25pm and with a little delay we were airborne at 4.10pm! The flight with Sobelair was comfortable (Boeing 737 300) and we had some great views. When we landed at 8.10pm Greek time, the sun was already going down. We got our luggage quick and found our rent-a-car guy. The last part of the ride to Almirida was over a small, dark and winding road, but we got there in about half an hour without any accidents;) The Almira Apartments were easy to find on the small boulevard. And we immediately loved our studio! Big enough, clean and cosy, just how we like it:) The balcony is pretty big as well and looks out over the boulevard. We could see some water but because it was dark the view was limited to some lights on Akrotiri and a landing airplane every now and then. We walked around on the boulevard a bit and had our first Greek meal (chicken souvlaki) at Fish Taverna Thalami across the road, mmmm! In the apartment we put away some of our luggage and went to sleep at 0.30am.

Saturday May 19th - Almirida, Plaka

We slept a bit restless still and were of course very excited to see the view in daylight! So at 6am we went outside on the balcony and gazed at the incredible beautiful view in the chilly morning air!! It took our breath away!! Over a few rooftops you see a part of the Souda Bay and its entrance, on the left there are some rocks and the peninsula Akrotiri in the distance, on the right some land where Plaka is (Almirida is situated at a small bay). When the sun is still so low in the sky, the water gets such an enchanting silvery color! We did go back to bed, but you can imagine how good our first breakfast was with that view! We put away the rest of our luggage and went looking for a bigger supermarket and gasstation in the previous (bigger) town Kalives. We also had an appointment with our friend Victor in Chania, but we were still too tired, so we cancelled. We wanted to have a quiet day and hopefully a good night's sleep later on. We went for a drive just past Plaka, eat a Greek salad and drank beer and frapé in the café downstairs (below our apartment) and had a siesta for a few hours. After a bit I was already outside on the balcony again, it's so perfect here! This afternoon, the peace and quiet was disturbed by a policeman who started to order people around - turned out there was a bicycle race! They passed the town a few times until early in the evening. It's fairly quiet here, it's small, things close down around midnight, but it's not dull!

Sunday May 20th - Drapanos

We didn't do much, we went to drive around on the peninsula Drapanos: Gavalahori, Vamos, Litsarda, Sellia, Kefalas, Drapanos, Plaka and back to Almirida. It was a little disappointing, the villages were small, shabby and hardly picturesque, and there was hardly a kafenion to be found. We've been in other villages where you feel like you're going centuries back in time, but somehow this was different. We did find a kafenion in Kefalas, where we had some water. Plaka is an exception, there is a cosy platia with several old-fashioned tavernas! We got some great views of the Levka Ori, the Souda Bay and even the sea near Georgioupolis!

Monday 21st - Kalives, Souda

Nico woke up way too early and got up at 6.30 to take a walk around the village with his camera. He tried to reach the big chalk cliff, no luck. He made some pics in the area and on the other side of the town, where the large beach is. He climbed some stairs and took some great pics of Almirida in the morning sun, what a hobby huh? After breakfast we went to Kalives. A nice old village with some more touristic stuff, like shops, a bank and a small postoffice. And... an internetcafé! Wooh! But, expensive, 2000 drs. an hour! Then rather go to Chania where it's half the price, or Georgioupolis if the price is ok. In the afternoon we drove to Souda, but that really is an ugly town. Only industry and navy, and the best thing we saw was an immense ferry in the port. At 5.30pm Victor came to visit us, the first time we met! We spent a few hours at Elena's café (she was celebrating her name's day) and decided to get together again with Victor on wednesday.

Tuesday 22nd - Geourgioupolis

Now I really wanted to know how the internetcafé in Georgioupolis would be, so we went there after breakfast. We liked the village as well as Alchemist (the internetcafé/tourist shop) a lot! It's more touristic, but cosy and pretty (and very green because of a small river that ends here in the sea). At a nice taverna we had a mixed appetizers plate and at Alchemist we went online for an hour and a half. Webmail worked great, they also had ICQ. The price was good, just a little higher than in Chania.

Wednesday 23rd - Maleme, Kolimbari, Plaka

The weather was kinda hazy, so the things with spectacular views will have to wait. We drove west to Kolimbari. It got cloudier and more humid. In Maleme we visited a German war cemetary where 4465 soldiers are buried who died in WWII. 400 others couldn't be found and were also remembered on the height above Maleme. Very moving... After that we drove to Kolimbari, but we thought it was boring and it was too foggy for any views. On the way back we ate something in a beautiful taverna in Platanias. At night Victor came by and we went to have dinner in Plaka (Elris). We had a good and long dinner there.

Thursday May 24th - Chania

It was cloudy and the sea was fairly rough, the wind caused some waves in the otherwise very calm water, so we took some pics. Then we went to the old city of Chania, but without the camera today. After driving through the crowded streets we arrived at the old town. From the beautiful Venetian harbour we went to the picturesque alleys behind it, WOW! We fell from one "ooh!" into another "aah!", this is the most beautiful city we've ever seen, at least this old heart of it! All descriptions and pictures can't live up to one's own experiences! You're lost in time in the narrow, colorful alleys and every 5 minutes we felt like sitting down at one of the tables of the numerous taverna's (often inside ruins, between the walls, but no roof etc). Truly awesome!

Friday May 25th - Rethymnon

Today it was again cloudy for most of the day, so we decided to visit another town, Rethymnon. We visited the old fortress where you have a wonderful view over the city, we also walked through the picturesque streets near the Venetian harbour. But no matter how beautiful the town is, she can't quite compare to our new love Chania;)

Saturday May 26th - Almirida, Chania

Today a quiet day "around the house", in the apartment, on the balcony, reading, writing and painting. I'm painting a watercolor of a picture of Elena's café for her. Tonight we went out in Chania, I was looking forward to it! First time in Dionysos hardrock café in the harbour, where we also met Manos and his girlfriend Soula. But before that, we went to look at the sunset from the chalk cliff, gorgeous! The night in Chania was good, we had a lot of fun. We drank frapé on a roof terrace in the harbour, ate souvlaki pita and stayed in Dionysus until 3.30am!

Sunday May 27th - Akrotiri, Marathi

Of course we're tired today, but we wanted to go somewhere, because the weather was now great. We explored the south part of the Akrotiri peninsula and ended up in Marathi, exactly across the bay from Almirida/Kalives. Nice beach place, but too remote for us. On our way back we wanted to have a coffee with Victor, but we couldn't reach him.