holiday in Spain - September 20th-30th 2002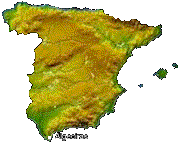 A few years ago we'd been invited to visit our internet friends Gema and Rodrigo in Algeciras where they just moved in an appartment together. And this year we finally took them up on that:) So for a 11 day holiday we flew to Málaga, where Gema and Rodrigo came to meet us and we drove back to Algeciras together. That's in the very southern point of Spain, near Gibraltar. We can't thank them enough for their enormous hospitality and showing us many beautiful places in their corner of Andalucia! It's been fantastic!


Friday, Sept. 20th - flight/drive

We were already sitting outside in the sun when the taxi shuttle came to pick us up at 1.15 p.m. We were ready to go! After a quick trip with an interesting driver we arrived at the airport at Zaventem (Brussels) at half past 2. After eating something we checked in and we heard the flight had been delayed for almost 2˝ hours! After the walk through the control posts to the gate, we didn't feel like walking around a lot, so we sat down in the waiting area at the gate. Luckily it wasn't as hot as in the departure hall! We killed the time with playing around on Toshi, reading, drinking coffee and streching our legs every now and then. Well, we left at 9.45 p.m. and the flight was 2˝ hours. It was smooth and quick en we landed in Málaga at 11.15 p.m. We got the suitcases pretty quick, there were hardly any controls and Gema and Rodrigo were waiting for us at the gate! With a van from NizaCars we drove to their office where we got the car (Opel Corsa). It took us 1˝ hour to get to Algeciras, luckily Rodrigo was driving in front of us, otherwise we would've never found it without further info. We've been chatting until 5, then we decided to go to bed after all.

Saturday, Sept. 21st - Algeciras area

My birthday!! After some breakfast Rodrigo and Gema showed us some places in the Algeciras area. We drove along the coast to Faro de la Punta Carnero where we had a great view of Morocco across the Street of Gibraltar. On the way up there we had some nice views on the bay between Algeciras and Gibraltar and of course the rock of Gibraltar itself. Then we drove to the Playa Getares (near the suburb San Garcia), a beautiful beach where we also had a real good lunch! Then they showed us another beach closer to the city, Playa del Rinconcillo and the river Palmones. After a siesta (slept for hours!) we went out for dinner and drinks. We went to the small streets of the centre, to a tapas bar and around midnight we went where most people seem to hang out at saturday night.. on the street with their own booze! We saw a few of Gema and Rodrigo's friends and went for a beer in a bar nearby, but headed home after that.

Sunday, Sept. 22nd - Sabinillas, Estepona, Castellar

Today the weatherforcast said it would rain. Well here in Spain it means a few fierce showers, but still sun and 25° otherwise:) Not soooo bad! We went to a flea market in Sabinillas and had lunch in Estepona. From there we drove to Castellar, in the mountains. It was a beautiful drive with spectacular views. Mostly hippies live in the small, old houses. Also inside of the walls of the castle. So beautiful! Unfortunately you can't go into the castle itself. But the village and the views make up for that:)

Monday, Sept. 23rd - Tarifa, Playa de los Lances

After getting some groceries in the huge supermarket, thus called a 'hipermercado', and having lunch, the two of us drove to Tarifa. First a little bit further, to the Playa de los Lances, where there's a lot of surfing going on. Fly-surfing most of all! A nice and colorful sight. After an hour we drove to Tarifa and walked around in the old streets around the castle. In a tabacco store where we got some stamps, Helloween was being played, that was cool. We chatted a bit with the guy in the store and a visitor, as good as we could in their broken english and a lot of Spanish;) A cosy village, I'd like to go there again:) On the way back we had some coffee at a kiosk at a viewpoint, where you had a great view on the street of Gibraltar and Morocco on the other side.

Tuesday, Sept. 24th - Gibraltar, La Linea

We got up a little earlier than usual, because Rodrigo would show us the way to Gibraltar on his way to work. We parked near the border and walked across it to the town itself. Next to the big rock is a little town with a long 'Main Street' with looooots of shops! In this English town you can get many things (cameras, audio/video stuff, perfume, cigarettes etc.) really cheap. We've been good tourists and bought a lens for Nico's camera, a voice-recorder for doing interviews and some perfume:) We went home for a siësta and with Gema we met up with Rodrigo in La Linea (Gema's hometown btw.), after work. We walked around in the centre and had dinner there.

Wednesday, Sept. 25th - Marbella, Puerto Banús

With Gema we went to Marbella in the Costa del Sol. We walked along the beach there, had lunch and tried to find the old town but didn't succeed. Our legs were still tired from the Gibraltar trip and we didn't feel like a long search either. Maybe we manage to go back later this week, we'll see. On the way back we stopped at a shopping mall near Puerto Banús, but since all is more expensive in that area we didn't buy anything;)

Thursday, Sept. 26th - Algeciras

It's incredible how long we can sleep here! Even though we went to bed before 1am we woke up after 11! Today Gema and Rodrigo went to a Dio concert in Granada, but we didn't feel like going. It was a long drive and we preferred to walk to the center of Algeciras. We explored the small streets and plazas, but since it was siësta time, all the shops were closed and there wasn't much going on. Only one argument with an apparently unemployed person that begged for money. When we didn't give him anything, he started about how we were not in our country now, but in Spain, where many people didn't have jobs etc. Well, anyone that knows us, knows we are pretty generous in a lot of ways (money and otherwise), but we just don't like to give money to beggars in the streets (even when they don't look like one, like this guy). Nico had to chase him away and actually wanted to fight, that's how angry he got when the guy didn't stop herassing us! Luckily it didn't come to that, I wouldn't have wanted to see Nico end up in a Spanish jail, brr!! Apart from that incident it was a nice walk in the center. I was esp. impressed by the Plaza Alta, with a monument and benches all covered with the typical tiles I love so much. After we got back at 5 we stayed in for the rest of the day and night. Time to relax: internet, tv, laptop (holiday pics and this report).

Friday, Sept. 27th - Bolonia

We wanted to go back to Tarifa and the beach there, but Rodrigo suggested we'd go a little bit further, to Bolonia. It was a beautiful beach where I finally had a little swim in the sea (the Atlantic Ocean) and we stayed there for several hours. To swim, sunbath, eat, drink, watch some cattle running around..;) Then we drove further into the mountains until the road turned into a sandy one and seemed to end in a little village. We enjoyed the beautiful view over Bolonia and the ocean for a while and drove back to Algeciras after that. We stopped at the viewpoint with the view over the Street of Gibraltar again, to take some pics of the fog in the Street. When we drove up to Bolonia earlier, there was still a thick layer of fog in the Street, but unfortunately we couldn't turn left to the viewpoint from that side of the road:( Bummer, I would've wanted to make a picture of that.

Saturday, Sept. 28th - Ronda

Today we finally drove to Ronda. Over Jimena de la Frontera, Gaucín and several other white villages. Rodrigo had to work and Gema didn't want to come at first, but shortly before Gaucín (we were at the parking lot of a restaurant) she phoned if we could meet somewhere for lunch during Rodrigo's break. We decided to wait for them right there and an hour later we were having a great lunch (garlic chicken, hmmm!!) together. Another hour later we drove on to Ronda with Gema, Rodrigo went back to work (photographer for a newspaper). After a beautiful ride with breathtaking views we arrived in Ronda, which was much bigger than we expected. Luckily Gema knew the way so we knew where to park and where to go. Best part was of course El Tajo, the canyon that devides the city in two. Probably one of the most photographed places in Andalucia;) I was looking forward to get some ceramic things from the souvenir shops, but when we walked back to the car and intended to visit a certain shop, it had just closed:( It was already close to eight so we had to leave Ronda, if we didn't want to drive in the mountains in the dark. We took the road to the Costa del Sol, which was also beautiful, but we preferred the more detailed scenery of the way up. We ended up driving the last part in the dark anyway, but with a coach in front of us, we had a good guide;) From San Pedro we still had to drive almost an hour to Algeciras, but at least most of that was highway. I didn't think anything could outdo the trip to Castellar, but today the way up through the mountains and the white villages did:)

Sunday, Sept. 29th - Lago de la Duquesa, Casares

The last full day.. Rodrigo had the day off and showed us some more beautiful places. First a little lake near the city, Lago de la Duquesa, where we found a stray dog with her little ones. Then we went on to Casares, the classical white village from the books, that we hadn't seen yet. You can guess it, that was wonderful! First we had lunch on the terrace of a restaurant with a view on the centre of Casares. Then we walked through the small streets all the way to the other side, down the hill, up the hill, to the ruines of the castle. And way faster then we expected! There we had a great view on the area around Casares and the part of the village we were earlier. White houses all over the place, like on the postcards:) We're flying back tomorrow, so this was a beautiful ending of our holiday!



THANKS TO GEMA AND RODRIGO FOR MAKING US FEEL SO WELCOME AND MAKING THIS VACATION REALLY SPECIAL!