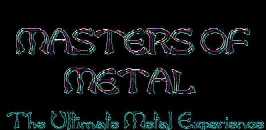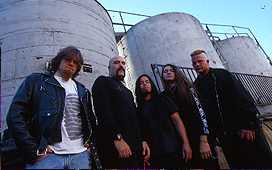 band members

BIO
From the Candlelight Records Website

It was the year 1985, and in the aftermath of a secret government project gone terribly awry, the legendary AGENT STEEL was unleashed upon the unsuspecting metal masses through their groundbreaking debut for combat records, Skeptics Apocalypse. Skeptics was a thrash metal tour de force, spewing forth such instant classics as "Agents Of Steel" and "Bleed For The Godz". Later that year AGENT STEEL continued their vicious assault with an EP, Mad Locust Rising, as well as a co-headlining tour with metal brethren OVERKILL and ANTHRAX on the "Speed Metal Attack - Metal hammer Roadshow" throughout Europe, and a triumphant performance at the Canadian Metal Festival with SLAYER, EXODUS, METAL CHURCH and HALLOWS EVE.
Unstoppable Force, their last recorded output, contained genre defining songs such as "Never Surrender" and the heads down title track "Unstoppable Force". Shortly after this 1987 release AGENT STEEL returned from whence they had arisen, leaving behind legions of fans and a legacy enduring to this day.
Agent Steel were one of the first to sign with the Combat label, along with MEGADETH, EXODUS, and MERCYFUL FATE. AGENT STEEL's songs dealt with supernatural topics, alien life forms and the lost city of Atlantis, setting them apart from their contemporaries. Their music was ahead of its time, combining fast, melodic riffing and operatic vocals with a devastating rhythm section.
Agent Steel influenced countless bands and musicians and the effects are still heard today. And now, on the eve of the millennium, Atlantis is rising once again! AGENT STEEL has returned with the Unstoppable Force line-up of Juan Garcia (guitars), Bernie Versailles guitars), Chuck Profus (Drums), Mike Zaputil (bass), and recent convert, vocalist Bruce Hall. With powerful new songs and lyrics still cloaked in the shadow of conspiracy and a recent signing to the mighty CANDLELIGHT records, AGENT STEEL is reclaiming their rightful spot among metal's elite.
Turn to the heavens and keep your eyes peeled for the arrival of their latest magnum opus this autumn, with extensive touring to follow. YOU CAN'T STOP IT…….

DISCOGRAPHY
SKEPTICS APOCALYPSE 1985 Combat (rereleased 1999 Century Media)

Track listing: 1. THE CALLING 2. AGENTS OF STEEL 3. TAKEN BY FORCE 4. EVIL EYE /EVIL MINDS 5. BLEED FOR THE GODZ 6. CHILDREN OF THE SUN 7. 144,000 GONE 8. GUILTY AS CHARGED 9. BACK TO REIGN

MAD LOCUST RISING EP 1985 Combat

Track listing: 1. THE SWARM IS UPON US 2. MAD LOCUST RISING 3. THE RIPPER 4. LET IT BE DONE /THE DAY AT GUYANA 5. 144,000 GONE

UNSTOPPABLE FORCE 1987 Combat

Track listing: 1. UNSTOPPABLE FORCE 2. NEVER SURRENDER 3. INDESTRUCTIVE 4. CHOSEN TO STAY 5. STILL SEARCHIN' 6. RAGER 7. THE DAY AT GUYANA 8. NOTHIN' LEFT 9. TRAVELER 10. THE RIPPER (JAPANESE ONLY)

OMEGA CONSPIRACY 1999 Metal Blade

Track listing: 1. Destroy the Hush 2. Illuminati is Machine 3. Fighting Backwards 4. New Godz 5. Know your Master 6. Infinity 7. Awaken the Swarm 8. Into the Nowhere 9. Bleed Forever 10. It's Not What You Think

New album scheduled for release in early 2001


Visit the Official Agent Steel Website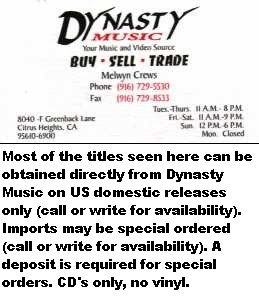 Dynasty Music is the Official Music Source for Masters of Metal




Email: Masters Of Metal