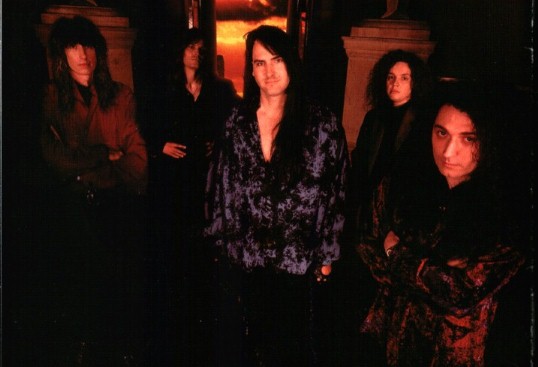 band members l to r: Bill Yates guitar, Pete Southern lead guitar, Lance King vocals, Chris Dale bass, Lionel Hicks drums.

BIO
It all started in Brighton, England back in 1995. Ivan Gunn put together a band called Heaven and Earth with the intention of recording a CD that could be licensed through his contacts in Japan.
Ivan knew Bill Yates through his work with a number of 'original material' bands on the local music scene. He invited him to join the band and they started writing and rehearsing songs for the album. Unfortunately the original line up didn't work out which left Bill and Ivan auditioning for new members. They decided to start again with a new name, Balance of Power. This fitted with the powerful melodic rock style of the band.
Ivan contacted Lionel Hicks who was then playing in London in a band called Stigma. That band was previously called Kid Wicked. They had recorded a couple of albums, but through frustration over the lack of record company attention had decided to try a change of musical direction with Stigma.
Lionel came down to Brighton and the chemistry worked well. He suggested that Tony Ritchie, the Stigma vocalist would be interested in joining the band. The two of them had known each other since they were kids and had first achieved some success with a band called Lady Luck that did quite well in Germany.
Balance of Power was born. The four started reworking the existing songs and writing new ones. These were to see the light of day on the first Balance of Power album, When The World Falls Down.
The band wanted someone special for the majority of lead guitar playing and auditioned a number of guitarists in Brighton. Unfortunately they didn't find the right person there. The obvious choice for the band was Pete Southern, who had been playing with Tony and Lionel in Stigma. The problem was that he was busy preparing to record his latest Vandamne album and didn't think that he could commit to anything further. Lionel suggested Paul Curtis who had been in Lady Luck. Everything came together and Paul joined the band.
The search for a bass guitar player ended with Chris Dale who had just finished work with Bruce Dickinson's band Skunkworks.
The first Balance of Power album, When the World Falls Down was started in October 0f 1996. Lionel had just cemented his previous studio experience by qualifying as a studio engineer. He had built a studio at his home in London. It was there that recording started, engineered and produced by Paul and Lionel.
Lionel and Ivan took the partially completed album to Japan and secured a licensing deal with Pony Canyon and a publishing deal with Burrn!. While they were in the record company offices in Tokyo there was a minor earthquake. That is the significance of the date and time on the first track of the album. When the World Falls Down was released in Japan in June 1997. After much searching in Europe a licensing deal was struck with Point Music in Munich. The album was released across Europe in the following September.
Once the first album went on sale, the band were put under pressure by Pony Canyon to produce a second, so work was started straight away. That was when the first bombshell hit the band. Paul had become increasingly fed up with life in London and had become disillusioned with the music business. He announced that he was retiring from it all and moving to Cumbria in the UK. Since then he has disappeared completely.
It was only natural to ask Pete Southern if he wanted to join the band and he accepted. A further blow occurred when Pony Canyon put a lot of pressure on us about Tony's vocal style saying that we could do a lot better over there if we had a vocalist with a higher range. After much discussion and soul searching we agreed that we would look to see if we could find somebody else. Tony would continue to fulfil the role of songwriter within the band. This was a very hard decision to make for all concerned.
The band didn't know anyone who could take over from Tony in the UK. Ivan was working on some licensing deals with Lance King in the USA, at the time, and asked him if he could find a suitable vocalist over there. After listening to the demos for Book of Secrets he phoned straight back and said 'I've found your vocalist, its me'. He recorded some tracks against the demos and sent them back. After the first listen there was no decision to be made, he was in.
Book of Secrets is an album with a theme. The band had all read the book called The Bible Code by Michael Drosnin. It was this that inspired the theme that links the songs together. The album was recorded both in Lionel's studio and at a vocal studio in Soho. Lance came over to the UK to record the vocals. Once recording was complete Lionel returned to Minneapolis with Lance where it was mixed and mastered. It was completed during the summer of 1998. Both record companies loved it and subsequently released it in Japan and Europe. It gained excellent reviews in the rock press and capitalised on the attention gained by the debut album.
By this time, the band were eager to play 'live' and pressure was put on Point Music to organise a tour in Europe. Unfortunately this did not happen. Disappointed, the band returned to the studio to find the inspiration for their third album Ten More Tales... Of Grand Illusion. The album saw Tony and Lance working closely together on the vocal front and Pete stretching to greater heights with some phenomenal lead work.
Unfortunately, Ivan was putting more and more commitment into his record label and solo project and did not have time to take part in the recording. The same formula was used to record the album, but this time using a new studio that Tony has put together along side Lionel's. The album was again mixed in Minneapolis, and was completed in May of 1999. At that time the band were negotiating a publishing and promotion deal with Brainstorm in Germany. They were unhappy about Ivan's lack of comittment and uncovered some things about Point music's accountancy that the band were less than happy with. This added to the band's dissappointment over Point's tour support. Brainstorm shopped the new album around and presented the band with a number of opportunities for a new label in Europe. A decision was made to sign with Massacre Records in Germany. At the same time the band decided to part company with Ivan. Ten More Tales... was released in Japan at the end of October 1999 and in Europe at the end of November 1999. Lance has his own record label called Nightmare Records in the USA. He will be giving the band thir first release there in January 1999.
Balance of Power are poised to move up a league in the new millenium. With two critically acclaimed albums under their belts, they expect great things from the new one. They hope that, finally, they will be able to tour to put the icing on the cake. Tony has nearly completed his solo album under the name of USM.

DISCOGRAPHY
WHEN THE WORLD FALLS DOWN 1997

Track list: 1. 96.11.28;14:00 2. Against The Odds 3. Overnight Sensation 4. Can't Close The Book 5. Hide Your Heart 6. Balance Of Power 7. Don't Wait Until Tomorrow 8. Something For Your Head 9. When Love Is On Your Side 10. The Real Thing (Carry On Dreaming) 11. These Are The Days 12. Summers Over 13. If Ever (Japan Bonus Track)

BOOK OF SECRETS 1998

Track list: 1. Desert Of Lost Souls 2. Walking On Top Of The World 3. Book Of Secrets 4. When Heaven Calls Your Name 5. It's Not Over (Until It's Over) 6. Do You Dream Of Angels 7. Seven Days Into Nevermore 8. Miracles And Dreams 9. Stranger Days (To Come)

TEN MORE TALES...OF GRAND ILLUSION 1999

Track list: Tale 1. Daybreaker Tale 2. Prisoner of Pride Tale 3. Savage Tears Tale 4. Under the Spell Tale 5. Blind Man Tale 6. About to Burn Tale 7. Under Innocence Wing Tale 8. Sins of the World Tale 9. The Darker Side Tale 10. Ten More Tales of Grand Illusion

Here are the stories behind the songs on "Ten More Tales of Grand Illusion". Taken from the Official Balance Of Power Website.
Tale 1) DAY BREAKER This song is based upon a mythical character (Like a Greek God, who can turn day into night).The song is about the relentless inevitability of certain situations we all encounter, night follows day, life has its ups and downs etc...Seen through the eyes of people like us (musicians), who take night time as the most interesting fantasy filled time and the day time being the cold black and white of reality. This song is almost an admission of the fact that as humans we can control most situations, However we have to surrender to certain uncontrollable events.
Tale 2) PRISONER OF PRIDE This song is about someone trying to convince another person of their faults (or misgivings). Some people seem blinkered in their approach to life, it could be someone always working and making no time for their family, or big money dealers only seeing money signs and missing the rest of the world around them. They literally make themselves prisoners.
Tale 3) SAVAGE TEARS This is a very dark song seen through the eyes of a serial killer like "Hannibal Lecter". He seduces his victims almost hypnotically. He wants to catch the moment between life and death from the savagery of his attack, the savagery of the victims ,bitter, frightened tears to the complete, absolute, deafening savage silence of death itself. Victim after victim failed to satisfy his perverse hunger for the answer to the question "What is it like to die ?".
Tale 4) UNDER THE SPELL This song is about the feeling of loneliness and desperation of losing someone you love. The spell being sadness and all the thoughts and emotions it brings with it. Also the inner strength of allowing yourself to feel all of the sadness and maybe using it as a tool to start the healing process.
Tale 5) BLIND MAN This is about the remorse and regret that someone has after maybe leaving their soul mate on a whim. Eventually he realizes home is where the heart is and sets off on his return journey to ask for forgiveness. He is the blindman for not seeing his true feelings at first, and is asking to be forgiven. This forgiveness and his whole life depend on the reply from his soul mate.
Tale 6) ABOUT TO BURN This song is about facing new challenges and opportunities. It's a positive way of looking at progress and the fear of the unknown. "It's all about to burn" equals something good will come from the ashes."Take away the better days" equals separate the memories of good times and lessons learned and keep them safe, then they won't be destroyed by the fire of change.
Tale 7) UNDER INNOCENCE WING Instrumental / Imagine what you feel!
Tale 8) SINS OF THE WORLD This song is about the imbalance of power that occurs in our human chain of command. (hierarchy) There will always be those who do the "Saying" and those who do the "Doing". A bit like big leaders of countries who talk about solutions to wars, while the common man is sent to die in the mean time. The top dog does the "Saying". The under dog does the "Paying".
Tale 9) THE DARKER SIDE A very dark song, about someone in the depth of despair after a great loss of one they loved. Standing alone in deep thoughts, unable to come to terms with a future without this person, so why carry on. "This life won't set me free.....So far" suicide beckons !
Tale 10) TEN MORE TALES OF GRAND ILLUSION Everybody hides behind a mask. Everybody has their favourite stories they tell over and over in order to persuade other people that this is the kind of person they are. When in reality these stories make up a fraction of that persons true character. "The Grand Illusion" is projecting this outer image to the world, while only you, alone, know the real you, And knowing all the time that everybody else is also making up similar stories. Strange creatures human beings, aren't we?
The end.


The albums seen here can be obtained from Dynasty Music

Dynasty Music is the Official Music Source for Masters of Metal



Email: Masters Of Metal