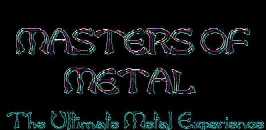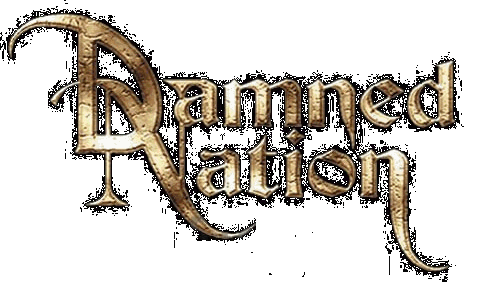 band members l to r: THOMAS THORS╔N- Lead Vocals, ROBERT WARNQVIST- Guitar & Backing Vocals, ROGER JERN Drums & Backing Vocals, MAGNUS JÍNSSON- Bass

BIO
From the Official Damned Nation Website

It all started back in the year 1993 when the guitarplayer Robert Warnqvist, basplayer Magnus J÷nsson and the drummer Leif Erixon was looking for a new vocalist to the band called Easy Street.
And with a deal (UFO -Records) just waiting to be signed, they really needed a good singer fast. After eight months of looking around in Sweden they found the former Powerhouse singer Thomas ThorsÚn. After just listening to his demotape the band was all fired up about this singer. So in the early 1994 the band started to work with Thomas ThorsÚn, writing songs for their debutalbum due to be released in 1995.
Before the recording of the album started, the band decided to change their name to Damned Nation. The debut album "Just what the doctor ordered" was released worldwide in June 1995. The album featured two tracks written by James Christian (House Of Lords) and it achieved critical acclaim, especially within Japan.
Burrn Magazine rated it 88/100 and called the band -"The brightest hope from Sweden". The album sold very well and 1995 was a great year in the bands history! 1996 started out great too, a video was made and the band did a lot of club gigs in Sweden. The band had started to write material for the forthcoming album. But for some unknown reason it was delayed by the label. After a lot of struggeling with the record company, things finally seemed to be happening.
In the beginning of 1997 they were asked to do a promotional tour in Thailand and they did it with a promise that when they returned home, the second album should be recorded!! But once again it was delayed!!!
At this point of time Leif Erixon was replaced by former "Dead End Street" drummer Roger Jern. Another year went by and nothing happened. It was time to break up with UFO-Records. Said and done, a demo was recorded and shipped to several labels. Z-records president Mark Alger was the first to contact the band and a deal was signed with Z-records in the late 1998.
Now the band just needed a keyboard player and they found Anders Andersson. A young talented keyboard player who joined the band in november 1998. In Jan/Feb 1999 the band finally went into the studio to record 13 new tracks for the second album "Road Of Desire" (12 tracks in Europe + 1bonus for Japan).
The road of desire has been long and hard, but finally we got this project back on the right track !!!


DISCOGRAPHY
JUST WHAT THE DOCTOR ORDERED 1995

Track list: 1. Are You Willing To Forgive 2. Gimme Your Love 3. Back (someday) 4. Dance With The Fire 5. Good Girl 6. Take Me Higher 7. Tell The Truth 8. Just What The Doctor Ordered 9. Big Dreams 10. I Wanna Make You Mine 11. After All

ROAD OF DESIRE 1999

Track list: 1. Come Hell or High Water 2. When The Truth Becomes a Lie 3. Road of Desire 4. Hold On 5. Calling Your Loveline 6. Soulstealer 7. I Got What It Takes 8. Life Is A Mission 9. The Reason I Live 10.Love & Devotion 11. Coming Home 12. Endless Dream

GRAND DESIGN 2000

Track list: 1. Stonecold Woman 2. Hiding Away From The World 3. Heart On The Run 4. Fortune Teller 5. Desperate Call
6. Eyes Of A Stranger 7. Hands Of Time 8. Going Crazy 9. Scream Of Anger 10. Love Reaction 11. Dance In Darkness 12. Love & Devotion (Live) 13. Are You Willing To Forgive

Notes: Tracks 12 and 13 are Japanese bonus tracks.


Dynasty Music is the Official Music Source for Masters Of Metal



Email: Masters Of Metal