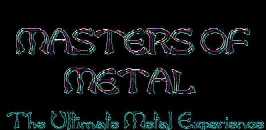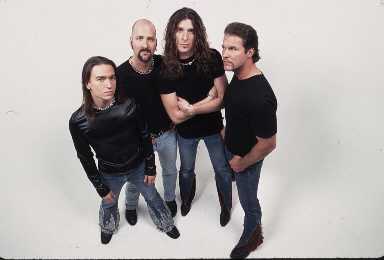 band members l to r: Mike Dupke-drums, Boot-bass, Ryan Cook-vocals, John Sepetys-guitar

BIO
"Kick-ass rock-n-roll the way mom used to make it." Such is the domain of L.A.'s Hair Of The Dog, according to drummer Mike Dupke, who hits the nail on the head harder than the opening stomping chords to the band's warcry "Rise" (a song that lays down the rules for a resurgence of crunching, power-chorded rock anthems last heard on the Kiss Alive II tour).
Kiss is a prime wellspring for this band, as is Van Halen, Aerosmith, and AC/DC. Each of these bands have stood the test of time thanks to their solid songwriting craftsmanship and similarly, each of the four rockers in Hair Of The Dog stresses the importance of "the song." Guitarist John Sepetys cites Eddie Van Halen as his primary inspiration; not for his shredding but, "his songwriting, and his ability to create solos with teeth and memorable melody." Vocalist Ryan Cook (who is known to play a mean slide) leans the same way.
"One of my favorite guitarists is Eric Clapton, so that should tell you something. I like guitarists who write solos you can sing... something a non-player would remember, a song within a song."
Throughout "Rise," you can hear this ethic at work. This second album for the band calls upon a wide range of emotions, hues, speeds, and volume levels, while within each track, the band's collective years of chops can be heard to focus in reverence of the almighty song. These boys can all shred, make no mistake, but that's not what you will walk away humming.
That's not what has woven classic rock into the fabric of our times, and that's not what has fans thirsting for more at the band's celebrated live gigs. "These are simple, almost instant songs, but the simplicity is deceptive," offers bassist Brian Saputo (just call him "Boot"; everybody else does). "This is, definitely, a sonically more polished machine than our first record. It was written and conceived as an album. We started pre-production and writing six months before we recorded, while the first one was more a string of demos and other ideas."
Hair of the Dog released their self-titled, independent debut nearly three years ago after a song called, "Cadillac Jack" appeared on an Album Network CD sampler and exploded with airplay in several midwestern markets. Bass man Boot recalls the real-life Cinderella story. "At the suggestion of a friend, we took one of our demos ("Cadillac Jack") and had it placed on an Album Network radio sampler. Out of nowhere, we suddenly had PD's and jocks calling our manager saying the request lines were ringing off the hook after only one spin. All of a sudden we had the most requested song in several markets and a ton of people were asking when the album was being released."
Guitarist John Sepetys adds, "It was actually kind of funny, because we didn't have any kind of album at all. Consequently, we had to bend the truth about as far as it would go without breaking. We told radio stations that we were in pre-production and this song was just an advance teaser track. We immediately hauled ass into the studio, cut five more songs, and then put them together with a collection of six other demos we had. Everything was remixed, mastered and presto... I give you one debut album!"
The band hit the road shortly after the release of this "home grown" debut. What initially began as a couple patchwork weeks of dates, turned into nearly two years on tour. Their explosive live show was the best advertising this band could've had, and it became not at all unusual for them to sell 50-60 CD's on any given evening after a performance. This ferocious live assault was reinforced with some grass roots distribution, a little "guerilla" marketing, and a rapidly growing base of insanely dedicated fans. All of this sweat & blood has laid a perfect foundation for the launch of their new Spitfire release "Rise." For the recording of "Rise," the band hooked-up with production legend Michael Wagener.
They all admit he was a big part of the band's panoramic improvement in sound, having brought his vast metal acumen to the recording process at his base studio in Nashville. Indeed, when it came to Ryan's vocals, Wagener had him try out 26 different microphones. Mike Dupke is effusive in his praise for Wagener. "Wonderful! I absolutely adored working with Michael Wagener. You often hear about guys who go into the studio and they get some other drum set and smaller cymbals and thinner heads. My drums tend to be big just because I like the sound and the durability of the larger equipment. So I try to go for something powerful and Michael Wagener, as kind of a big treat for me, had me use all my own stuff. The same kit I would play live with these guys, was the kit he wanted me to use in the studio."
"Michael Wagener's philosophical approach was that this was all rock-n-roll," Dupke explains. "There were a couple songs where I would start getting bummed out about my drum parts, "h jeez, I'm not nailing these fast enough.' And he said something that affected me very deeply, as far as this band goes. "When you go in and record there are two things you are thinking about, the drum parts that you have in your head, and the parts that your hands are going to want to play naturally. And it's when the two of these come together... that's making music.' It made me realize that this is rock-n-roll. Maybe what's perfect for someone like Steely Dan, isn't going to be perfect for our record, which really, is more about attitude.
The four of us up on stage... it's simple but powerful: two guitars, bass and drums. It's going to be loud, it's going to be aggressive... but it's not going to be depressing. It's always upbeat and we hope everybody has as good a time as we're having up there." Whereas tracks like "Color Me Fire," "Hammered," "I Can't Fight You," and "Rise" are snapped to welded frames built to support the weightiest of riffs, the band isn't afraid to show their southern rock and indeed, closet country affections. This is especially true in "You Are The One," which finds Ryan's powerful, whiskey-soaked throat leading the band through a simple, blue-collar rocker that has radio written all over it. "That one speaks to my roots of liking really singable melodic rock... something with a hook. It's a little pretty but who cares? I want the girls to like the band just as much as the guys do. Whereas "Rise" is letting the people who loved our first record know that we're still true to ourselves and that we're still predominantly that kind of rock-n-roll. 'Rise' is kind of like the sister song to "Cadillac Jack" off our first record."
It is the chemistry of all these distinct sounds that make Hair Of The Dog an enigma... a force that somehow got plunked here in the year 2000, while living and breathing a strict diet of timeless rock-n-roll that is now all of a sudden classic (Boot citing records like "Toys In The Attic" or "Van Halen I" as grails worth aspiring toward). But throughout the bulk of "Rise," there's also a tug toward "roots" music, perhaps a result of the band hailing from the likes of Michigan, Kansas and Nashville.
The guitars cut a swath straight to the heart of the matter; pure hookable power chords that again, recall Kiss or Ted Nugent, but also Mountain and James Gang. Wrapping it up are Ryan's blues-deep vocals, which have few parallels in rock. Perhaps Joe Cocker... or even a little Jim Dandy. Check out "I Can't Fight You" and you can hear rock's fifty year heritage at work.
Ryan nailed the vocal; the track, in fact, being the first vocal recorded for the album. Cook revealed, "That's probably my favorite vocal on the album. You can tell that some girl really did a number on me (laughs)." One track on the record that is sure to get people talking is a cover of an obscure Kiss composition called "I" (from "The Elder" album). John explains the strange choice. "Well, if there's one common thread for this band... it's Kiss. We frequently close our shows with big Kiss songs, but those songs have been covered to death. So we picked a bit of a rare one and made it a little heavier and more current. We also threw in bits and pieces of other Kiss songs in a breakdown section near the end. It just seemed like a good opportunity to let people hear a song that had pretty much gotten lost. Mainly, though, it's simply a tribute to a band we really love."
Elsewhere, the band really gets down to what they do best: gutsy, grinding, no-frills rock with a discernable, traditional midwest vibe. Producer Michael Wagener, at one point, even called in a six pack of Hooters girls to sing back-ups on the band's tongue-in-cheek testimony to "big ones" (better known as "Mokur Jahoobees").
That same night, after a champagne-in-the-afternoon soiree with the Hooters girls, the band recorded a drunken acoustic jam that had actually been written back at their old band house in L.A.'s San Fernando Valley. "Out of Control" was the result... added to the record as a hidden bonus track. "We had the acoustic guitars out and we just started playing the song. It was kind of floating around and we hadn't touched it for years. It was pretty much an accident... and it sounds like an accident (laughs). But that's where the track's charm comes from. That was recorded with just a video camera, and we took the audio right off the video tape. We figured that night would be a wash, so we just let the tape run," said bass man Boot.
But the ultimate manifestation of the band's "get up and stay up" credo is the hard-hitting affirmation of the title track "Rise"- a riff that guitarist John Sepetys calls, "A real adrenalin-pumper... one that just gets you ready to put your head through a wall." It is indeed a crusher, turning the tables on its Sabbath-like heft by inciting all to rise above and conquer. "I think that's the theme of the whole album," offers Sepetys. "Lyrically, we push a belief in yourself, standing up against the odds, fighting for what you believe in, and not worrying about what anybody else says is "cool.' As well, there's a huge "have fun and party" kind of thing... the whole tits and booze vibe (laughs). But seriously, I think the most important thing is matching the lyric to the music. This marriage is crucial. You can take something, read it, and it can be moving. But when you put music to it with the same kind of attitude, hopefully it becomes an even more powerful emotional experience."
Cook sums up the very palpable feeling that the time is ripe for a record that slaps you upside the head with something logical... the fact that people want to enjoy life. As a track on "Rise" puts it... escape the 9 to 5 and embrace the 5 to 9. "I know, just from touring our asses off for the last two years, that there's a huge crowd out there who're dying for the kind of music we're playing. And I love hearing that. We had plenty of chances to get haircuts and become the next alternative band. You know what? We could have done it, but we would have been horrible at it. And I think people are saying, "I'm tired of being depressed. I'm tired of complaint rock. I'm tired of having people preach to me the whole time that life is bad.' So this is back to the basics of good-time rock.
And to me... a Les Paul cranked through a Marshall in 2000 sounds like a Les Paul cranked through a Marshall back in 1978. It's the same guitar, it's the same amp... it's just a different guy's pair of hands. I just want people to know more than anything that this is Saturday night music. God, everybody's heard about those infamous Van Halen backyard parties... and all the crazy stuff that Motley Crue did. And that whole mentality is here in this band. We're barbecue music in your backyard, man. But we just want to take it to a bigger and bigger scale. We want your backyard to be an arena."
Spitfire released both "Rise" and "Hair Of The Dog" on April 4, 2000. The first single from "Rise" is the title track.

DISCOGRAPHY
HAIR OF THE DOG 2000

Track list: 1. Cadillac Jack 2. Whiskey Tango 3. Sweet Lady Vegas 4. As I Am 5. Alone 6. Southern Cock 7. The Party Ain't Over 8. Stomp 9. Satin Girl 10. Monster 11. Killin' Heart

Notes: Rereleased by Spitfire Records 2000

RISE 2000 Five Star

Track list: 1. Rise 2. Five To Nine 3. Color Me Fire 4. You Are The One 5. Mokur Jahobees 6. I Can't Fight You 7. Rescue Me 8. Bum Jenkins 9. Twice 10. The Almighty Strut 11. Sometimes Is Enough 12. Hammered 13. I

PMUSA PICK-Best of Artist. This album totally kicks ass! You gotta get this one.

The albums seen here can be obtained from Dynasty Music

Dynasty Music is the Official Music Source for Masters Of Metal