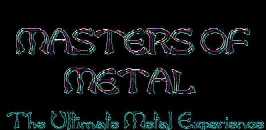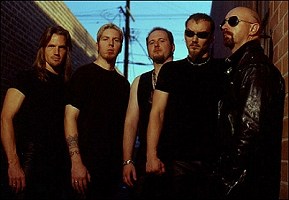 band members l to r: BOBBY JARZOMBEK-drums, RAY RIENDEAU-bass, MIKE CHLASCIAK-guitar, PATRICK LACHMAN-guitar, ROB HALFORD-vocals

BIO
From the Official Rob Halford Website
You know the name, right? Come on, if you have any interest in heavy metal, then Rob Halford will immediately strike a chord. The charismatic, vocally soaring star who fronted one of the almighty bands of the genre. Judas Priest. Now doesn't the mere mention of their hallowed name send sharp shards of anticipation straight through your metal heart?
Doesn't the recollection and recognition of Halford's pre-eminent place in the history of the music we all love with a passion, and send you racing for that tennis racket, as you take aim for the goldfish bowl and let out one of those trademark screams. 'Screaming For Vengeance'? Yeah, the stuff of dreams, the nectar of heritage…
Except that right now, Rob Halford stands four-square to the winds of millennial music, facing up to the challenge and demands of the age. After leaving Priest, issuing albums with Fight and Two, the man has returned to his first musical love: heavy metal. What else?
His new band is called Halford (well, that does say it all, OK), and Rob has recruited a premier crew, namely guitarists Mike Chlasciak and Patrick Lachman, bassist Ray Riendeau and drummer Bobby Jarzombeck for the project that will catapult him back into the vanguard of the metal hierarchy.
After experimenting with the aforementioned Fight and Two, Halford is now back very much in the bosom of the music he knows, loves and understands. "The album we've recorded is called 'Resurrection' and for me this is a golden moment. It represents all the things I do best. I feel totally comfortable with the record," enthuses the man himself. "It has a lot of energy and power. This is an album full of all the right ingredients. I believe it's a great metal album. "I guess you could say that after a brief interlude the light's gone on. I realised that I had to make an album that encompassed everything I believe in. But I don't regret what I did between this project and Priest. I needed to do the other things in order to get back to what I'm doing now."
The 'Resurrection' album sees Rob Halford and co. working with top producer Roy Z., a man closely associated with Bruce Dickinson's acclaimed recent solo output. And Dickinson himself also played his part in the project. "When we were in pre-production, Bruce asked Roy how everything was going, and Roy played him an early version of the track 'Locked & Loaded', which he loved. Bruce immediately got on the phone to his manager Rod Smallwood, which is how I've come to be involved with the Sanctuary organisation for management."
But the relationship between two of the greatest vocalists in metal history has gone beyond the business end, because Halford and Dickinson also duet on one track here, namely 'The One You Love To Hate'. "We just sat down one day and started to come up with vocal lines and lyrics for the song. It was truly a spontaneous, immediate and real situation. Nothing was pre-planned. It was thrilling to be able to work with someone like Bruce. Like me, he's part of the great heritage of British metal."
Yet perhaps the track that best sums up the album, the band and the man is the title cut. Not only the song that opens the album, but also the ultimate affirmation of the Halford philosophy. "There are a lot of personal references on this record," explains Halford. "Lyrically, in some respects it deals with the musical journey I've been on in recent years. But the title itself I suppose represents the way I feel right now. To me the songs and performances on this album are a resurrection. I know that a lot of metal fans did wonder whether I'd turn my back on them. But I would never do that. This album is my answer. If anything, being away from the centre of the metal community for so long has increased my desire and passion for the music.
For Halford, both man and band, 'Resurrection' is a firm statement of intent. The true joy is that one of the undisputed legends of the genre is back in the fold, and again setting the pace and tone. "I have so much energy and drive right now. There's so much I want to accomplish in the coming years. I just love this album, I love this band," concludes Halford. "I can't wait to go on tour and play for the metal freaks all over world, and show them what we can do." Believe it. Feel it. Rob Halford is once again setting standards that will leave many choking in his wake. Is 'Resurrection' heavy metal music for the new millennium? Nope, it's heavy metal music that's timeless. Priceless and precious.
Malcolm Dome (Metal Hammer/TotalRock! Radio) May 2000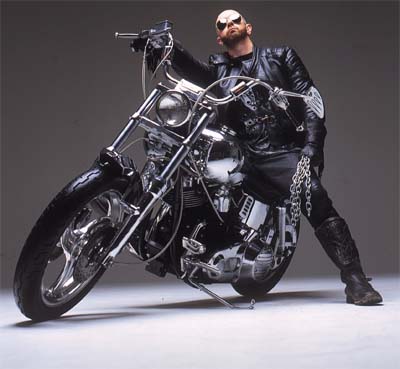 DISCOGRAPHY
RESURECTION 2000

Track list: 1. Resurrection 2. Made In Hell 3. Locked And Loaded 4. Night Fall 5. Silent Screams 6. The One You Love To Hate 7. Cyberworld 8. Slow Down 9. Twist 10. Temptation 11. Drive 12. Saviour

Notes: The Metal God is Back! This album is killer. Rob does a duet with Bruce Dickinson on The One You Love To Hate.

The albums seen here can be obtained from Dynasty Music

Dynasty Music is the Official Music Source for Masters Of Metal