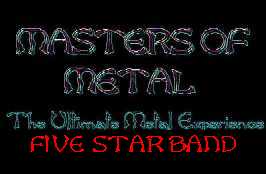 band members l to r: John Berry-guitar, Jon Noble-keyboards, Billy Queen-drums, David Taylor-vocals, Gary Holtzman-guitars, James Evans-bass

BIO
Columbus Ohio's Jacobs Dream have become world renowned contenders to the Metal throne in the ever expanding metal underground, all before releasing their self- titled debut. Formed in late 1994 as Iron Angel, the band spend a good portion of three years fine tuning their classically fused power metal to perfection. After the standard name change (there was another Iron Angel), the band released their first demo in 1998, to overwhelming critical praise both here in the United States and abroad. Selling more than 3000 copies of their demo on CD, an underground bidding war ensued with all of Metal's big guns circling the wagon. it was Metal Blade who won the derby. With a background in orchestral and classical music, but for the most part a self taught musician, founding member Gary Holtzman was raised on the licks of the classic masters, Paganini and Bach and the modern legends Steve Vai and Rush drummer Neil Peart to name a few. But as Gary puts it, "while we consider ourselves technical, we don't get caught up in technique. Our goal in writing this record was to make a good visual album that could be felt when listened to. (an album) with lyrical integrity, not to be compromised or choked by technique." Recorded at Sugar Shack studios in the band's hometown of Columbus, it was produced by the band and Rick May.
News from the Official Jacobs Dream Website- Currently about 75% of the new CD has been written and Jacobs Dream are looking at several studios for possible recording hopefully in November. The working title is Third Way, but they might change it to Theater Of War. Some tracks: Theater Of War, Critical Mass, Third Way, Sanctuary, Traces Of Grace, Magic Garden and Rotunda Pigs.


DISCOGRAPHY
JACOB'S DREAM DEMO 1998

Track list: Not available

Notes: No information available

JACOB'S DREAM 2000 Metal Blade (5 Stars)

Track list: 1. Kinescope 2. Funambulism 3. Scape Goat 4. Mad House Of Cain 5. Tale Of Fears 6. Crusade 7. Black Watch 8. Love & Sorrow 9. The Gathering 10. Never Surrender 11. The Bleeding Tree 12. Violent Truth (bonus track)

Notes: Excellent US metal band reminiscent of Iron Maiden and old Queensryche. Lead singer David Taylor sounds like a cross between Bruce Dickinson and Geoff Tate. A must have album!

The albums seen here can be obtained from Dynasty Music

Dynasty Music is the Official Music Source for Masters Of Metal