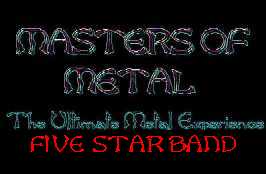 band members current: Scott Travis-drums, Glenn Tipton-guitars, Tim "Ripper" Owens-vocals, KK Downing-guitars, Ian Hill-bass
Classic Priest Lineup: KK Downing-guitars, Ian Hill-bass, Rob Halford-vocals, Scott Travis-drums, Glenn Tipton-guitars

BIO
JUDAS PRIEST - 1974-1998
1974-76: JUDAS PRIEST'S recording career began with a contract on Gull Records and a debut LP of originals, "Rocka Rolla" produced by Roger Bain. A riotous show at 1975's Reading Festival was a turning point, providing inspiration for a cataclysmic second LP, "Sad Wings Of Destiny" with its early versions of "Victim of Changes" and "Epitaph". The album was a success, hitting the charts in the UK, the U.S. and Japan, but the label was incapable of maintaining the band's growth and accomplishments.
1977: JUDAS PRIEST sign with CBS Records worldwide and issue "Sin After Sin". Produced by Deep Purple bassist Roger Glover, the album seethed with raunch on tracks like "Sinner", "Starbreaker" and a surprising cover version of Joan Baez' "Diamonds and Rust". Their first ever U.S. tour opened in Texas, hit New York's Palladium Theater a month later, and then climaxed with two days at Oakland Coliseum with Led Zeppelin.
1978: That album's impact on the U.S. charts set the stage for their next release, "Stained Class", co-produced by Dennis MacKay and the band. Matching the grueling but highly successful UK tour with a U.S. tour that reached a quarter of a million fans, the band went on to Japan where their first tour of the Orient included several TV appearances.
1979: A big UK album, "Killing Machine" featuring their first single to break the British Top 10, "Take On The World" is released in the U.S. as "Hell Bent For Leather" and hit the Billboard Top 100 while tripling sales of their previous album. Tokyo provided the site for the band's first live album "Unleashed In The East" recorded during a 5 day Japanese tour and produced by Tom Allom (their first work together). Another 10 week tour of the States, including a month opening for Kiss, followed by 6 weeks headlining their own shows, allowed America to see PRIEST's now legendary headlining show for the first time - including the singer mounting the boards each night astride his half-ton Harley Davidson, "Lowrider". The live album broke the U.S. top 50 and doubled the success of the previous album. The tour's final date was a live WNEW broadcast from New York's Palladium.
1980: The next record's success ("Bristish Steel"), was enhanced by a 30 day/30 city UK tour which sold out three months in advance. The BBC was forced to play "Living After Midnight" pushing this first single to the British Top Ten. Likewise, the BBC Television broke precedent by airing the groundbreaking promotional video of "Breaking The Law", the band's first project with producer Julian Temple. The British tour was followed by a 3 week European tour and a U.S. tour that sent the album into the U. S. Top 40 - once again surpassing its predecessor. Rolling Stone stated flatly that the band "...define the heavy metal genre at the outset of the 80s. .."
1981: Momentum continues with the release of "Point of Entry" and extensive UK and U.S. tours. Their pioneering videos for songs like "Heading Out To The Highway", "Don't Go" and "Hot Rockin'" helped PRIEST become one of the first bands to be interviewed on MTV.
1982: "Screaming For Vengeance" was accompanied by their fastest selling and most extensive American tour. The video of "You Got Another Thing Comin'" garnered the band their highest U.S. chart positions and their first ever headlining show at New York's Madison Square Garden. The new album went gold by tour's end.
1983; JUDAS PRIEST's live show was praised as one of rock's ,most visual extravaganzas, incorporating some 450 lights and various hydraulic and pyrotechnic wonders. Captured on video at Atlanta's Omni, the full length video premiered on MTV's concert spot. "Screaming For Vengeance" is certified platinum in April.
1984; "Defenders of The Faith" is released - an aptly titled album considering the band's longtime role as the defenders of heavy metal. To JUDAS PRIEST, that role has meant not only defending metal music from it's detractors, but from it ever going out of style. As with "Hellion", the symbolic bird-like creature on the cover of "Screaming For Vengeance", "Metallion from the cover of "Defenders Of The Faith" became a symbol of the band's stature and success.
1986; After a lengthy break, the band record and release "Turbo" which Hit Parader claims "...shows the diversity of the heavy metal form..." Their revamped stage show and new look did little to diminish their popularity with their loyal fans.
1987: JUDAS PRIEST film and release "Priest.....Live!" a double LP and long form video that concentrated on music off the previous 5 releases and the hits off those albums including "Living After Midnight", "Breaking The Law", "Turbo Lover", "Rock You All Around The World" and new tracks like "Hell Bent For Leather" and "Locked In".
1988: "Ram It Down" returned the band to their metal roots, much to the delight of their long-term followers. A U.S. tour and accompanying videos helped assure people that PRIEST were still PRIEST, and PRIEST were still metal.
1989: Drummer Scott Travis (ex-Racer X) replaces Dave Holland.
1990: "Painkiller", their first album with a new drummer and a new producer (Chris Tsangarides) is indeed relief for metal heads all over the world. It's raw power lived up to expectations and was reviewed in the press as summing up and defining heavy metal. In reviewing the album, The San Antonio Express News claimed "...JUDAS PRIEST has raised heavy metal to a fine art..." For over a year, they toured the world from Europe to the UK, from Japan to the U.S. and South America.
1992: Original vocalist Rob Halford leaves JUDAS PRIEST to pursue solo projects. The band vows to find the best replacement and, in the meantime, each find long-wished-for time to work on some solo projects of their own. They do release "Metal Works -73-93" - not as much a greatest hits package as a compilation of favorite tracks put together by Glenn and KK from their back catalogue. It was an album designed to show the versatility and uniqueness of a pioneering metal band.
1995: Longtime JUDAS PRIEST fan, and singer in a U.S.-based PRIEST cover band, Ripper Owens becomes the new lead singer. The band found him via a video performance and after auditioning on only part of one classic PRIEST song, "Victim Of Changes", he had the job. The band begins work on a new album - their first studio release in 7 years.
1997: JUDAS PRIEST sign with CMC International Records who release "Jugulator", the long awaited new album from one of heavy metal's most important bands on October 28, 1997.
This is just the beginning of the second coming - JUDAS PRIEST is back!!!


DISCOGRAPHY
ROCKA ROLLA 1974 Gull Records

Track list: 1.One For The Road 2.Rocka Rolla 3.Winter 4.Deep Freeze (Instrumental) 5.Winter Retreat 6.Cheater 7.Never Satisfied 8.Run Of The Mill 9.Dying To Meet You 10.Caviar And Meths (Instrumental)

Lineup: Rob Halford-Vocals/ harmonica, K.K. Downing-Guitars, Glenn Tipton-Guitars/ synthesizers/ vocals, Ian Hill-Bass, John Hinch-Drums

ROCKA ROLLA 1983

Track list: same as above

Notes: Alternate cover

SAD WINGS OF DESTINY 1976 Gull Records

Track list: 1.Victim Of Changes 2.The Ripper 3.Dreamer Deceiver 4.Deceiver 5.Prelude (Instrumental) 6.Tyrant 7.Genocide 8.Epitaph 9.Island Of Domination

Lineup: Rob Halford-Vocals, K.K. Downing-Guitars, Glenn Tipton-Guitars/ piano, Ian Hill-Bass, Alan Moore-Drums

Notes: Features the classic Priest songs Victim of Changes and The Ripper

SIN AFTER SIN 1977 CBS

Track list: 1.Sinner 2.Diamonds And Rust 3.Starbreaker 4.Last Rose of Summer 5.Let Us Prey 6.Call For The Priest 7.Raw Deal 8.Here Come The Tears 9.Dissident Aggressor

Lineup: Rob Halford-Vocals, K.K. Downing-Guitars, Glenn Tipton-Guitars, Ian Hill-Bass, Simon Phillips-Drums

STAINED CLASS 1978 CBS

Track list: 1.Exciter 2.White Heat, Red Hot 3.Better By You Better Than Me 4.Stained Class 5.Invader 6.Saints In Hell 7.Savage 8.Beyond The Realms Of Death 9.Heroes End

Lineup: Rob Halford-Vocals, K.K. Downing-Guitars, Glenn Tipton-Guitars, Ian Hill-Bass, Les Binks-Drums

HELL BENT FOR LEATHER 1978 CBS

Track list: 1.Delivering The Goods 2.Rock Forever 3.Evening Star 4.Hell Bent For Leather 5.Take On The World 6.Burnin' Up 7.The Green Manalishi (With The Two-Pronged Crown) (U.S. version only) 8.Killing Machine 9.Running Wild 10.Before The Dawn 11.Evil Fantasies

Notes: Was called Killing Machine in Europe

Lineup: Rob Halford-Vocals, K.K. Downing-Guitars, Glenn Tipton-Guitars, Ian Hill-Bass, Les Binks-Drums

UNLEASED IN THE EAST 1979 CBS

Track list: 1.Exciter 2.Running Wild 3.Sinner 4.The Ripper 5.The Green Manalishi (With The Two-Pronged Crown) 6.Diamonds And Rust 7.Victim Of Changes 8.Genocide 9.Tyrant 10.Rock Forever (Japanese version only) 11.Delivering The Goods (Japanese version only) 12.Hell Bent For Leather (Japanese version only) 13.Starbreaker (Japanese version only)

Notes: Called "Priest In The East Live In Japan" in Japan

Lineup: Rob Halford-Vocals, K.K. Downing-Guitars, Glenn Tipton-Guitars, Ian Hill-Bass, Les Binks-Drums

BRITISH STEEL 1980 CBS

Track list: 1.Breaking The Law 2.Rapid Fire 3.Metal Gods 4.Grinder 5.United 6.Living After Midnight 7.You Don't Have To Be Old To Be Wise 8.The Rage 9.Steeler

Lineup: Rob Halford-Vocals, K.K. Downing-Guitars, Glenn Tipton-Guitars, Ian Hill-Bass, Dave Holland-Drums

POINT OF ENTRY 1981 CBS

Track list: 1.Heading Out To The Highway 2.Don't Go 3.Hot Rockin' 4.Turning Circles
5.Desert Plains 6.Solar Angels 7.You Say Yes 8.All The Way 9.Troubleshooter 10.On The Run

Lineup: Rob Halford-Vocals, K.K. Downing-Guitars, Glenn Tipton-Guitars, Ian Hill-Bass, Dave Holland-Drums

Notes: US & Japanese version

POINT OF ENTRY 1981 CBS

Track list: same us above

Notes: European version

SCREAMING FOR VENGEANCE 1982 CBS

Track list: 1.The Hellion (Instrumental) 2.Electric Eye 3.Riding On The Wind 4.Bloodstone 5.(Take These) Chains 6.Pain And Pleasure 7.Screaming For Vengeance 8.You've Got Another Thing Comin' 9.Fever 10.Devil's Child

Lineup: Rob Halford-Vocals, K.K. Downing-Guitars, Glenn Tipton-Guitars, Ian Hill-Bass, Dave Holland-Drums

DEFENDERS OF THE FAITH 1984 CBS

Track list: 1.Freewheel Burning 2.Jawbreaker 3.Rock Hard Ride Free 4.The Sentinel 5.Love Bites 6.Eat Me Alive 7.Some Heads Are Gonna Roll 8.Night Comes Down 9.Heavy Duty 10.Defenders Of The Faith

Lineup: Rob Halford-Vocals, K.K. Downing-Guitars, Glenn Tipton-Guitars, Ian Hill-Bass, Dave Holland-Drums

TURBO 1986 CBS

Track list: 1.Turbo Lover 2.Locked In 3.Private Property 4.Parental Guidance 5.Rock You All Around The World 6.Out In The Cold 7.Wild Nights, Hot And Crazy Days 8.Hot For Love 9.Reckless

Lineup: Rob Halford-Vocals, K.K. Downing-Guitars, Glenn Tipton-Guitars, Ian Hill-Bass, Dave Holland-Drums

PRIEST...LIVE 1987 CBS

Track list: 1.Out In The Cold 2.Heading Out To The Highway 3.Metal Gods 4.Breaking The Law 5.Love Bites 6.Some Heads Are Gonna Roll 7.The Sentinel 8.Private Property 9.Rock You All Around The World 10.Electric Eye 11.Turbo Lover 12.Freewheel Burning 13.Parental Guidance 14.Living After Midnight 15.Shout - Oh Yeah! 16.You've Got Another Thing Comin'

Lineup: Rob Halford-Vocals, K.K. Downing-Guitars, Glenn Tipton-Guitars, Ian Hill-Bass, Dave Holland-Drums

RAM IT DOWN 1988 COLUMBIA

Track list: 1.Ram It Down 2.Heavy Metal 3.Love Zone 4.Come And Get It 5.Hard As Iron 6.Blood Red Skies 7.I'm A Rocker 8.Johnny B. Goode 9.Love You To Death 10.Monsters Of Rock

Lineup: Rob Halford-Vocals, K.K. Downing-Guitars, Glenn Tipton-Guitars, Ian Hill-Bass, Dave Holland-Drums

PAINKILLER 1990 CBS

Track list: 1.Painkiller 2.Hell Patrol 3.All Guns Blazing 4.Leather Rebel 5.Metal Meltdown 6.Night Crawler 7.Between The Hammer & The Anvil 8.A Touch Of Evil 9.Battle Hymn (Instrumental) 10.One Shot At Glory Lineup: Rob Halford-Vocals, K.K. Downing-Guitars, Glenn Tipton-Guitars, Ian Hill-Bass, Scott Travis-Drums

METALWORKS 73-93 COLUMBIA

Track list: 1.The Hellion (Instrumental) 2.Electric Eye 3.Victim Of Changes (live version from "Unleashed In The East") 4.Painkiller 5.Eat Me Alive 6.Devil's Child 7.Dissident Aggressor 8.Delivering The Goods 9.Exciter 10.Breaking The Law 11.Hell Bent For Leather 12.Blood Red Skies 13.Metal Gods 14.Before The Dawn 15.Turbo Lover 16.Ram It Down 17.Metal Meltdown 18.Screaming For Vengeance 19.You've Got Another Thing Comin' 20.Beyond The Realms Of Death 21.Solar Angels 22.Bloodstone 23.Desert Plains 24.Wild Nights, Hot & Crazy Days 25.Heading Out To The Highway 26.Living After Midnight 27.A Touch Of Evil 28.The Rage 29.Night Comes Down 30.Sinner 31.Freewheel Burning 32.Night Crawler

Lineup: Rob Halford-Vocals, K.K. Downing-Guitars, Glenn Tipton-Guitars, Ian Hill-Bass, Dave Holland-Drums

JUGULATOR 1997 CMC International

Track list: 1.Jugulator 2.Blood Stained 3.Dead Meat 4.Death Row 5.Decapitate 6.Burn In Hell 7.Brain Dead 8.Abductors 9.Bullet Train 10.Cathedral Spires

Lineup: Tim "Ripper" Owens-Vocals, K.K. Downing-Guitars, Glenn Tipton-Guitars, Ian Hill-Bass, Scott Travis-Drums

98 LIVE MELTDOWN 1998 CMC International

CD 1: 1.The Hellion 2.Electric Eye 3.Metal Gods 4.Grinder 5.Rapid Fire 6.Blood Stained 7.The Sentinel 8.A Touch Of Evil 9.Burn In Hell 10.The Ripper 11.Bullet Train 12.Beyond The Realms Of Death 13.Death Row CD 2: 1.Metal Meltdown 2.Night Crawler 3.Abductors 4.Victim Of Changes 5.Diamonds & Rust 6.Breaking The Law 7.The Green Manalishi (With The Two-Pronged Crown) 8.Painkiller 9.You've Got Another Thing Comin' 10.Hell Bent For Leather 11.Living After Midnight

Lineup: Tim "Ripper" Owens-Vocals, K.K. Downing-Guitars, Glenn Tipton-Guitars, Ian Hill-Bass, Scott Travis-Drums

The albums seen here can be obtained from Dynasty Music

Dynasty Music is the Official Music Source for Masters Of Metal


Email: Masters Of Metal