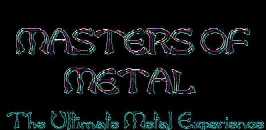 band members current: Anders Rain (g), Andrew McPauls (k), Chris Breeze (b), Rob Tyrant (v), Mat Stancioiu (d), Olaf Thorsen (g)

BIO
The original line-up got together in 1991 just like all other bands' history as some sort of garage underground metal band with still a very rough idea of what business is all about. A few years later in '94, a little more experience and songwriting skills make way to a first demo entitled "Midnight Resistance" which moves a first step into the known through a sequel of great enthusiastic reviews in homeland Italy and Germany. Consequently, all small indies start courting the band which eventually signs with the recently born Underground Symphony.
Their first Ep "Piece of Time" is soon released, pure melodic speed metal with some weird keyboards sound; the whole Italian and German super- underground metal scene starts buzzing over it and the road to a full length gets a little less steep and a bit more rewarding. "No Limits" is released in early '95 , good reviews and a strong word of mouth is what it takes to raise interest on another level.
It's Hong Kong Midem time and Pick up holds all Italian products as usual to be pushed on the international markets, hence a promo of "No Limits" gets some Japanese labels hooked up and Teichiku makes the best offer. A few good moves get the band in the metal bible magazine "Burrn!" top ten charts for almost a semester ( later also in '97 top twenty yearly preference charts) , fair sales, but not enough to put a tour together. Then, it gets easier, and license deals even if cheap, come from other far away parties in Korea and Brasil, however the imports syndrome refrains european labels from making a move on an something that is being shoved through several channels.
Despite all good results, serious frictions exist between some band members, mostly the former singer Joe Terry ( Fabio Lione) and the drummer/producer at the time. Fabio leaves and re-joins his old school mates Athena (later on, he'd get hired to feature on Rhapsody's first album) he already played with a few years back under a different name.
It's 1997, a new demo is on the make to be shopped around at the Popkomm in August, new vocalist namely Rob Tyrant (Roberto Tiranti) joins the band, and totally fits in it. In the meantime, the core members of Labyrinth decide to eventually part with their former drummer/producer and keyboards player drop dead weight and take a step out to a new perspective, unfortunately not without any back draft effects. In the summer, Popkomm days bring in some luck , Metal Blade shows a deep interest in the band?s new material (and not the only big one label to do so!) and in a few days their first offer comes and negotiations take a start.
It would take a whole semester to complete the final recordings of "Return To Heaven Denied". Some advance - tapes hit the press and shake the metal foundations of the little Italian scene, the album is not even out yet and Labyrinth features on the main event of the year : Gods of Metal '98 along with re-known international big names as Black Sabbath, Helloween, Blind Guardian, Iced Earth, Stratovarious . Top score reviews and flattering interviews are countless on all metal mags , "Return To Heaven Denied" is pillar power album and gives a new breeze to the static for years Italian scene The band has been out on the road with Hammerfall in Europe from mid-October '98 on . The whole tour touched all major European countries and has given the band a huge live exposure boosting them to a more established level on the international metal scene ! Labyrinth have now gained their spotlight and get invited to be part of all major festivals '99 billing from the Dynamo to the Gods of Metal , Wacken , Bang Your Head!?, Eurometal, Rock Tiger and more, besides headlining some club dates in Italy, Spain ,Greece . After almost a year from its release their "Return to Heaven Denied" floats around 45.000 sold units worldwide and keeps rolling on metal charts among '98 favorite albums. Labyrinth are now striking back with a new mini entitled "Timeless Crime" based on a very original concept taking place in the lush and magnificent Republic of Venice !!
In fall of 1999 the band starts recording their third album "Sons Of Thunder" in Milan, Italy, together with producer Neil Kernon (a.o. Queensryche, Nevermore). LABYRINTH created another hitparade of melodic, speedy Power Metal tunes with a higher approach in terms of technique and songwriting. The year 2000 is the year of LABYRINTH!

DISCOGRAPHY
PIECE OF TIME

Track listing: 1.Piece of time 2.In the shade 3.Call me 4.Miles away

NO LIMITS 1995

Track listing: 1.Mortal sin 2.Midnight resistance 3.Dreamland 4.Piece of time 5.Vertigo 6.In the shade 7.No limits 8.The right sign 9. Red zone 10.Time has come 11.Looking for ... 12.Call me 13.Miles away

RETURN TO HEAVEN DENIED 1998

Track listing: 1.Moonlight 2.New horizons 3.The night of dreams 4.Lady lost in time 5.State of grace 6.Heaven denied 7.Thunder 8.Feel (Legend B. remix) 9.Time after time 10.Falling rain 11.Die for freedom

TIMELESS CRIME

Track listing: 1.Save me 2.Out of memory 3.In the shade 4.Falling rain

SONS OF THUNDER 2000

Track listing:

The albums seen here can be obtained from Dynasty Music

Dynasty Music is the Official Music Source for Masters Of Metal