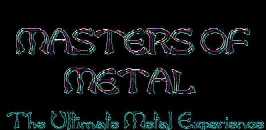 band members

BIO
NARNIA was formed in 1996 by singer Christian Liljegren and guitarist Carljohan Grimmark. They met for the first time in 1993 and realised they shared the same passion for neo-classical hard rock. They have since compiled material for the debutalbum. The recordings began in September 1996 at Topz Recording Studio, Jönköping and were finished in January 1997. The album is appropriately entitled "Awakening".
In the fall of 1991 Christian Liljegren, Simeon Liljegren, Stefan Selvander and Mick Nordström (Leviticus, XT) formed MODEST ATTRACTION. This band plays 70's hard rock, influenced by bands like URIAH HEEP, THE SWEET, DEEP PURPLE and RAINBOW. The band released their debut "The Truth In Your Face", in February 1994. Two years later it was time for the follow-up, "Divine Luxury" and the band played quite extensively live. Selvander was soon replaced by Stephan Mohlin, but as he decided he wanted to spend more time with his family he left in March 1996. His replacement was 19 year old guitar-wizard Carljohan Grimmark. The new line-up performed a German tour only one month after Carljohan's arrivial. They also supported Glenn Hughes and URIAH HEEP in Sweden. A second mini-tour to Switzerland and Germany among them a festival together with PINK CREAM 69 and KEN TAMPLIN is planned for May 1997. Although MODEST ATTRACTION still exist, NARNIA is the number one band for CHRISTIAN and Carljohan, playing the style they've always longed for. Neo-classical, melodic hard rock a´la Yngwie J Malmsteen, Rainbow, EUROPE, PRETTY MAIDS and ROYAL HUNT, Christian's favourite bands. His vocal influences include names like Joey Tempest, Ronnie James Dio, David Byron and Brian Connolly.
NARNIA is Christian and Carljohan's main-band and on stage they are accompanied by drummer Fredrik Junhammar, keyboard-player Martin Claesson and bass-player Jakob Persson. Jakob has also co-written the song "The Return Of Aslan" together with Carljohan on NARNIA's album. The song "No More Shadows From The Past" on NARNIA's album features a guestappearance by lead-guitarist Janne Stark (OVERDRIVE, LOCOMOTIVE BREATH and author of "The Encyclopedia Of Swedish Hard Rock And Heavy Metal"). Carljohan will also make a guest-spot on LOCOMOTIVE BREATH's debut-album set for release in Fall of 1997.
NARNIA's music could be described neo-classical, melodic hard rock with fast and heavy guitarplaying, mighty melodic vocals and orchestral arrangements. Powerful tracks are mixed with emotional ballads and beautiful instrumental's that aims for the heart. The band's goal is to play as much live as possible and finally reach the Asian shores to perform their show. In April 1997 NARNIA signed an interesting deal with Japanese Pony Canyon and the album was released at July 18, 1997 in Japan.
During the Summer of 1997 Narnia´s management MCM Music Matthias and Rainer Mittelstädt tried to get a european deal for Narnia´s debutalbum "Awakening". In August 1997 MCM Music get a deal for Narnia for Europe, North and South America with the German label Nuclear Blast Records.In the end of August 1997 Carljohan and Christian travelled to Germany to discuss all the details for the future for Narnia with MCM Music and Nuclear Blast. Everything went good and in November 1997 the contract was signed with Nuclear Blast and Prophecy Publishing who will take of the publishing for Narnia for the rest of the world except Southeast Asia and Scandinavia.
In August 1997 a new member went into the band.Drummer Fredrik Junhammar quit the band and Andreas Johansson stepped into his shoes. Andreas is very experienced drummer and has done alot of drumsessions with famous swedish jazz and pop musicians in Swedish TV. In October Narnia was featured on the Powermetal copilation CD called Stahlmaster Volume 3 with the song "Break The Chains" as the first song on the compilation. In November they also appeared on Nuclear Blast´s celebration 10 years as a recordlabel with the song "No More Shadows From The Past" December 5, 1997 Narnia did their debutconcert in Kaxholmen, Sweden with the new line-up featuring Carljohan Grimmark: Guitars, Christian Liljegren: Vocals, Jakob Persson: Bass, Martin Claesson: Keyboards and Andreas Johansson: Drums. Carljohan and Jakob are from Kaxholmen so the place was packed. Narnia will not perform anymore concerts in 1997. They will wait until 1998 and Narnia will have their relaeseparty of the debutalbum "Awakening" in Jönköping 27th of February 1998. The official releasedate for "Awakening" for Europe and North and South America is 23rd of February, 1998 and they will also release Narnia´s album on vinyl with bonustrack "Let Me Rest In Your Arms". Narnia have sold between 5-6000 copies of "Awakening" so far in Japan since 18th of July, 1997. Narnia will appear on a Rockfestival in Stuttgart area in Germany April 4th, 1998 together with Whitecross (USA) and other bands. Hopefully alot of people will see Narnia during "Awakening Tour 1998" See You in 1998 !

DISCOGRAPHY
AWAKENING 1997

Track list: 1.Break The Chains 2.No More Shadows From The Past 3.The Return Of Aslan 4.Heavenly Love 5.Time Of Changes 6.The Awakening 7.Touch From You 8.Sign Of The Time 9.Let Me Rest In Your Arms (bonustrack Japan)

AWAKENING 1998

Track list: 1.Break The Chains 2.No More Shadows From The Past 3.The Return Of Aslan 4.Heavenly Love 5.Time Of Changes 6.The Awakening 7.Touch From You 8.Sign Of The Time

Lineup: Christian Liljegren - Lead and Backing vocals, Carljohan Grimmark - All electric and acoustic Guitars/ Background and Lead vocals/ Bass/Keyboards/ & Drum programming

LONG LIVE THE KING 1998

Track list: 1. Gates Of Paravel (Introduction) 2.Living Water 3.Shelter Through The Pain 4.The Mission 5.The Lost Son* 6.Long Live The King 7.Can't Get Enough Of You (Bonus Track Japan) 8.Dangerous Game* 9.What You Give Is What You Get 10.Shadowlands (Outro)

LONG LIVE THE KING 1999

Track list: 1.Gates Of Paravel (Introduction) 2.Living Water 3.Shelter Through The Pain 4.The Mission 5.What You Give Is What You Get 6.The Lost Son* 7.Long Live The King 8.Dangerous Game* 9.Star Over Bethlehem (Bonus Track Europe & America) 10.Shadowlands (Outro)

Lineup: Christian Liljegren - Lead and Backing vocals, Carljohan Grimmark - All electric Guitars, All 6 and 12-string acoustic Guitars/ Bass on */ Keyboards and Backing vocals, Jakob Persson - Bass, Andreas Johansson - Drums, Martin Claesson - Keyboards

The albums seen here can be obtained from Dynasty Music

Dynasty Music is the Official Music Source for Masters Of Metal



Email: Masters Of Metal