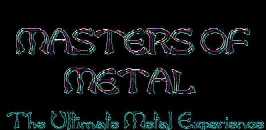 band members l to r: Johnny Stoj-guitars, Robbie Stoj-drums, Danny Cecati-vocals, Cory Betts-bass
Do these guys know how to have fun or what?


BIO
Pegazus hails from Australia and their music is in the vein of Manowar and Judas Priest.
Pegazus was formed in 1993 by brothers Johnny & Robbie Stoj. Not long after original singer Justin Fleming joined. In early 94 Bass player Dave King joined.
After playing for several months Pegazus entered the studio to work on their debut album. In 1995 they released their self titled album Pegazus. Pegazus sold well in Australia and overseas in Europe and Japan.
In late 95 Justin left the band and in early 96 new singer Danny Cecati joined. Pegazus released a demo tape called Metalbound to showcase Danny. In 1997 the band released their second album Wings of Destiny. In 1998 the great metal label Nuclear Blast signed Pegazus and rereleased Wings of Destiny. Pegazus played two dates at the prestiges Wacken Open Air Festival and one date at the Rock Hard Festival. They also later toured with Hammerfall, Primal Fear, and Labyrinth on the Templar Crusade Tour.
Bass player Dave King left the band and was replaced by Cory Betts. In 1999 the band began working on their 3rd album Breaking The Chains which was released in November 1999. In early 2000 singer Danny Cecati left the band, which is currently looking for a new singer. (See the official Pegazus website for details). Also US fans of Pegazus (of which I am proud to be one of) are circulating a petition to encourage Nuclear Blast to bring Pegazus to the States. (See Pegazus website for details).
Pegazus fans good news, Pegazus' first album "Pegazus " is available directly from the band . You can contact the band and purchase the CD by writing the band at this address :
Pegazus Warriors Army
P.O. Box 382
Altona North 3025
Victoria
Melbourne
AUSTRALIA

To go to the Official Pegazus website click here


To sign the petition to bring Pegazus to the US click here


Please do this (even if your not from the US) we need some decent bands to come to the US, save us from Korn and Limp Bizkit, bring us real metal, bring us PEGAZUS!!! PLEASE!!!
Now to sum up my views on Pegazus. PEGAZUS KICKS ASS, if you like classic metal (early 80's) if you like bands like Manowar, Judas Priest, Iron Maiden, etc. You will love Pegazus. PEGAZUS RULEZ!!!!
Last word: I recently talked with Johnny Stoj via e-mail and he seems like a really cool person.

Autographed pictures of Johnny & Robbie Stoj from my personal copy of the first Pegazus CD


DISCOGRAPHY
PEGAZUS 1995 debut album (4 stars)

Track listing: 1. Apache Warriors 2. Bastards of War 3. Speed Demon 4. Cry for the Angel 5. Pain is my Friend 6. Pegasus 7. Our Father and the Holy Ghost 8. King of the Jungle 9. Free as a Bird 10. Past Life
11. I'm on Fire
Excellent album. Very reminiscent of great 80's metal. Best tracks are Apache Warriors, Bastards of War and the other 9 tracks.

METAL BOUND 1996 demo tape

Track listing: 1. Mother Earth 2. Witches Hex 3. Symptoms of the Universe-Black Sabbath 4. Victim of Changes-Judas Priest

Demo tape to introduce new singer Danny Cecati.
I haven't heard this, but how could it not be great. Features Mother Earth and Witches Hex (great tracks from Wings of Destiny) but also Judas Priest classic Victim of Changes.

WINGS OF DESTINY 1997 (First pressing-Metal Warriors Label)

Track listing: 1. Wings of Steel 2. Cry Out 3. Braveheart 4. Mother Earth 5. Enchanted World 6. Life on Mars (Instrumental) 7. The Werewolf 8. Witches Hex 9. Destiny

Original version of the album released in 1997 on the Metal Warriors Label

WINGS OF DESTINY 1998 (5 stars)Nuclear Blast

Track listing: 1. Wings of Steel 2. Cry Out 3. Braveheart 4. Mother Earth 5. Enchanted World 6. Life on Mars (Instrumental) 7. The Werewolf 8. Witches Hex 9. Destiny

BREAKING THE CHAINS 1999 (5 stars)

Track listing: 1. Metal Forever 2. The Crusade 3. Queen Evil 4. Breaking the Chains 5. Tears of the Angels 6. Chariots of the Gods 7. Emerald Eyes (Instrumental) 8. Bastards of War 9. Apache Warriors 10. A Little Time (Digipack Only!)

The albums seen here can be obtained from Dynasty Music

Dynasty Music is the Official Music Source for MASTERS OF METAL