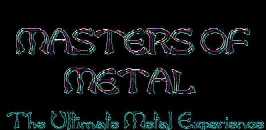 band members: Ralf Scheepers (v), Matt Sinner (b), Stefan Leibing (g), Henny Wolter (g) and Klaus Sperling (d)

BIO
When Ralf Scheepers and Mat Sinner first met, back when they were in other bands (Tyran Pace and SINNER respectively), they knew somehow they would end up working together. After Tyran Pace broke up, Ralf was offered the position as Gamma Ray's vocalist. After three successful releases with Gamma Ray, Ralf left the band for personal reasons and formed the Judas Priest tribute band Just Priest. Needing a couple recruits for some live shows, Mat and Tom Naumann came aboard; the response was incredible...The three started writing together and after SINNER fulfilled their contractural obligations in early 1997, Klaus Sperling entered the picture and PRIMAL FEAR was born.
Once formed, the band recorded a demo and sent it to Ralf's longtime Japanese label, JVC/Victor. Shortly thereafter, with their Japanese label, the band entered the studio along with Ralf's former bandmate Kaj Hansen lending an extra hand on guitar on what would become their debut release on NUCLEAR BLAST for the rest of the world.
Having already lept into the German Top 100 Rock/Pop charts at #48 along with extensive European tours, PRIMAL FEAR are poised to make sure you hear about them for a long time to come. Look for a new release from this band early this summer.

DISCOGRAPHY
PRIMAL FEAR 1998

Track listing: 1.Primal Fear 2.Chainbreaker 3.Silver and Gold 4.Promised Land 5.Formula One 6.Dollars 7.Nine Lives 8.Tears of Rage 9.Speed King 10.Battalions of Hate 11.Running in the Dust 12.Thunderdome

JAWS OF DEATH 1999

Track listing: 1.Jaws of Death 2.Final Embrace 3.Save a Prayer 4.Church of Blood 5.Into the Future 6.Under your Spell 7.Play to Kill 8.Nation in Fear 9.When the Night Comes 10.Fight to survive 11.Hatred in my Soul 12.Kill the King

The albums seen here can be obtained from Dynasty Music

Dynasty Music is the Official Music Source for Masters Of Metal