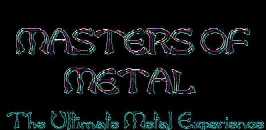 band members back row Toby, MacKenzie..Front Bart, Corey and Ian...

BIO
Formed in Colorado in 1993, PSYCO DRAMA quickly established themselves as a musical force to be reckoned with. The debut CD "The Illusion" has sold thousands throughout the world and is still in popular demand. The band is setting its sights towards the future with the release of the highly anticipated "BENT".
With extensive airplay and excellent reviews in Japan and Europe, PSYCO DRAMA has secured a name for themselves. While maintaining the same integrity that started PSYCO DRAMA four years ago, the band continues to grow musically and reach many audiences throughout the world.
Unfortunately as good as Psyco Drama was, the band didn't last. They broke up a few years later. Fortunately though Singer Corey Brown is still around, having become a founding member of the band Magnitude 9 (see Magnitude 9 for details).

DISCOGRAPHY
THE ILLUSION 1995

Track list: 1. The Illusion 2. Dreams to Sorrow 3. Eyes of a Child 4. Head Free 5. Longtime Forgotten 6. Flames 7. Castles in the Sky 8. World Gone Mad 9. Jigowatt 10. From Here 11. Shadow of Silence

BENT 1997

Track list: 1. Blind 2. Stuck 3. No Return 4. Know 5. Change 6. Quiet Sky 7. Bent 8. Fear 9. Come Together

The albums seen here can be obtained from Dynasty Music

Dynasty Music is the Official Music Source for Masters Of Metal