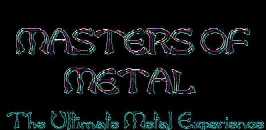 band members l to r: Alex Beyroth - guitar, Mat Sinner - vocals & bass, Henny Wolter - guitar, Frank Rössler - keyboards, Uli Kusch - drums

BIO
From the Nuclear Blast Website

For years SINNER have posed as inspiring (and often times influential) figures among melodic rock and metal fans alike. The exceptional success of their Touch of Sin and Coming Out Fighting LPs catapulted the band to the very peaks of the European metal scene. Their live show bore even more impact - so much so that their opening, special-guest appearance with rock giants Deep Purple ended with Deep Purple vocalist, Ian Gillan, personally thanking the guys after the tour terming them the, "Best Special Guests of the Nineties."
Following such a "knighting" the band was a clear crowd thriller with their slot on the Wacken Open Air Festival 1999 churning enthusiasm from the masses (a crowd of more than 20,000)! The band closed the year with The Second Decade, a 'best of" record to document their high points and begin a whole new chapter of SINNER magnificance.
With a new millennium comes a renovated SINNER featuring ex-Thunderhead guitarist Henny Wolter and Helloween drummer Uli Kusch. (Former guitar wizard, Tom Naumann, was forced to flee the band due to health troubles and drummer Fritz Randow has been playing with Saxon for some time now). The two are more than mere replacements. They're undeniable assets to a new generation of SINNER.
Produced by band founder, Mat Sinner at the House of Music Studios, the LP shines in its structural versatility and individual musicianship. Songs such as "Signed, Sealed and Delivered" and "Blood Relations" clearly hint at the path chosen for 2000: uncompromising, powerful with their signature harmonies in full effect! The band is surging into new atmosphere's while maintaining their legendary, anthem-esque groove. The End of Sanctuary sees the band experimenting with riff-rockish crunch ("Pain In Your neck") as well as orchestral arrangements ("Destiny").
As stated in their January 11th studio report, "Uli Kusch is a world-class drummer and his drumming on the new SINNER album is outstanding. Uli confirmed that he will play live with the band in the future if his schedule with helloweeen fits....SINNER's trademark, the twin lead guitar solos will see a new dimension. Frank Roessler recorded some fantastic keyboards especially on the new hymns "Destiny" and "Night of the Wolf'' ".With explosive tune after explosive tune, The End Sanctuary transcends the boundaries of the term "traditional metal".

DISCOGRAPHY
DANGER ZONE 1984 Noise

Track list: 1. Danger Zone 2. No Place in Heaven 3. Scene of a Crime 4. Lupo Manaro 5. Fast, Hard and Loud 6. The Shiver 7. Razor Blade 8. Shadow in the Night 9. Wild Winds 10. Rattlesnake

Lineup: Mat Sinner (v, b) SG Stoner & Mick Shirley (g) Ralf Schulz (d)

TOUCH OF SIN 1985 Noise

Track list: 1. Born to Rock 2. Emerald 3. Bad Girl 4. Shout 5. The Storm broke loose 6. Out of Control 7. Too late to runaway 8. Hand of Fate 9. Masquerade 10. Open Arms

Lineup: Mat Sinner (v, b) SG Stoner & Herman Frank (g) Bernie van der Graaf (d)

COMIN' OUT FIGHTIN 1986 Noise

Track list: 1. Hypnotized 2. Faster than light 3. Comin' out fighting 4. Age of Rock 5. Rebel Yell 6. Lost in a minute 7. Don't tell me 8. Germany Rocks 9. Playing with fire 10. Madhouse

Lineup: Mat Sinner (v, b) Mathias Dieth & Angel Schleifer (g) Bernie van der Graaf (d) Guest: Don Airey (keys)

DANGEROUS CHARM 1987 Noise

Track list: 1. The Concrete Jungle 2. Knife in my Heart 3. Dangerous Charm 4. Everybody 5. Nobody rocks like you 6. Tomorrow doesn't matter 7. Fight the Fight 8. Back in my Arms 9. Gypsy 10. Desperate Heart 11. Last Dance

Lineup: Mat Sinner (v, b) Mathias Dieth & Angel Schleifer (g) Bernie van der Graaf (d)

NO MORE ALIBIS 1992 Koch

Track list: 1.When a heart breaks 2. Where were you 3. Boys in trouble 4. Burning heart 5. Beds are burning 6. Thrill of a lifetime 7. I'm not over you yet 8. Good times 9. Save me 10. Chasing my dreams 11. Love means war 12. Rebel at heart 13. Don't wanna lose you

Lineup: Mat Sinner (v, b) Tom Naumann, Alex Beyrodt & Andi Susemihl (g) Frank Rössler (key) Tommy Resch (d)

RESPECT 1993 Koch

Track list: 1. Respect 2. Things get started 3. Billy's song 4. Fire in the dark 5. Modern world 6. All for one 7. nife in my heart 8. Don't let this dream die young 9. Believer 10. Little victory 11. Shattered dreams 12. What's so bad about feeling good

Lineup: Mat Sinner (v, b) Tom Naumann (g) Frank Rössler (key) Tommy Resch (d)

BOTTOM LINE 1995 Koch

Track list: 1. The biggest lie 2. Roses of yesterday 3. When silence falls 4. All men are heroes 5. I can't stop the fire 6. We'll make it alright 7. Rage of a hurricane 8. Mercy killer 9. Dead end street 10. In the heart of the young 11. Hearts of steel 12. Say goodbye

Lineup: Mat Sinner (v, b) Tom Naumann & Alex Beyrodt (g) Frank Rössler (key) Fritz Randow (d) Guest: Henny Wolter (g)

IN THE LINE OF FIRE LIVE 1996 Koch

Track list: 1. When silence falls 2. Comin' out fighting 3. All men are heroes 4. Back in my arms 5. Respect 6. The biggest lie 7. Born to rock 8. Knife in my heart 9. Rebel Yell 10. Rage of a hurricane 11. Everybody 12. Modern World 13. There's only one way to rock

Lineup: Mat Sinner (v, b) Tom Naumann & Alex Beyrodt (g) Frank Rössler (key) Fritz Randow (d)

JUDGEMENT DAY 1997 Arcade/High Gain

Track list: 1. Used to the Truth 2. Blue Tattoo 3. Judgement Day 4. Streets of Sin 5. Trouble Maker 6. School of Hard Knocks 7. Deathwalker 8. Fugitive 9. White Lightning 10. Jump the Gun 11. Pray for Mercy

Notes: Being reissued by Nuclear Blast in late 2000. Lineup: Mat Sinner (v, b) Tom Naumann & Alex Beyrodt (g) Frank Rössler (key) Fritz Randow (d)

NATURE OF EVIL 1998 Nuclear Blast

Track list: 1. Devil's River 2. A Question of Honour 3. Justice from Hell 4. The Nature of Evil 5. Some Truth 6. Darksoul 7. Faith and Conviction 8. Rising 9. Walk on the Darkside 10. Trust no one 11. The sun goes down

Lineup: Mat Sinner (v, b) Tom Naumann & Alex Beyrodt (g) Frank Rössler (key) Fritz Randow (d)

THE END OF SANCTUARY 2000 Nuclear Blast

Track list: 1. Signed, sealed & delivered 2. Blood relations 3. The end of sanctuary 4. Pain in your neck 5. Edge of the blade 6. The prophecy 7. Destiny 8. Congress of deceit 9. Heavy duty 10. Night of the wolf 11. Broken world 12. Hand of the saint

Lineup: Mat Sinner (v, b) Henny Wolter (g), Alex Beyrodt (g) Frank Rössler (key), Uli Kusch (d)

GERMANY ROCKS THE BEST OF SINNER

Track list: 1. Born To Rock 2. Lost In A Minute 3. Knife In My Heart 4. Rebel Yell 5. Everybody 6. Respect 7. Germany Rocks 8. Bad Girl 9. Back To The Bullet 10. Back In My Arms 11. Hypnotized 12. Masquerade 13. Danger Zone 14. Faster Than Light 15. The Concrete Jungle 16. Out Of Control

THE SECOND DECADE 1999 Nuclear Blast

Track list: 1. The second decade 2.Jump the gun 3.When silence falls 4.Devil's river 5.Used to the truth 6.A question of honour 7.The truth is out there 8.Balls to the wall 9. Judgement day 10.The biggest lie 11.Streets of sin 12.Rage of a hurricane 13.The nature of evil 14.Born to rock 15.Respect

Notes: Best of package. Featuring Accept classic Balls to the Wall.

Mat Sinner Back To The Bullet 1990 BMG

Track list: 1. Back to the bullet 2. Tear down the wall 3. Every second counts 4. Call my name 5. Crazy horses 6. In the name of rock'n'roll 7. Wildest dreams 8. Down under cover 9. Face to face 10. Crying in the wires 11. She's got the look

Notes: Solo album. Lineup: Mat Sinner (v, b, g) Tom Naumann & Alex Beyrodt (g) Bernie van der Graaf (d)

The albums seen here can be obtained from Dynasty Music

Dynasty Music is the Official Music Source for Masters Of Metal