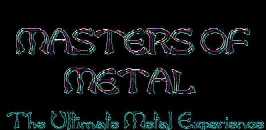 band members l to r: John Allan-guitars, Andreas de Vera-drums, Dennis Vestman-bass, sitting Steve Steel-vocals

BIO
From the AMF-Records Website

STEEL ATTACK - does one really need to say big words about their music? The fantastic cover artwork, the band logo as well as the band name speak such a clear language that everybody who has the CD in hands knows what is awaiting him.
The band was founded by Steve Steel and Dennis Vestman in Sala/Sweden in Sept. 1997 although, in the beginning they had some problems finding the right line-up. For this reason, Steve passed the drumsticks on to Andreas de Vera, to make the band's character by his very individual, staccato-like and unique voice. Also lead guitarist Mikael Bohlin had to leave the band for lack of time and was replaced by John Allan who learnt his trade at the world-famous GIT in Hollywood. Their first demo tape "Mighty Sword Of Steel" was recorded in May 1998 and presented to various labels. After the usual negotiations, AFM Records signed the band for a reason which anyone will doubtlessly understand after listening to the first notes of the furious opener "The Dragon's Skull". The young Swedes play melodic and aggressive "Warrior Metal" everyone wishes for. The lyrics which describe battles, hope and fears but also surrender against the Evil are dressed with the right music - in particular the aggressive character of Steve's voice and way of singing which is lost in too many stylistically similar bands by a voice that is too smooth and soft. The melodic and ear-catching choirs fit perfectly, but neither suppress the lead vocals nor the powerful instrumental character. The band already encountered first success while touring with their labelmates and chartbreakers EDGUY in Scandinavia last autumn without even having any album released!
We would lie if we stated that the CD offers something that has never been there before, but to tell you the truth, the four guys do offer ten tracks of ear-catching, well structured and aggressive, melodic Speed Metal which can only rarely be found on an album.
It's music who meets the zeitgeist without following any trends:
STEEL ATTACK!!!

DISCOGRAPHY
WHERE MANKIND FAILS 1999

Track list: 1.Dragonīs Skull 2. Where Mankind Fails 3.Island Of Gods 4.Heading For The Lair 5.Village Of Agabha 6.The Furious Spirit Of Death 7.The Creation Of Be-Lou 8.The Awakening 9.Thunder Knight 10.Forgotten Land 11. The Holy Sea Of Gold (Bonus track for Japan and South America)

Notes: Released by AFM-Records worldwide and Metal Blade in the US

The albums seen here can be obtained from Dynasty Music

Dynasty Music is the Official Music Source for Masters Of Metal