ALTARIA is a new Finnish band, including members from such major bands as Sonata Arctica.
Here's an interview with bassist Marko...
INTERVIEW BY MARINA
No interview'd be complete without a little history behind the band... so where, when and why did you guys get together?

Tony (our drummer) and I put together this band in the beginning of 2000. First we started to write songs and then when we had enough material we started to search for a singer and a guitarplayer. I had known our singer already for years and I knew he didnīt have any active bands at the moment so I decided to ask him if he wanted to join us and he said yes, so we had a singer. Then I knew Jani (from Sonata Arctica) and when we started looking for a guitarplayer, Jani was the first in line who I thought could fit in as a guitarplayer so I ask him and he said also that he wanted to join us.


Can you tell us who is currently in the band and what their musical backgrounds are?


Well my name is Marko Pukkila and I play bass. I have played earlier in a band called Blindside together with our drummer Tony Smedjebacka. Jani Liimatainen is our guitarplayer and he is known also from Sonata Arctica. Johan Mattjus is our singer and he has been the singer in a band called Stormwing.

How did you meet Jani and how did he get involved with the band? How is it working with him?

Well... I knew him from before and when we started to look for a guitarist I asked him to join and he said yes. Jani is a great player and a great guy to play with.

How would you describe your music? Which are the biggest Altaria's differences from other metal bands and what are your basic influences?

Well our music is melodic hardrock/metal. We are influenced by bands like Dio, Maiden, Rainbow, Judas Priest, Malmsteen and so on... main influences are the 70īs and 80īs hardrock.

Your last demo "Sleeping Visions" just saw the daylight. Where did you record it and how did the recordings go? Is there some previous material by the band?


We recorded our first demotape at a friend's homestudio here in Finland. It was recorded by Lamppari who is also known as Mike Monroeīs guitarplayer.

Can you tell us some details about the songs that are on the demo and about the lyrical topics you use? And what's the song that better represents the Altaria's sound?


Our lyrics are mostly of our real life or things that in someway touched us in our lives. I guess all songs from the demo represents our sound.

How about the song arrangements? Is it a group effort or is there one main songwriter?


Usually I come up with an idea and I show it to Tony and then we start writing lyrics and melody to the song and then we arrange the song all together.

A production and a recording quality like you have here in Spain is pretty expensive. Is it the same in Finland?


Of course you can do a cheap demo, but if you want better sound it of course costs more. But I guess you can record a basic demo quitecheap.

Are you getting good feedback from people? Have you sent your work to any labels? If so, are you having any responses?


We have really good response for the demo and we are really glad, everybody have liked our songs because they are a little different from what people are used to hear from Jani. The demo have been sent to a couple of record companies and weīve contacts from labels but we havenīt signed anything yet... hopefully we got a record out next year.

Have you been active on stage so far? How did the concerts go?


Not really. We have done three shows. We are doing a couple of shows now in january.

There are so many good bands coming out of Finland... Are you satisfied with the scene and the number of metalfans in Finland? Who are your current favorite bands on the scene?


Yeah thatīs true that many great metal bands are coming from Finland at the moment. From the finnish bands I think my favourites are at the moment Sonata Arctica and Nightwish.

Now my question about your 5 faves:


Albums:
Queensryche "Operation Mindcrime", Iron Maiden "Powerslave", Ratt "Invasion Of Your Privacy", Yngwie Malmsteen "Odyssey" & MSG "Perfect Timing".

Musicians:
John Sykes (Whitesnake), Geoff Tate (Queensryche), Ronnie James Dio, Jeff Scott Soto & Jens Johansson.

Songs:
Queensryche "I Donīt Believe In Love", Iron Maiden "Aces High", Yngwie Malmsteen "Rising Force", Bon Jovi "Runaway" & Talisman "Iīll Be Waiting".

If you have to give an advice to a person that is starting a band... what would you tell him/her?


Itīs hard work and you gotta believe in yourself because people often try to drag you down. Believe in what you do, itīs your own thing!

Do you have any further plans with the band or releases?


Well... hopefully weīll get a deal signed soon so we can start the recordings of our debut album that will hopefully be out in 2002.

Voila, that was it for me, but feel free to give a last message. Thanx for the interview


Thanks for this interview and remember to check out our webpage at www.altariamusic.com Over and out!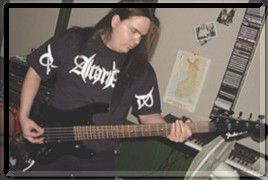 ---