ENTHRALL - New Signing !!!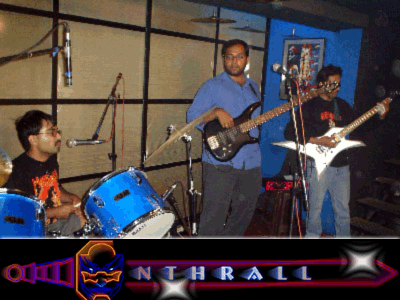 Hailing from Bangalore, Karnataka, India, "ENTHRALL" is one of the hottest Progressive Metal bands around. With "DreamTheater, Iron Maiden, Rush, Pantera" as their major influences, ENTHRALL thrills fans with their very unique and identifiable Progressive Metal style.
For the past 14 years, ENTHRALL has been playing the Indian rock circuit, gaining valuable experience and perfecting their amazing talent. This dedicated band has composed a set of "original" songs that thrill their audiences.
When ENTHRALL hits the live stage, they demonstrate professional "know-how" to give fans exactly what they came for - a frenetic and flamboyant show!
Armed with a unique sound, the sole vision of the band is to bring forth an exemplary musical universe to the masses and music industry; an 'Evolution'…awaiting….
At present, they are working hard on an album, to be released later in this year.

* Audio file *
click to download
Tantalizing Maiden
Discography
INFERNAL HORIZON [DEMO].
The super artists who contribute their noteworthy talents to ENTHRALL:
- - - Current Lineup - - -
NEIL REGO - LEAD VOCALS , BACK-UP VOCALS , DRUMS, RHYTHYM
GUITAR,KEYBOARDS,BASS GUITAR
VISHAL SHEKHAR - BASS GUITAR, LEAD GUITAR, VIOLIN,
BACK-UP VOCALS
PRANAV MURTHY - LEAD GUITAR, ACOUSTIC GUITAR
ARJUN N. - KEYBOARDS, SYNTHESIZERS, BACK-UP VOCALS
NAVEEN ARALI - DRUMS, PERCUSSION, BACK-UP VOCALS
More info and audio samples:
www.myspace.com/esd01
---
OUT NOW !!
DOMINUS PRAELII - Holding The Flag Of War
ZION - Dracula
REDRUM - War Blood Honour
Visit our store for online orders.
---