Dyslesia
Lineup :
Thierry Lebourg : Vocals
François Loprete : Lead and rhythm guitar
Yves Bernardin : Guitar
Joseph Loprete : Bass and backing vocals
François Brisk : Drums
Discography :
Like a Prophet Demo (97)
My Own Revolution (99)
History
Dyslesia is a French band, created in 1986 with two brothers, François and Joseph, their cousin Aldo playing drums, and another guitar player, Yves. The sound is then more or less trash. In 1989, Yves leaves the band because of musical divergence, and is replaced by Franck. The band then begins playing Speed Metal.
In 1994, a keyboard player and a singer, Thierry, join the band. During one year, Dyslesia tours with their Keyboard player, thus altering their compositions, before he leaves the band in 1995.
Dyslesia then meets Roger Wessier from Music Division, thus enabling them to open for Rage and Stratovarius. In 1997, they record a demo, "Like a Prophet". Aldo leaves the band and is replaced by François Brisk, and Yves comes back with Dyslesia.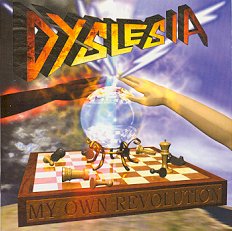 Self-produced, this album is released in France on March, 18th 1999.
You are immediately stricken by the musicians mastery, Thierry Lebourg's singing talent and the quality of compositions. Moreover, the production is quite good, which is noticeable for a first, self-produced album. It is an excellent melodic Speed Metal album that should enable Dyslesia to become quickly famous.
Chosen songs : the whole album...
Links