Lineup :
Sabine Edelsbacher : Vocals
Lanvall : Guitar and keyboards
Georg Edelmann : Guitar
Kurt Badnarsky: Bass
Roland Navratil: Drums
Discography :
Sunrise in Eden (2000)
History
Edenbridge began as a studio project by guitar/keyboard player Lanvall, in 1998 in Austria, the style being a angelic symphonic Metal with heavy classical influences. With the complete line-up, the band begin the recording of the first album in 1999...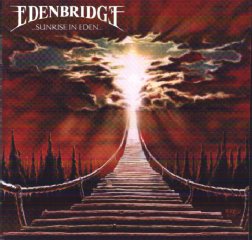 Recorded by Gandalf at Seagull Music Studio in Austria, then mixed by Dennis Ward at the House of Audio in Germany, Sunrise in Eden is released on September 2000. Note that the cover artwork has been realised by Markus Meyer (Nightwish).
When I first listened this album, I was at once gone in paradise by Sabine's voice and Lanvall's guitar (or keyboard) bewitching melodies... A sweet music, very melodic and full of emotions that should be listened quietly, to rest and dream... Sabine has the voice of an angel, marvelously enhansed by Lanvall's compositions, and melodies stay echoing inside your head long after the CD's end...
Chosen songs : It is impossible to take one away of the others, all are excellent...
Links