Lineup :
Sylvie Grare : Vocals
Didier Chesneau : Guitars, backing vocals
Christophe Babin : Bass
Aymeric Ribot : Keyboards
Dirk Verbeuren : Drums
Discography :
Escape (97)
Escape thru the Lands (Live & acoustic) (98)
Voices of Presence (99)
History
Headline is a French band, built in 1993 by Sylvie Grare and Didier Chesneau. The firsts demos enable the band to win a national musical contest. The band spend the two next years touring, thus defining its style. Christophe Babin joins Headline. In January 1997, the band starts recording...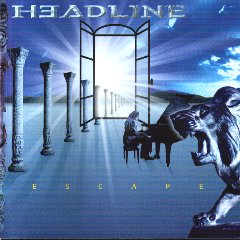 Produced by Didier Chesneau and Robert Kohlmeyer, the album is released in November 1997 and has a good success among the press and the public. The band then starts touring in France, playing acoustic as well as electric, and gets a nice notoriety in French public.
This album shows the band has a great potential, musically as well as technically. There is a wide diversity among the songs, elders being more Hard FM, whereas the lasts are definitively more complex, with a Metal sound.
Chosen songs : The Time of Lords and Masquerade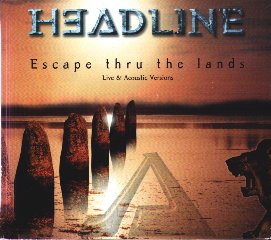 At the public's request, the band releases in October 1998 a Live and acoustic album. But more than a simple adaptation, the arrangements are completely rewritten, and the songs take another dimension. There is also two covers, "Silent Lucidity" from Queensrÿche and "Changes" from Yes.
Chosen song : The night is over, with its oriental intro...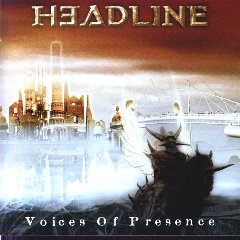 After some Lineup changes (Aymeric Ribot and Dirk Verbeuren join the band) and a contract with NTS (Angra, Rhapsody, Symphony X, Vanden Plas...), the band releases its new album on November, 26th 1999. With Voices of Presence, the band has really reached its maturity and clearly defined its style. As soon as it is released, the album reaches great success and puts Headline at the head of French Metal bands. With the contract with NTS, this allow the band to start an international career.
Voices of Presence is definitely a Progressive Metal album, by its complexity and its fulfillment. In fact, I have never heard such complex compositions ! Several mindful hearings are thus required to sense each song... Now it is clear that Headline has its place among the "big" progressive bands, and they acquired their own personality.
Chosen song : Trilogy
Links
Escape thru the net : Headline official website