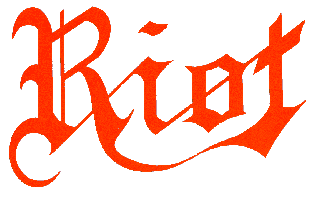 History
---
The New York based Band was founded back in 1976 by Guitarist and main songwriter Mark Reale. After completing the Line Up with Guy Speranza (vcl.), LA Kouvaris (guit), Jimmy Iommi (b) and Peter Bitelli (dr) they began to play different Clubs in their hometown.

1977 saw the release of the Debut called 'Rock City' which included good songmaterial as 'Warrior', 'Rock City' and 'Tokyo Rose'. One year later, after replacing Kouvaris by Rick Ventura, the 2nd album 'Narita' (the name of a Tokyo Airport) came out - and again a good album filled with interesting Songs such as one of the best Metal Instrumentals 'Narita' and 'Road Racing'. All in all two very interesting releases wich gave Riot the possibility to perform their first European gig (1st Monsters of Rock Festival in Great Britain). But before they could do those shows they replaced Jimmy Iommi and Peter Bitelli by Kip Leming (b) and Sandy Slavin (dr) the classical Line up was born. The GB shows were recorded and later released by Metal Blade as a complete album, there's also a Sampler of the Monsters of Rock show existing featuring a live version of "Road Racin'".
After returning from GB they did some tours with AC/DC, Sammy Hagar and Molly Hatchet. Especially the Molly Hatchet tour had a special event: Riot were the support act but because they played very good show the whole tour, Molly Hatchet decided to give them one headlining slot in San Antonio TX. Immediately after returning from those tours the Band started to write new material for Lp #3. But back in those days their record company (Capitol Rec.) wanted to push them into another direction, by asking them about writing some more commercial stuff. The Band first was really into that idea, but as they heard about their status in Europe and that especially the faster songs were real classics over there, they began again to write totally different (heavier) songs. And as they went to Capitol with the new Songs the record company didn't want to release that material. And after big problems with Capitol they changed the company and Released that stuff on Elektra records (with 1½ delay) in late 1981.

But now to the album itself it's called 'Fire down under', i could write a whole book about that Metal Classic but i only want to tell you the most importand facts. As i said before it was released in 1981 and for sure it is one of the best (maybe the best) releases of that whole year. Even 16 years later this album is still a fantastic collection of Metal Songs. It doesn' matter if you try the opener 'Swords and Tequila', the title track, the fast and furious "Outlaw" with its cool guitar harmies or the epic Track 'Altar of the King' all of them are fine Diamonds of early US Power/Speed Metal - check them out if you can. Some live gigs in Great Britain followed, for example Hammersmith Odeon and HM Holocaust in Port Vale. Even a tour under the title 'HM Battles' was planned in Germany, together with Saxon and Ozzy Osbourne, but Riot cancelled the Dates and went through the US as support of Rush.
Soon after that Tour Guy Speranza left the and pushed the band into a big crises.Together with new vocalist Rhett Forrester new songs were recorded and issued as 'Restless Breed' in 1982, an album wich isn't really comparable with 'Fire down under' because of the more Blues influenced voice of Rhett. More tours together with The Scorpions and Whitesnake and a 6 Track Live Ep followed in 1982. One year later the 5th album 'Born in America' came out and showed the band again more into traditional Metal with typical US Metal Songs like 'Heavy Metal Machine'. Not as good as 'Fire down under' but listenable.
After another tour as support act for Vandenberg and Kiss Mark Reale closed the first chapter of Riot's history by disbanding the Band.
This little break allowes me to talk about some of the ex members of Riot :
Rick Ventura, LA Kouvaris, Peter Bitelli and Kip Lemming never appeared in other music projects as far as i know

Guy Speranza and Jimmy Iommi founded their own business after leaving Riot. As far as i know they are something like vermin exterminator's nowadays. (That's what i heard !)

Sandy Slavin later joined Adam Bomb and Frehley's Comets (Project of former Kiss Guitarist 'Ace' Frehley)

and last but not least Rhett Forrester sang on the first album of Jack Starr (ex Virgin Steele) called 'Out of Darkness'. He also released 2 solo Lp's 'Gone with the Wind' (1984) and 'Even the Score' (1988). The last (and sadest) thing i can tell about him was that he died in January 1994, he was shot down on a street in Atlanta ! (RIP)
But now we're going back to the Riot history.
After quitting the Band Mark Reale moved to Texas and tried to start another project called 'Mark Reale Project' later remaned to 'Narita'. During that period he played together with different musicians as Don VanStavern (b), Steve Cooper (v) and Dave McClain (d) which also played in Texas legends as Juggernaut and SA Slayer before. But again the band did have the problem to find a new vocalist, by the way even Harry Conklin of Jag Panzer played some live gigs in the Riot Line up, before he recorded 'Metal from Hell' together with Satan's Host.
Now we come to the 2nd part of our story.
Johnny's Back ! 1986 - 1992

After the unsuccessful Band project Mark decided to go back to New York and reform Riot in late 1986.Riot got a deal with CBS Records and released their Comeback album 'Thundersteel' in 1988. The Line up that time consisted of Tony Moore (vcl), Mark Reale (guit), Don VanStavern (b;ex-SA Slayer) and Bobby Jarzombek (dr;ex- Juggernaut). And again they released a Metal Classic, more Speed /Power Metal influenced than the last Riot records but with all the typical Riot trademarks as the fantastic guitar melodies of Mark Reale. I don't want to pick out one special song as the whole album is great, check it out. The drum tracks for 4 of the songs on Thundersteel were played by Mark Edwards (-ex Steeler/Third Stage Alert). After the recordings Mark decided to leave Riot and join the L.A. based band Lion.
Two years later the next album 'The privilege of Power' was released.On that one Riot tried to create something special by using short in- an outros. Another big difference was that they worked together with a famous Horn section called Tower of Power which added some very interesting melody lines and gave the songs a very special feeling. If i had to recommend some songs from that one i'd choose 'On your knees', 'Dance of Death' (Maybe the fastest song ever recorded by Riot) and the Al DiMeola Cover tune 'racing with the devil..'.
All in all again a very good release, aspecially guitarwise and of course the killer drumming of Bobby 'Drummachine' Jarzombek, excellent ! Small tours in the US and in Japan followed but again no concerts in Europe. They also released a live CD in Japan in 1992 with two new musicians, a second guitarist called Mike Flyntz and as a replacemend for Don VanStavern the new bass player Pete Perez. The CD itsel featured their most interesting material, and a studio cover version of Deep Purple's 'Smoke on the Water' again together with Tower of Power. A good release without a doubt, with one little fault its poor production.
The Riot is going on and on !
In 1993 there were rumors going around about a German tour together with Titan Force (a dream package) but Riot cancelled this shows for some stupid reason. 1994 saw the release of their 8th studio album called 'Nightbreaker' which went a bit back to the roots (more into the Thundersteel tradition) songwise it showed more the straight forward side of the band. Outstanding Songs : 'Destiny', the Title track, 'Babylon' and a new version of the classic track 'Outlaw' and again there was another face in the Band called Mike DiMeo (v).
And now to a point which makes most of the German fans (including me) really angry.
Soon after the german release of 'Nightbreaker' a tour was announced with the following Line up:
- Metal Church
- Riot
- Vicious Rumors and Jag Panzer.

I can tell you, as i heard about that package i totally went crazy but what should i say : First Jag Panzer went out of that package (to play a tour togather with Overkill) they were replaced by Paul DiAnno's Killers. And about 3 or 4 weeks before the tour started Riot again cancelled that tour (the 3rd time they cancelled german gigs !!!!) and were replaced by Zodiac Mindwarp (a bad joke). And to make the misery complete Metal Church couldn't play some of the shows (including the one i went to). Only Vicious Rumors played a fabulous gig that day, by the way one of the last shows together with Carl 'Ace' Albert (Rest in Peace).
I can tell you that a lot of fans were really angry about Riot cause of that attitude.
O.K. that little excursion was important for me, but now back to the Riot history. Before recording the next album Bobby Jarzombek quit and was replaced by John Macaluso. Bobby is now involved in a project called Spastic Ink together with his brother Ron (ex Watchtower), Spastik Ink released an album called 'Ink Complete' in 1997, the bass tracks on that one were played by Pete Perez. The next Riot release 'The brethren of the long house' came out in Japan in late 1995 and was released in 1996 in Germany.I don't want to pick out a particular song 'cause it's an concept album about the history of the american natives, soundwise its a mixture of ('Nightbreaker', 'The privilege of Power' and a bit 'Fire down under') with more silent parts then on the albums relesed before.
What should i say Riot in 1996 finally made their first German tour after 16 years together with Whiplash and Skyclad. Though they played only 40 or 50 minutes each night i'm sure that most of the fans came to the concerts to see Riot. I saw their last Gig in Ludwigsburg and they ruled, a real tight performance of great musicians - thank you guys !
After they came back to the US some important changes were made by leaving Rising Sun Rec. and signing a contract with Metal Blade. In early 1998 their next release came on the market. It's called 'Inishmore' and shows again the abitlity of the band to write great Power Metal songs - check it out. Bobby Jarzombek returned to the Riot line up just before the Inishmore recording. After releasing 'Inishmore' Riot did tour Japan and Europe. The european tour together with Virgin Steel and Stigmata V opened new doors and other fan groups for the band. Highlight of their trip through europe was the bands' appearance at the Wacken festival in germany - where they played in front of about 10 - 12 thousand people as one of the Headliners and of course they did a great job. After returning from europe they released an live album called 'shine on' in Japan and later the year in europe and the US. In late 1998 the band went back to the studio to prepare for their next album which is supposed to be released in april / may 1999. Mark Reale also worked together with the vocalist of TNT (a band from norwege) and released an album called 'Westworld' in late 1998 in Japan. 'Westworld' is going to be out in europe and the US also in 1999.
To see a discography of the band choose albums in the menu on the left
Last update : 01.31.1999