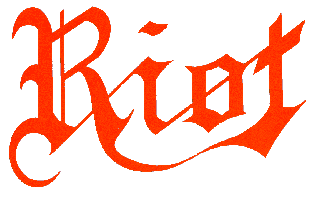 News
---
1999
November :
Finally there are some tourdates set for the year 2000 please check out the Tourdate section of this Site.
April :
Metal Blade is going to rerelease the following 3 Riot albums on may 4th :
- Riot in Japan .... Live!!! (has only been released in Japan and germany (as a bonus disc for "a brethren of the long house) so far.
- Nightbreaker (originally released in 1994 by the small german label Rising Sun)
- The brethren of the long house (their 2nd release for Rising Sun from 1996)

The new album, entitled "Sons of Society" is already recorded completely but due to problems with their ex- japanese record company it will be released in Europe/US in mid august.
Riot are confirmed to play the HEAVY ODER WAS !? Open Air in south germany, othre bands that will appear on that festival are : Dio, Deep Purple, Hammerfall, Wasp and many others. The festival will take place on June 18th and 19th.
---
January :
Riot are currently in the studio to do the last work on their next album. 11 songs are already complete by now as well as one song which was left from the Inishmore sessions. Maybe the japanese fans will be the ones to get one additional track on their release - since Riot did record a cover tune again. The album seen to be a mixture of the last release with a little 'Fire down under' touch. The Westworld album (solo project of Mark Reale and Tony Harnell) will also be out in europe and the US by february 1999.
Release date for the new Riot album is scheduled for march in japan and about april/may in europe and the US. There are also rumours going around about Riot going to play some of the big summer festivals in europe like the Dynamo Open Air in Holland and the Wacken open air in germany.
---