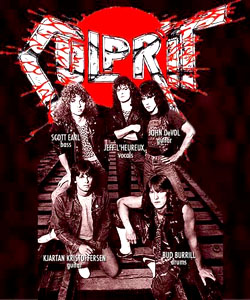 I've had the opportunity to seek out numerous long lost bands through the course of Snakepit's history....but this Seattle band from the 80's holds a special place in my heart. Those of you who have "Guilty As Charged" know the start of an American metal scene that had youthful energy, a sense of urgency and a place in the halls of thousands for tape trading/underground maniacs. This interview took place with three members of the band: guitarist John DeVol, bassist Scott Earl and drummer Bud Burrill. Please get in touch with this band so that they can play out again in Europe and hopefully recapture America as they did in the early 1980's...




CULPRIT - Recharged for metallic vengeance


Can you give us some background information on your earliest experiences of music- and how you moved from a music listener to a musician and your first influences/inspirations on your instrument?
John: "Well in all reality my mother made me take guitar lessons when I was 15. That and everybody back then wanted to be in a band. We all listened to records, went to concerts and parties. My mom was a classical pianist and she made me take a couple months worth of guitar lessons. I got kicked out of the class because I was a rebellious kid wanting to play rock and roll and not all this country crap. I was in a band from the first day I picked up a guitar- that kind of thing. I was playing gigs and traveling around 6 months after I started. When I was 15 everyone wanted to be a rock star, but once I picked up a guitar I didn't do it for those reasons of stardom or partying- I did it because I dug playing. I picked it up quicker than most people. I remember going to a DEEP PURPLE show way back- the "Burn" tour here in Seattle and I saw Ritchie Blackmore- he just kicked my ass. When you are 15 and you see Blackmore at 120 dB's it's pretty amazing. Then I listened to a lot of Robin Trower, Ronnie Montrose- most of the guitar gods back then- Jeff Beck as well."
Scott: "My mother was a classically trained pianist and clarinet player. My father was always hanging around these great black jazz musicians when I was a kid. I think he wishes he could have played an instrument, but he was a jock instead. I'm a kid from the 60's and we always had great music in our house. Besides the classical and jazz music I knew all the lyrics to THE BEATLES "Rubber Soul" album by the time I was 3. I remember the first record that totally blew me away was "Jesus Christ Superstar". I just flipped over Ian Gillian's voice. I took piano lessons for a few years and then in the fifth grade I decided to play drums in the school band. Actually it was the snare drum. That lasted about a day, I got bored with it. I wish they would have let me play the whole kit, I might have been a drummer. I then played the trumpet for the next seven years. Man, I wish I would have played the sax, its a much sexier instrument. Anyway in the 8th grade my friends turned me on to KISS. They wanted to start a band and the other guys already wanted to be Paul, Ace and Peter, so I was stuck being Gene Simmons. That's how I started to play bass, not because I loved it or anything, they just needed a Gene. I later fell in love with the bass, and at that time my biggest influence was Geddy Lee of RUSH. I was totally consumed by the way he played and learned everything from him I could. Other early influences were Geezer Butler, Tom Hamilton, Tom Peterson, Pete Way and yes, Gene Simmons. I also loved Chris Squire."
Bud: "My dad loved the drums. He never played, but I remember him listening to Gene Krupa, Buddy Rich and Sandy Nelson records. It obviously had some effect on me. I would drag out all of my mom's pots and pans and set them around me and use wooden spoons to pound on them. Mom didn't mind the noise so much as she said I always had a good beat. It was all the broken wood spoons she grew tired of. My parents decided it was time to get me a drum set. I was ten years old and self taught (as you can tell by my unorthodox style) I would listen to something then play it. When I became a teenager a friend of mine (Jim Fahselt) said he played guitar so we formed a band called FLIGHT. We jammed BEATLES, STONES, ZEPPELIN, AEROSMITH and other 60's/70's stuff. We played school dances for a few years. I was lead singing while drumming because nobody else would sing. Then my best friend (Mitch Cleveland) brought over the KISS "Dressed To Kill" album and a couple of tickets to their concert Friday the 13th 1976 (how appropriate). That changed my life. KISS showed me that it wasn't just the music, it was entertaining the FANS that really counted. Then a short time later Mitch brought over RUSH "2112". That's all it took. Being the lead singer and drumming at the same time never gave me the chance to grow as a drummer so I quit the band and hibernated in my basement for a year listening to KISS, RUSH, KANSAS, YES and anything else that had kick ass drumming so I could start to develop my own style."


Was your first band the instrumental act ORPHEUS or were there other acts previous to this? What style of music did ORPHEUS play and how did you hook up with the members?
John: " My first band was a basic high school type thing with 15-16 year old kids- we were called EXODUS and this was before the Bay Area thrash band EXODUS was ever around. That was way back- ORPHEUS was way after that. A lot of the early days were a fog. ORPHEUS was heavier than hell- we were the heaviest thing in Seattle by a long shot. Back then we were one of the only bands playing original tunes and a good amount of ORPHEUS material turned into material for the CULPRIT album. We were playing all the early obscure SCORPIONS stuff, SABBATH and our own stuff while all the other local acts stuck to CHEAP TRICK which made Seattle confusing. Bands either wanted to be THE CLASH or CHEAP TRICK- it was pretty sick. As to how ORPHEUS formed I left the Seattle area when I was about 17 to move north and I came back when I was 19. I had left a name for myself as the young hotshot guitarist and I was looking for a new band. My sister told me about this band with an amazing bassist who was Scott Earl. He was a young kid who used to come over my house when he was 13 and chase my little sister. They ended up going out together for a while- and he had a drummer that he had been jamming with named Bud Burrill. We played together one night and we started it up. There were no auditions- we stuck it out."
Were you trying to get a singer or were you content as an instrumental act?
John: "We tried but there were no singers in Seattle. Back then everyone wasn't much of a singer and we were playing some heavy songs. Influences of the time meant everyone was doing that wide open operatic throat crap that I don't really like. We had talked to a lot of people- even at one time Geoff Tate from QUEENSRYCHE, before they were QUEENSRYCHE as we all grew up together. We went through a couple of singers."
Scott: "ORPHEUS was a power trio that played parties for about a year without a singer. The first songs we played besides the ones we were writing were "Kill The King" by RAINBOW, Pat Travers, MONTROSE, and RUSH to name a few. I'll skip the part about the female vocalist we had for a week, and the PAT BENATAR cover...ha ha! We finally got a singer that lasted a few months, but when we started writing more of our own material we knew this guy couldn't cut it. So we were trying to get Geoff Tate (Jeff Waterfall at the time) who was singing with this horrible band before he hooked up with MYTH (Kelly Grey's band) and then eventually THE MOB (QUEENSRYCHE). I remember a meeting John and I had with him telling him we wanted to start a band with the musicianship of RUSH but the balls of JUDAS PRIEST. We played him some tunes on our guitars (we didn't have a tape yet) and he said you have to hear this record I just got from England. This band sounds a lot like the stuff you guys want to do. The record was IRON MAIDEN "The Number Of The Beast". John and I were sick to our stomachs. We couldn't believe how much the music sounded like ours at the time. They were a lot older and had beaten us to the punch."
At what point did you decide to begin the transformation from ORPHEUS to CULPRIT- as you added guitarist Kjartan Kristofferson and vocalist Jeff L'Heureux, the latter who previously played with AMETHYST? Were you a fan/follower of AMETHYST?
John: "It was a new band- we went out as ORPHEUS and played live songs instrumentally and we were packing clubs- the 3 of us. We had a pretty good name around town and we needed to find a singer, as all the previous singers just kept flaking on us. We figured we weren't going to be stopped by that so we just kept playing anyway. We did a gig with AMETHYST and Jeff plus Kjartan were in the band- and thought Jeff wasn't too bad so we talked to him. Jeff was totally into it- his other band wasn't that heavy and he liked what we were doing. But Jeff wouldn't come without Kjartan so I hemmed and hawed and we all got to talking. As a result Kjartan and I got to be the best friends of all out of the band. I'd never done a 2 guitar lineup and didn't see or feel the need for it. But to get a singer he came with us and we said all right. I didn't follow AMETHYST- they were doing CHEAP TRICK styled music. They were good at what they did but it wasn't my cup of tea."
How long did you work on crafting original songs before you went into the studio to record your first demo?
John: "I wrote most of the material for the CULPRIT demo in high school- so I had it ready before I met Scott and Bud. We wrote 2 tunes the day we drove down to California to record the album. "Steel To Blood" and "Tears Of Repentence" were written that quick, I was figuring out the harmony guitar parts on the bus ride down. There wasn't a lot of method to the madness. We were lucky enough to get picked up at the time by Shrapnel and which yea or nay I couldn't tell you whether that was a good decision. We wrote a bunch of stuff that just evolved in its own way."
Scott: "God, I think we worked on the songs at least two years before we got to record the first time. The first song we wrote was an old riff that John had written when he was still in high school called "Players". Then came "Ice In The Back" and so on. We actually didn't have names for most of the songs because we didn't have a singer yet."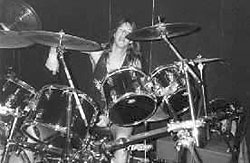 Can you provide us with details on the studio, the recording and the sales of this first demo?
John: "Have you heard that demo?"
Yes I have...
John: "Is it still out there?"
Yes...
John: "God I'd love to get a copy of that. That was recorded live in a place about the size of a walk in closet. No overdubs, it was live. It was quick, it was fun and we drank a lot of beer (laughs). It came out pretty good, it was a live 8 track. It was out and the next thing you know some of the radio stations got ahold of it- and we were going 'Wow' because we were just a bunch of young kids. We thought this was easy and I believe Kjartan sent the demo in to Guitar Player magazine because he saw a little ad and he sent it to Mike Varney who was just starting out. We got a call the next day after sending it saying we were selected to appear on the "U.S. Metal Volume 2" compilation. It was that quick- we are talking about a month or two after recording the demo. We re-recorded "Players" at another studio in one afternoon- which is one of the tunes I wrote from high school. It was a big song live whenever we played it so we added a big solo to the end and it was an obvious choice."
Bud: "The first studio we went into was an 8 track basement studio called Giant Step. Adding "Fighting Back" to the list of originals gave us four songs for a demo tape. We never sold the first demo, although it was bootlegged around the world."
Scott: "The first demo started a lot of hype on the band due to the European fanzines and bootleg copies that got spread all over the world. I was 17 or 18 at the time and it was quite exciting."
So why did you choose to re-record "Players"?
John: "We knew we needed to do something with a little better quality. It came out all right- we had decent gear and we weren't that familiar with studio work or particular guitar tones. The only thing overdubbed was the guitar solos and the vocals."
How quickly following this appearance did Mike sign CULPRIT for an album deal? Were there other labels approaching you or was Shrapnel the only one interested?
John: "The album got a bunch of really good reviews- through the graces of Guitar Player magazine they called "Players" the showcase cut and highlighted it in reviews. Next thing you know it was national media and we were packing clubs like crazy. We went down for the release party in San Francisco along with a few other bands that appear on the album and we pummelled through the crowd- it was a killer show. Next thing you know Varney was asking us to record an album. It was all so quick and we were young- being from Seattle we had no management. Everyone thought we were going to be the next big band- and we thought that was cool- but then they were asking us to move to New York or Los Angeles. We couldn't afford to move as we were living off of our girlfriends and borrowing guitar strings. We had talked to Atlantic, we had talked to Epic, and a few others but this was after we had signed with Varney. We were young and dumb- instead of having someone leading us we thought the 5 of us could handle matters on our own. We look back at it and wonder what were we thinking."
Bud: "After the release of "U.S.Metal II" Varney offered us a three record deal. We only agreed on one. So we headed off to Prairie Sun Studios in Cotati, California (March 1983) to record our first (and only) album "Guilty As Charged"."
Your debut album "Guilty As Charged" came out in 1983 on Shrapnel Records, putting the young Seattle band scene on the map with its high quality traditional metal sound. What do you remember about the recordings, the performance and general attitude of CULPRIT?
John: "We were real positive about going down and doing it- we were excited. We had crap for gear and so I borrowed a Marshall stack from Mike Varney and it turned out that wasn't the sound I was really looking for. It was a clean Marshall with a loud Marshall head. The recordings started off ok but it wasn't the most enjoyable experience when it was all said and done. There were things I wanted to do with the recording that didn't happen and I believe it was Mike's first time producing. He had ideas and during mixdown he told the band to take me down to the bar and get me out of the picture. I think it could have been a lot better and the big reason was due to the mix. We got the first copies of the album when it was done which was well over a year before the actual release. It took forever for them to release it and I never got the reason why. It was recorded in the spring/summer of 1982 and we didn't get our final copies until August of 1983. So anyway the first copies we got, my guitar parts they put on the album were the duffer tracks- the ones that were used to get the drum tracks recorded. It wasn't my real parts so when I heard that I got upset. I called Mike and the engineer and got my point across- I thought this was the worst recording I'd ever heard and I told them they didn't even use my guitar parts. They realized their mistake and remixed the record, and still then the solos they kept weren't the ones that were supposed to go on the album. Again they were the duffer tracks- the only solo that actually appeared correctly was the "Tears Of Repentence" solo. Not a lot of good memories- because I know CULPRIT was better than that recording reflected."
You played a promotional show for the album's release in San Fransisco with WILD DOGS and Mike Varney's band CINEMA- please tell us about the trek down and any other shows you did in California during that time?


John: "Yes I remember that. Well, we played a couple of other out of state shows- I remember opening for METALLICA once and that was fun. Dave Mustaine was still in the band- it was just before they gave him the boot. It was their release party in San Francisco. If you see an old picture where they are sitting in a booth, I'm standing next to the camera man as it was that night. We kicked METALLICA's ass- we blew them off the stage. They were really nice guys but Mustaine was a prick. We had one roadie to help us with our gear and after towelling off from the show I saw that my gear was heaped in the middle of the stage in a pile. There's Mustaine tuning his guitar so I picked up my head and a bunch of cables and walked backstage. Bud looked at me and I told him to go have someone kick Mustaine's ass. So he went out and put Mustaine against a wall, I thought he was going to pee his pants. All the other guys in METALLICA were cool. We had a couple of shows with WILD DOGS including the release party on that trek. We played with EXODUS in Berkeley- I just remember a lot of partying. The guy driving the bus fell asleep and we almost rode off the Golden Gate Bridge. We were down there on a shoestring budget."
How did your other live shows locally go for support of the album- as according to a previous interview with fellow Washington band HEIR APPARENT conducted in Snakepit number 6, CULPRIT had a huge underground following and helped get other people into local metal?
John: "We had the biggest draw out of anyone by a long shot. We'd sell out venues like The Paramount in Seattle- we did that in 3 days. Everywhere we went it was packed- big lines, in store appearances. It happened so fast on a local level and then Europe and areas of the East Coast started picking up on us, the mail started pouring in. A lot of fun. We got so much radio play for a couple of years- then television picked up on us. We were broadcasted on the local ABC/NBC affiliates out here and they would play a live concert of ours once a week for about a year. The media barrage was always a good thing. We were the loudest and biggest band- we had the bombs, the ramps and it was a production. It was a show and there wasn't a lot of things to do back then. We were all good players and the tunes held their own. Live it was the real deal, we broke everything we had and smashed our gear all the time."
How do you feel about being the mentors of the Seattle scene- ahead of acts like MYTH, THE MOB/ QUEENSRYCHE and HEIR APPARENT?
John: "I didn't take it seriously until these last couple of years. The mentor thing is flattering, and over the last 2 years I've done a ton of interviews on CULPRIT- like we're talking now. I did a piece for the Hendrix museum- and they called me up. They wanted my guitar. I've got friends going to Europe playing live and they ask me about putting CULPRIT together for a tour over there. We might do it- but time always tells. If other bands back then dig what we did, that's cool."
At what point did Kjartan and Scott leave CULPRIT to join TKO- and what were the circumstances behind their departures?
Scott: "Kjartan and I joined TKO shortly after the recording of the "Metal Heart" demo we recorded with Mike and Roger Fisher. All I can say about that is, someone in the band developed quite a drug problem, and wasn't taking things seriously enough for me. Our musical direction started to change and TKO had a record deal. It was still to this day one of the hardest decisions I've ever had to make. I would also like to add that we had no one to really learn from. No one in Seattle had a real record deal or knew the first thing about getting one. We were selling out 3,000 seaters without a record out and all the labels were in LA at the time. Everyone thought Seattle was a bunch of lumberjacks and had no interest in coming up to see what was going on there. It's too bad because there was a great metal scene in the early 80's. But I do think we had something to do with the Seattle explosion that happened years later. If nothing else I think we inspired some musicians in the area, and I'll always be proud of that."
Bud: "As CULPRIT grew bigger and bigger so did problems within the band. Sure there had always been differences in the style and format. Some people wanted to stay heavy, others wanted to be more commerical to capture that illusive record deal. But the biggest thorn in our sides was a certain member with a drug and alcohol problem that kept him from growing and attending rehearsals as well. It was just a short time after finishing that demo that KJ, Scott and I met with the singer of TKO and jammed one night to see what might turn out. He had a record deal but was a worse alcoholic than the one we were already dealing with. I decided to stay with CULPRIT and work things out."
John: "At the time a few people got too big for their britches. We were all like brothers with a love/hate relationship and we had done so much so fast. I had bands in Los Angeles calling me- especially the management company dealing with DIO. We had to get bigger soon out of Seattle or it was just inevitable that we would break up."
How did you arrive on Scott Bringedahl to be CULPRIT's new bassist- was it through his previous efforts in SAPIEN, the pre cursor act to HEIR APPARENT? Also, did you ever gain another guitarist to fill Kjartan's spot?
John: "Man, you've done your homework, haven't you? Well, I ended up going down to LA for a month or so after the break up. I needed a vacation so I screwed around on the beaches. I did the club thing and I thought the scene wasn't for me so I came back home and ended up calling Bud and told him I was ready to put a new band together and kick ass. We decided Jeff could sing with us, and Bud knew Scott Bringedahl through a friend of his. This guy could seriously play and he was the only guy that we auditioned who could handle the old CULPRIT material. Both Scotts were good bass players- so he was excited as hell. I'd never heard of Scott- we had a lot of friends helping us out. I thought about getting another guitarist but then I decided against it. We recruited Dave Van Liew to play keyboards/guitar- and we gave this a shot as CULPRIT again."
A second demo was recorded after the album came out, produced by Mike Fisher whose brother Roger played with HEART. Can you provide the readers with information on these unreleased songs, the style of music compared to the album and whether you shopped this to any labels or just kept it for yourselves?
John: "I'd hate to use the words a bit more commerical- we were trying to get away from the IRON MAIDEN comparisons. When I wrote the original stuff I had never heard of IRON MAIDEN. I wrote busy music and the way Jeff sang it was kind of influenced by that NWOBHM genre. The stuff we produced with Mike Fisher, he was a really good guy who helped produce some of HEART's material. Roger and him lived right down the street from me and he had a studio in his house so we recorded another demo. Tone wise it was the best thing we ever did as CULPRIT, it sounded so good that it killed the album's sonic quality. The band more than I wanted to go the more commerical route- I had a lot of material written that was closer to the first CULPRIT album, and we argued a bit on the material that appeared on that demo but in the end it sounded good. They wanted to move into the LA glam metal sound and I was very against that. We tried to keep the band a democracy so on that issue I lost. There were no hard feelings but there was some really good playing on this. "Metal Heart", "Out Of Control", "Wild Highway" were a few of the songs...the others escape me as I haven't listened to the tape in a while. The tape was a solid package to help get out of Seattle and get to major markets. We made it to Ted Templeman (the producer for Warner Bros. Records) and they loved the band but didn't like Jeff's singing. His voice is unique and it was a love it or leave it thing. A couple years after that I heard GUNS N ROSES and Axl Rose's vocals and wondered why we couldn't get signed. They both had a nasily thing going on. Duff their bassist when he was living up here, GUNS N ROSES used to open up for us and their song "Paradise City" sounds an awful lot like "Steel To Blood" in the riff. We also talked to Udo from ACCEPT, he wanted to do something with us. Right after our demo came out ACCEPT came out with an album called "Metal Heart" and we were wondering what was going on. He got ahold of our tape and called us, wanting to produce our next album but we had just broken up."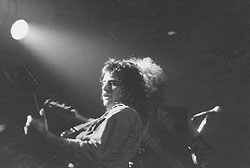 What were some of your favorite CULPRIT memories in terms of live shows? Did you ever hope to venture overseas and why didn't the band tour more in those days?
John: "Absolutely we wanted to play overseas- we wanted to do everything. The more travelling and shows the better but our lack of management really hindered doing anything. It was out of our control. If we had stuck together after the final demo who knows what could have been. People were too anxious and egos got too big. Selling out the Paramount Theater when we got back from California was a lot of fun. It was about 3,000 people- it was the first really big gig we had done. We had encores and stuff. I thought one night we had killed the front row with our bombs- at the time our pyro guy wasn't licensed and he put too much powder in the box and the concussion bomb caused some ear damage for me. My guitar went dead and it blew the cable right out of my amp. We played with Lita Ford and a couple of other nationals."
Bud: "One that stands out in my memory is opening for METALLICA in San Francisco. We had heard of their loyal fans turning their backs to the stage and flipping off the bands while they were playing their set. We opened that night with "Guilty As Charged". The crowd was freaking out and headbanging up a storm. I remember looking over side stage and seeing Lars and the rest of the band sticking their heads our from behind the curtain with a surprised look on their faces. Gotta love it!! Headbangers Balls were always a blast (my birthday is Halloween). And when the band STREETS (Steve Walsh of KANSAS) played the Paramount in Seattle tickets were not selling so CULPRIT was asked to open the show. We agreed...it was announced and it SOLD OUT that day!! And I can't forget our 1997 reunion show! I think everyone in Seattle showed up that night. I can honestly say that each of us would have given our left nut to go overseas. That is where our TRUE fans are. After the LP came out we were flooded with fan letters from all the metal heads over there. DAMN IT...I only wish we had the chance to go over there and unleash our unbridled fury onto the unsuspecting crowd and melt their faces off. Tours? We never got any tour support from Shrapnel what so ever...we were broke but looked like we had money. It was the KISS factor at work...put everything you can back into the show after paying for the lighting, sound, venue and police security. There was only so much money left over. We didn't play shows all the time like most bands. We were afraid of burning out the crowd every other weekend. Our plan was to come out each time bigger and better than the last and it worked. We could walk in a venue to book a show and guarantee it to sell out. Packed houses would have to turn away people due to the fire capacity laws."
Scott: "Some of my favorite memories of CULPRIT live shows. How about just some memories, throwing up every night before and on stage because I was so nervous. The time we blew the biggest band in Seattle at the time RAIL off the stage. The first reunion gig we did after being split up for 8 years, and all the fans that were so loyal and gave me much love when I was just a kid trying to reach a dream."
How did CULPRIT end?
John: "It got to the point where Jeff had a lot of personal demons and I got fed up with it. When we reformed CULPRIT I want to say it lasted about a year. We had a big draw and radio play but Jeff had his issues and I couldn't take it any longer."
What did you do following the demise of CULPRIT- any bands of note that you played with?
John: "Yes- but I took a few years off because it wasn't fun to play anymore. I got a band together called DEVOL and I didn't want to call it that- that happened by default. I was at an AC/DC show and people wanted me to autograph these flyers with our first gig and I saw my drummer decided to call the band DEVOL when he went to print the flyers. That lasted for a couple years- we drew well and had some label attention but once again I had a singer that got a little uppity and I needed a change. DEVOL was a lot simpler than CULPRIT- flash guitar moreso than anything. A lot more in the pocket with a lot more groove to it. We did demos but it turned into an 80's LA generic sound by the end that I wasn't proud of. Just recently I got into a band called PORKFINGER but we are looking for another singer as he flaked out on us. We were signed to a Canadian label and that's pretty cool. This was done 2-3 years ago, recorded as a demo tape but the label picked it up to put out on CD. A local cable show played our unplugged show in Canada and the label wanted us to showcase in Vancouver as a result. The label thought we were an acoustic band- it was really weird. They dug our material anyway- so we did the album and they want us to record another. But our former singer is probably locked up by now."
Scott: "After I left CULPRIT I joined TKO. We did some really great shows as we toured with FOREIGNER, TED NUGENT, DIO and got booed off the stage every night we played with Robin Trower. We went to Hawaii and recorded a record. We wrote some cool songs and I learned a lot. Same story, couldn't get a major label deal and was forced to move to LA to try and get one. I went there originally to scope out the scene and work on new songs for the next record with KJ. Brad Sinsel our singer never got his shit together fast enough to move down so we formed the BANG GANG. We got a publishing deal with BMG Music and it was the first real money I ever got in the music business. We finally got a deal and I co-produced our debut album "Love Sells". It's not heavy metal, it's more glam punk but I'm very proud of it."
Bud: "I put my kit in storage and started working for a chemical compounding company. No not making methamphetamines but epoxy and textile inks...stuff like that. And then in July of 1989 I got married to my beautiful wife Holly (who I met backstage at the Paramount show thanks to John DeVol's ex-girlfriend). Holly kept telling me to keep playing the drums but I didn't. After years of her kicking my ass about playing, out of the blue a friend of mine shows up at my door with his 8 song demo tape he had just finished recording. It was a cross between THE SCORPIONS and JUDAS PRIEST. The guitar work is what caught my attention (Marty Schalk). I told him I liked it and started giving suggestions on certain songs. He asked me if I could learn the tape in a couple of weeks and maybe go into the studio to re-record them. I agreed, then called back the next day and said I knew all the material and was ready to jam. He laughed and said 'yeah,ok- come on over tomorrow and we'll jam'. I don't think he believed me until I set up and played. It felt good to get the creative juices flowing again. Then in August of 1991 I was involved in an industrial accident at work. My left hand was holding on to a hydraulic line of a fork lift that used 5,000 lbs. of pressure to move large tanks from side to side at the mixing site. As I threw the switch to shift the tank over, the line blew up and injected my hand with hot hydraulic fluid. I was the only one in the building at the time and in TOTAL SHOCK!! My hand was the size of one of those big foam hands you see fans waving around at sporting events, and burning hot!! The weird thing is there was no blood or hydraulic fluid to be found...it was all inside my hand. 11 days in the hospital, 3 surgeries, lots of therapy and positive thinking brought me to where I can use my hand and still beat the shit out of my kit. I've been working for Frito Lay now for the past 9 years...it's much safer. I didn't play my drums again until the 2nd CULPRIT reunion in 1997."
A reunion show occurred in 1997 with TKO and OVERLORD where 4,000 people attended. Was this the original lineup and what are your memories of this night?
John: "Yes it was definitely the original lineup- we hadn't played together in 14 years. Actually it was the everyone outside of Kjartan. The TKO thing was outdoors- it was a very cool venue. Lots of people and we rehearsed for 3 practices- sounding better than it ever had. Jeff showed up for 1/2 a practice and the night before the show I got a call from our old road manager telling me that Jeff got arrested. They wanted to know if I'd put up my cars to bail him out of jail and I said no. We went to the show nervous as hell and we played without a singer. All the people in the crowd picked up the lyrics/singing and it was cool. It was one for the lore- we did a few more shows a couple months after in clubs when Jeff got out of jail- they were really good and we packed the clubs. We had a lot of older fans and new people- people had heard about us. We may re-record the old album and put on some additional tunes sometime."
Bud: "John, Scott and I went on anyway even though Jeff got thrown in jail. Scott did his Lemmy impersonation on "Guilty As Charged" and that was a riot. We even invited people up on stage to sing! The response was overwhelming!!"
Is there a chance to see the album released as an offical CD, not as a bootleg like it's currently done with the MEDIEVAL STEEL album?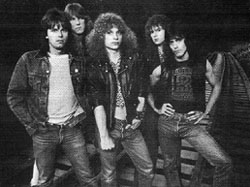 John: "I've seen that bootleg- I want to know who's doing that! Over the last couple of years I was playing out with PORKFINGER I'd always get people that would come out and want to autograph your CD's and these people would come up to me with these old CULPRIT CD's- and I wondered where they got it from. They'd tell me it was bootlegged from Europe. I thought inevitably there would be a demand for it but apparently more than I was guessing. Consequently we are talking about getting the old tapes and probably remastering them- or maybe even have us rerecord the whole thing, as I think that would be a gas. It would be a better product and a whole lot more fun to do. Right now Bud and I are going to get a webpage about CULPRIT going and see what the fan reaction is. Once we get it going- it could be this month- we may have some live video footage for sale. I've got some stuff- even the reunion shows are on video."
Do you keep in touch with any of the former CULPRIT members?
John: "With Bud, yes- as he doesn't live too far away from me. He lives north of me- he's about 20 minutes away so we see each other and get our kids together to play. Scott lives in Los Angeles- I talk to him once a month and we just chat. Jeff- I don't know what he's up to and I haven't talked to Kjartan in years, but not for lack of trying."
Bud: "Scott, John and I are family. Scott lives in L.A. so we email each other daily with occasional phone calls. John lives a few minutes away, we get together for a cold one every so often. I take my two boys Ben(9, guitar) and Zach (5,drums) down to his music store to visit with him. He gives me great deals on equipment that I could never get elsewhere. I just got off the phone with Jeff. He calls to check in once in awhile. He's like a gypsy, moves from place to place. It's hard to catch 'The Germ'...even in the flu season. As far as Kjartan I spoke with him in 1997 to tell him about the reunion show."
Would you change anything about your time with CULPRIT if you could- concerning shows, promotion and band activities?
John: "I would have put a bigger leash on Jeff and I would have definitely persued major management moreso for our sake. We waited too long in our career to get management- because now Seattle is a music mecca and everyone moved here."
How does it feel to have people still get in touch with you based on your efforts from 15-20 years ago?
Bud: "Unbelievable! It gives me a woody...I think we need to get together and JAM!! I'm blown away that people even remember CULPRIT, yet alone are interested in what we are up to."
John: "Over the last six months I've done over 20 interviews, and it's very flattering. It takes me back to when I was younger- it's a lot od stuff I'd forgotten and it makes me remember. When the Hendrix people called me I was giggling like a little kid. That was amazing- I've talked to so many magazines. My wife can't believe it- we've been married almost 10 years and I've done more interviews in the last 6 months- it's more than ever."
Do you still follow the metal scene- and what are some of your favorite bands/albums of all time?
John: "Not really- I didn't really follow it then. By default we wrote stuff that was heavy. The new stuff that's out, I listen to it and I go out to clubs sometimes but all the distorted vocals make it a different kind of music. I can't understand being tough just to be tough, I don't buy into that. Just because you have tattoos and tune your guitar down doesn't make you heavy- so there's not a lot of thought put into that. Favorite bands of all time- DEEP PURPLE. Early PURPLE was so far ahead of their time- the stuff from the early 70's and mid 70's. I know BLACK SABBATH were considered the kings but DEEP PURPLE put out some killer stuff. I love the song "Burn" and the "In Rock" albuim- to this day it still works for the songwriting. I liked early rhythm and blues and the Motown thing- I liked the whole style. In recent months I love the new Jeff Beck album- I got a chance to see the show a couple months ago in the area. Jeff gave me goosebumps."
Bud: "No, I don't follow the metal scene anymore. Wow, favorite bands....I'll try to make this short. THE BEATLES, LED ZEPPELIN, QUEEN, THIN LIZZY, DEEP PURPLE, KISS, RUSH, YES, BLACK SABBATH, IRON MAIDEN, JUDAS PRIEST, METALLICA, VAN HALEN, QUEENSRYCHE, ANGEL WITCH, RAVEN, UFO. As far as albums of all time- all of the BEATLES and LED ZEPPELIN albums, "Kiss Alive", "Sheer Heart Attack", "A Night At The Opera", "2112", "A Farewell To Kings", "Killers", "Stained Class", "Van Halen", "Master Of Puppets", "Operation Mindcrime", "Not Fragile"."
Scott: "I actually do not follow the metal scene and didn't even know that there still was one. Over the last few years I've really gotten in touch with my roots and started buying a lot of remastered CD's that I grew up listening to. As far as the greatest bands and recordings of all time...there are so many but here's a few. BLACK SABBATH "The Osbourne years", JUDAS PRIEST "Hell Bent For Leather" and "Stained Class", CHEAP TRICK the first 3 records, IRON MAIDEN "Killers", "The Best Of Deep Purple", "Led Zeppelin II" and "Physical Grafitti". Everything from the ROLLING STONES. I also like U.F.O., ANGEL WITCH, RAINBOW, RUSH, VAN HALEN, THE SCORPIONS, THE CULT, JEFF BUCKLEY, TED NUGENT among others."
Can you tell the readers about the new website that you've developed on the band?
Bud: "Well it came about when I got an e-mail from a friend that said the "Guilty" lp was being sold on E-Bay in CD form. I looked it up and sure enough there it was. You know we never saw a penny from any sales from that record ever! And here it is being sold today. I sent them an email asking what was up with that and they wrote back saying it was a German import and it sounds like it was copied off vinyl and the artwork is pretty cheap. That really pissed me off...not so much as the money we never saw but our fans were being burned as well. I'd sure like to know who's behind this scam...of course there is nothing that we can do about this now. Anyway, with all the hype from E.M.P. (a museum being built in Seattle) and CULPRIT being placed in the museum my wife Holly and I started talking about a website. With all this modern technology and the world at our fingertips it would give us a chance to show and tell the world the real CULPRIT story. She got pumped up and when I came home from work the next day she told me I now own http://www.culpritlives.com so we'd better get busy. We are trying to obtain the master tape of the album so we can remix and re-release it along with the 4 song "Metal Heart" demo as a special edition. Also maybe some old live recordings of shows prior to recording the "Guilty" album. This way we could feel better by putting out the record the way it should have been in the first place and the fans would actually be getting something from the band and not from some scum sucking waste of sperm!!!"
Final thoughts for the Snakepit readers?
John: "There's a lot of talk about us doing shows in Europe next summer...if the feedback is a success it will be welcomed. My address is: 12117 25th Ave SE/ Everett,WA/98298/USA."
Scott: "I'm glad to see that heavy metal is still alive. I hope someday CULPRIT will do some shows in Europe. You never know what the future holds. Thanks for letting me reminisce about the past. It was a very special time in all of our lives."
Bud: "You are truly loyal and dedicated fans to ALL bands here and gone...it's YOU that keeps metal and dreams alive!! I certainly hope that one day CULPRIT can get over to Europe and do some shows in the near future...Let the Reign Of Terror continue. A special thanks to all the staff at Snakepit for giving me this opportunity to stroll down memory lane and especially for a feature article on CULPRIT."

Website: http://www.culpritlives.com

Matt Coe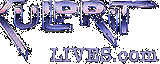 The pictures on this page are taken from this official Culprit website!