When you think of Melodic/Symphonic/ Progressive Metal, countries like Germany and Italy come to the forefront in terms of popularity and breadth of bands playing this style. Therein lies the unsung Dutch quintet ELEGY, who've quietly built a decent following of people who dig the mix of high-pitched TNT-styled vocals and equally quick arrangements that feature a bevy of riffs, time signatures and guitar mastery. Their newest singer Ian Parry has added a smoother delivery to the ELEGY fold, in the process increasing their popularity. The following interview was conducted with him and bassist Martin Helmantel, spanning their lengthy career....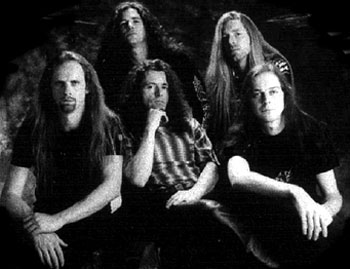 Can you begin with a brief history of the start of ELEGY?
Martin:" ELEGY was formed by Henk van der Laars in 1986. I joined the band in 1987 when ELEGY entered an international band competition organized by Metal Hammer magazine in Polydor Records. Out of 450 bands ELEGY became the winner of this contest. Due to problems in the organization ELEGY never received any of the prizes (like a worldwide recording deal with Polydor). In the years after ELEGY concentrated on recording demos, playing live gigs and looking for the right musicians. After a couple of demos ELEGY scored a recording deal in 1992."
Between 1986-1989 the band recorded 3 demos, "Matricide"(1986), "Better Than Bells" (1988) and "The Elegant Solution" (1989). Can you tell us about each tape and the evolution of the band- had ELEGY cemented a particular style or were you still growing as musicians?
Martin:"The demos were done with the very first singer Chris Terheijden, who was very different from Eduard (who sang on the first album) but musicially we had already adopted our own style. None of the songs off these demos were ever used on an album. There were however two more demos from 1990 and 1991 featuring five songs that we used for the first album. These demos were made for some record companies and were the first to feature Eduard's vocals and Ed Warby on drums. And of course these demos were part of the growing process of ELEGY."
In 1993 the band gained a record deal to record "Labyrinth Of Dreams" on Shark Records. How did the band occupy its time from 1990-1993, and were other labels interested in the band as well?


Martin:"ELEGY played gigs in this period and did some demos for some record companies but Shark came up with the best deal at that time so we signed with them."
How well did "Labyrinth Of Dreams" do worldwide and do you believe Shark Records did all they could to promote ELEGY effectively?
Martin:"The "Labyrinth Of Dreams" album sold between 35 and 40 thousand copies and is still selling good because it has been re-released in some countries (like Japan). Shark never did much on promotion because the label was too small to really promote us the way they should have. So the album did great without even a good promotional campaign."
You changed drummers with Dirk Bruinenburg joining and Ed Warby leaving to persue GOREFEST. You also gained a new guitarist in Gilbert Pot. Where did you discover Dirk and Gilbert, what previous bands had they had experience in?
Martin:"In between Ed and Dirk we worked with a guy named Serge Meeuwsen, who got his picture on the "Labyrinth" cover, but he was only in the band for a few months. Dirk was a friend of Ed's and decided to give us a call after his old band VULTURE broke up. First rehearsal he amazed us because he knew all the songs perfectly and when we asked him how he knew each and every little drum fill in the song, he told us he had gone over to Ed's house only once to practice the songs... what a guy! We did a gig with him a week later! Gilbert was a good friend of Serge Meeuwsen's who would come to some of the rehearsals. So when we had to look for a new guitarist he entered the picture. Gilbert used to play in a band called ZARATHUSTRA."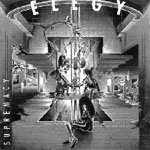 Your second album "Supremacy" came out in 1994, and you switched labels joining the Noise Records offshoot T+T. How did this deal come about and did you see dramatic improvements in terms of promotion and sales from the move as a result of changing labels?
Martin:"T+T is a cooperation between Shark and Noise so we didn't really have anything to do with that. In terms of promotion not a whole lot changed unfortunately, and we feel that not many people knew about the record or us at the time it was released."
During 1994 you were able to tour with diverse acts like ANNIHILATOR, PHANTOM BLUE, THE GATHERING and GOREFEST. Any particular tour stand out for you in terms of fan appreciation and a sense that you were gaining your own following?
Martin:"Most of these bands we only did 1 gig or a few gigs with but in those days we gained new fans with every show we did!"
In the summer of 1995 "Lost" your third album came out, but I sense there were many problems in the band as Gerrit Hager (keyboards), Gilbert Pot (guitar) and Eduard Hovinga (vocals) all left following the release of the record. What happened within the band to cause this big change in lineup?
Martin:"After the recordings of "Lost" Gilbert left the band because he wasn't satisfied with his share on the album as far as writing and solos were concerned. At that point we had already decided to continue without a second guitarist. A few months later Eduard told us he no longer wanted to be in a Heavy Metal band and that he and his best friend Gerrit were starting a band playing Alternative Pop music. Funny thing is, their new band PRIME TIME sounds like a Melodic Metal band, which he had just left and yet he claimed he was tired of playing this style of music."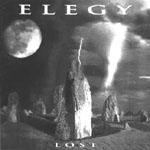 Do you wish in retrospect to have recorded "Lost" maybe with Ian Parry singing considering the inner turmoil in the band?
Martin:"Yes, I wish we would have found Ian sooner but at that point we didn't know that Eduard was thinking of doing something else. If we would have known I don't think we would have recorded "Lost" with Eduard."
In 1996 you found Ian Parry as your new vocalist, and he previously sang with VENGEANCE and did a solo recording before joining ELEGY. How did you discover him and did you want a vocalist with a smoother delivery than the previous paint-melting highs that Eduard had?
Martin:"We didn't really find Ian Parry, he found us! After he got a call from a singer that we tried out before (and didn't make it) he decided to call me and that's how it happened. He was exactly what ELEGY needed at the time to continue forward."
Ian's first recording with ELEGY was the "Primal Instinct" EP, which consisted of reworking older ELEGY songs in an acoustic context. Why didn't the band just start fresh on recording a new studio record or was it T+T's suggestion to put something out quickly with your new vocalist?
Martin:"It was really JVC's (our Japanese label) idea. They had been asking us for quite some time to do an acoustic album and when Ian entered the band we gave it a try and out came "Primal Instinct".
Can you describe to us the style of music and songs that your solo albums and previous band VENGEANCE had and how it differs from what you do within ELEGY?
Ian:"Basically the style of my first solo album is Album Oriented Rock. The 2nd and 3rd albums are Melodic Hard Rock. My former band VENGEANCE was more Traditional Hard Rock, whereas ELEGY are far more Progressive."
Last year "State Of Mind" came out, and stylistically seemed more straightforward in terms of less guitar dominated riffing and more attention to solid, catchy songwriting plus better lyrical ideas. How do you feel about "State Of Mind" now, and did it improve ELEGY's following?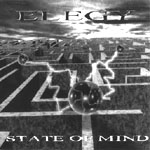 Ian:"In my opinion being the new vocalist in the band, I think we did a great job integrating my style of singing without changing the original direction of ELEGY. The band gave me the freedom to write songs on the "State Of Mind" album, which I did, trying carefully to write in the style of ELEGY. "State Of Mind" was a great opportunity to build a solid fan base for ELEGY with me being the new frontman in the band."
You toured with fellow T+T Records act STRATOVARIUS in support of that release, how was that tour and any fond memories to share with the readers?
Ian:"The tour with STRATOVARIUS was the first European tour for ELEGY and a huge success. I believe ELEGY was the ideal opening band for STRATOVARIUS. Every night for five weeks we fired up the audiences from Spain to Italy, Germany to Greece. We were even asked by Timo Tolkki (STRATOVARIUS' guitarist) to play two additional shows in Finland. My most memorable experience of the tour was visiting the Acropolis with the band, then in the evening playing to a packed house in Athens. After two songs we had to stop playing, because the audience started singing a Greek chant to ELEGY to show us how grateful they were. Amazing!"
FAD Records released the album stateside, giving you your first chance to be properly heard in North America. You were scheduled to play the Powermad Festival 1997 in Baltimore, but that didn't happen. What were the circumstances that stopped you from coming to do the show?
Ian:"Basically we couldn't arrange our work permits in time. There may be a chance to play Powermad in 1999, because Century Media, our new distributors in the USA, will help us make the necessary arrangements allowing ELEGY to play."
How did the latest keyboardist Chris Allister come into the picture, and did he have previous band experiences of note before joining ELEGY?
Ian:"We came into contact with Chris via a Dutch booking agency. We knew Chris by name, because he worked with the ex-VANDENBERG singer Bert Heerink."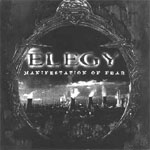 This year your new album "Manifestation Of Fear" came out and I believe it bridges the style of older ELEGY with the newer, melodic sensibilities that Ian's vocals can confidently carry. Describe the making of this record, and some of your favorite songs?
Ian:"The album started when I created the basic story, which I explained to the other members of ELEGY. The band loved it, but agreed that if we did a concept album, then it would have to be different from the normal approach of a concept. To do this we consciously wrote the songs, without the usual crossfades, so the fans can listen to each track as an individual song as well as being a chapter of a complete story. We then spent about four months writing and rehearsing the songs, so they would fit together like pieces of a jigsaw puzzle until the right atmosphere was created for each chapter of the story. We recorded the album at Area 51, owned and engineered by Tommy Newton, which took three weeks. A relatively short period of time because in the words of Tommy, "I'll be surprised if you guys pull it off". This we did, and Tommy then mixed the album together with Henk within 12 days. My favorite songs are "Frenzy", "Manifestation Of Fear", "Master Of Deception", "The Forgotten" and "Metamorphosis"."
You used an outside producer in Tommy Newton for the new album, what did he bring to the table that you couldn't do on your own, because most of ELEGY's previous albums were self- produced?
Ian:"Originally we intended to produce the album ourselves, because we'd done all the pre-production and arrangements. We had casually mentioned to Tommy that we would have preferred him to produce the album, then to our surprise he said if the offer is still open, he'd love to do the production. This helped us in a big way, enabling us to concentrate on our performances, while Tommy did an excellent job making sure that the all important details in the sound were there. One example was Tommy managed to borrow the original snare drum on the WHITESNAKE song "Still Of The Night" from the 1987 self-titled album. He also let Henk record all the rhythm guitars on his customized Jackson and Gibson Les Paul. This gave a lot more variation to the guitar sound. ELEGY made the right choice and the result speaks for itself when you listen to this album."
How is ELEGY able to be so productive so quickly? You've released five studio albums in six years, where many Metal acts struggle to write an album every two years...
Ian:"We don't like to let the grass grow under our feet. It's important for any band to move forward. Each album we make is a piece of history captured in time. Our aim is to improve the creative process with each album we make."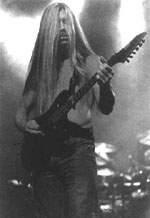 I noticed that Dirk had more of a hand in songwriting on the latest two records than noted previously, does he have a different angle at songwriting because of his rhythmic perspective versus Henk van der Laars as a guitarist?
Ian:"Normally Dirk works together on basic riffs, helping to inspire Henk to create interesting twists in the arrangements. This seems to work the best over the last few years, and is the reason why Dirk's contributions are noticeably more frequent on the last two albums."
I'm surprised that no one has taken on the duties to build a website exclusively devoted to ELEGY. Are there any plans in the future for this to happen and what are your impressions of the internet and its presence for Metal music?
Ian:"The main reason is due to a lack of time. ELEGY doesn't have management, so we have to split these duties amongst ourselves. However, we do intend to start our own website later this year, but at present our record company Modern Music in Berlin has an ELEGY site on their Noise Records website."
Can you tell me about some of the musicians you admire both past and present?
Ian:"I guess the one singer who has inspired me and other vocalists like David Coverdale is Paul Rodgers from FREE/BAD COMPANY. When I was younger I used to study his style and the way he would combine Rock full voice technique together with a Bluesy element. Recently while in Tampa Florida where I was recording guitar parts with Thom Youngblood and Glenn Barry from KAMELOT for my new 4th solo album, I was overwhelmed to hear Paul Rodgers voice on radio and in many cafes. It proved to me that America has excellent taste when it comes to Rock music."
Tell me about your recent headline tour across Europe with KAMELOT. How does it feel to finally attain that status in more than just Japan?
Ian:"The co-headlining European tour we did with KAMELOT was for only two weeks, but it was one of the most relaxing touring experiences I have had. Not only did the style of both KAMELOT and ELEGY fit perfectly, but we all clicked like buddies from day one! I have to say I have personally been very lucky, because as a result of touring with KAMELOT I had the opportunity to visit the USA, namely Tampa for the first time in my life. I have been recording songs for my upcoming 4th solo album, with Thom and Glen in Casey Grillo's studio. I have built up a great friendship with the guys and I intend to record more songs in 1999 with them. So I hope that ELEGY and KAMELOT can continue this teamwork together touring the USA in the future. Regarding our feelings about ELEGY's achievements, we are proud of the fact that we finally broke through and are accepted all over the world, which isn't easy for a Sympho-Progressive Metal band."
Is Japan your #1 country for sales/fan support?
Ian:"I guess it is, even though sales have been increasing in Europe and now the USA. The fans in Japan are incredible. ELEGY played live in Osaka and Tokyo and we were swamped with gifts and praise before and after each show. I think the biggest recognition was when the Hard Rock Cafe in Osaka placed my old stage clothes and other ELEGY memorabilia in a glass case on the wall, next to a pair of old smelly shoes from Ozzy Osbourne."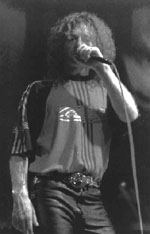 Any plans to tour the States, even if it's on a limited one or two week basis hitting select cities like New York or Chicago?
Ian:"I recently discussed the idea with Century Media about continuing our close working collaboration with KAMELOT and doing a number of live dates in the USA, so we are looking for a promoter to arrange a tour."
Can you describe the personalities of each band member and what each brings to make the band so unique?
Ian:"Dirk is the driving force behind the drumkit. He inspires Henk's creative side. Dirk is the relaxed one in the band and only comments if asked too. Henk's songs, ideas and style is what gives ELEGY its uniqueness. He's always the last person to worry about business, this is where Martin comes in. Martin keeps the balance amongst the band members. He has a talent to calm situations. Chris is the new blood in ELEGY, making sure we keep a smile on our faces. Myself I am the busy one with the loud mouth. I scream a lot, but afterwards people never forget me."
I understand that Ian and Dirk are working on material with Thom Youngblood of KAMELOT for a record. Can you provide details on this and when can we expect its release?
Ian:"Thom and Glen kindly offered to perform guitars on a number of my songs from my 4th solo album. We did this in the studio from Casey Grillo in Tampa, and the result was their style fit perfectly with my new songs. I was impressed with their professionalism, especially Thom Youngblood, and I hope to record a number of other songs with them next year. Incidentally, I also sang background vocals for Thom on his new project MONARQUE, which he's working on together with the previous KAMELOT singer. So there's more in store in the future."
How do you view the current Metal scene? Are we seeing a rebirth in Traditional/ Melodic/ Power Metal and do you think it's getting tough for the fans to choose new records to buy because of the sheer number of bands/releases every month?
Ian:"I do believe there's an influx of self-financed products on the market these days. I guess it's because most major labels have a tendency to invest in the short term, releasing products which are selling at present, without any vision on long term planning or a view to expanding their musical catalogs. This is probably the main reason why the independent labels are increasing their market share of sales around the world. Throughout my whole career I have had obstacles placed before me by A+R managers looking for a sure thing, which is why I started my own label a number of years ago. The sad thing is if they would have invested in the talent of most artists instead of focusing on a quick financial result then there would have been a total reversal of the music scene today, with a wide range of Progressive bands leading the way. What's happening now is a gradual change in the buying patterns of people. You will see a lot more melodic, Progressive and Symphonic Metal bands becoming increasingly popular. Obviously I'd like to see ELEGY amongst them as it happens."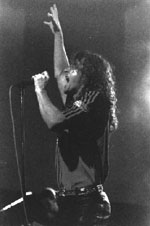 Do you think the press/media has been fair to ELEGY's albums/concerts through the years? Also, to this point which album(s) have been the best sellers for the band and do you know how the latest albums have been selling in the US?
Ian:"Yes and no! In the past before I joined ELEGY, I thought the band never received the credit it deserved. Now with the release of our latest album "Manifestation of Fear", we are starting to gain worldwide recognition which we are very grateful for, especially after all the hard work we put into it. I believe Noise FAD released "State Of Mind" in early 1998, but without media interest no artist can expect to sell records. This is now changing in a very positive way since Century Media has taken over marketing and distribution in the USA."
Has ELEGY ever made any promotional videos for its songs? If so which ones and are there any plans for a live home video release in the future?
Ian:"Yes ELEGY recorded a promo clip of the song "Visual Vortex" in 1997, taken from the "State Of Mind" album. We have no immediate plans for another clip, unless we record a live album in the future."
Are you happy with T+T Records at this point? You must be nearing the end of your contract with them...any thoughts on what the future holds for ELEGY?
Ian:"T+T have been trying their very best for ELEGY over the past few years. We have one more album to record for them, then we'll see what offers come our way in the year 2000, before we rush into another five album deal."
You've done bonus tracks in the past for Japan at the request of JVC...will these songs ever appear together for a possible mini album collection for your European/American fans? Or would you consider tacking them on to a future live album project?
Ian:"It's a possibility that we could release extra studio tracks on a live album, or unreleased material in the USA. These are ideas we hope Century Media will help us with in the future."
It seems that the Netherlands has much activity and appreciation for various Metal bands, given the moderate success of acts like THE GATHERING, GOREFEST and yourselves. Are there other recommendations you'd make for our readers and what do you think of your territory's Metal scene?
Ian:"I have lived in Holland for more than 10 years. In this time I saw a very healthy Hard Rock scene disappear, but somehow the music has always remained in the background. The bands always seem to make themselves noticed abroad at first, before people back home take notice. I guess this happens in most countries, but the important thing is the talent remains."
Five all time favorite albums...they can be Metal or otherwise?
Ian:"Images and Words" DREAM THEATER, " Empire" and "Promised Land" QUEENSRYCHE, "Frontiers" JOURNEY, and "Street Talk" Steve Perry, to name but a few!"
Where do you see music taking us in the 21st century?
Ian:"For a while I think things will revolve in a circle around previous Metal styles, before the industry decides to move forward and accept chance. After this the metal scene will adopt a more melodic sound with a stronger emphasis on the vocals."
Final thoughts for the readers?
Ian:"I would like to wish you and your readers the very best of luck in 1999. Whatever you try to do in life, and no matter how hard you try, even if things seem unreachable. Don't despair. Keep on going and you'll win in the end! All the best..."

Matt Coe