Another act caught between the cracks of the Speed/Thrash wave that took the Bay Area by storm was GRIFFIN, a talented quintet who released a debut album in "Flight Of The Griffin". Over a decade later Old Metal Records saw fit to have this album grace a CD, and hopefully everyone will catch on to this powerful mix of IRON MAIDEN-like guitar mastery coupled with shrieking vocals and a sense of youthful exuberance rarely heard in today's bands. Through the help of Dave Starr I was able to locate former bassist Thomas "Hawk" Mayberry, and what follows is a trip back into their history...enjoy.
FLIGHT INTO METAL ETERNITY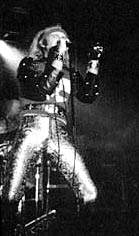 Tell us your beginnings in the world of Metal growing up- how you discovered this style and your journey from listener to playing in bands?
Oh man- I think it was back in the 1960's when I first heard MC5, another Metal band was CAPTAIN BEYOND- they were really cool. Of course I followed into BLACK SABBATH - early on I liked DEEP PURPLE and MOUNTAIN because they were really loud and obnoxious. Those were the main ones for me. I'd say GRAND FUNK RAILROAD inspired me to be a musician- a friend of mine and myself were back in grade school listening to them before we were in high school, so I knew I wanted to be a musician at age 9. I began playing with the clarinet, and moved on to the saxophone in the 8th grade. As a freshman in high school I got my first bass guitar and went from there.
Was SINISTER SAVAGE your first original Metal act?
Oh no- I was in a band with the guitar player from NIGHT RANGER Brad Gillis that was in high school- we played together for quite a few years in a band called NEXT. After high school I got into a big Progressive thing and started to listen to YES, KING CRIMSON, EMERSON,LAKE and PALMER- I was doing that for quite a while. From there I went into a Progressive band called EQUINOX- then I went into a band called PREMIERE which was Progressive Metal meets Punk back in 1979. By 1980 I was in a band called HITZ because I didn't have anything to go to- so I stayed there for a couple of years before I joined up with SAKER- then I moved on to GRIFFIN.
So you were pretty much a Metal veteran by the time you joined SINISTER SAVAGE?
Yes- they basically had told Henry Hewitt (an early guitarist in SINISTER SAVAGE) about me and they needed a bass player. So SAKER's singer Mark Tate told Henry about me and then Billy (William McKay/vocalist) called me up to join them in 1982. My time in GRIFFIN lasted until 1985 when the band didn't like me playing with other projects. I was playing clubs to make money because I didn't want to work a day job anymore and they came into a gig one night and fired me. That kind of ended their band because they couldn't find anyone else to replace me. Yaz (GRIFFIN's other guitarist) bailed soon after.
What can you tell us about the formation of the band, which occurred in 1981 by vocalist William McKay, guitarist Rick Cooper and drummer Rick Wagner?

That's exactly how it formed- William came originally from Brockton,MA and moved out here to California in search of a band. Rick Cooper was a transplant also, as he originally lived in New Jersey. They had a little demo tape that they did with Henry in the band, and then when I came in we recorded the 5 song demo at the Automat- plus we recorded a 12 song demo in San Francisco.
At what point did SINISTER SAVAGE change their name to GRIFFIN- and how did you reach this decision?
I think there was another band that had the same name SINISTER SAVAGE- so we changed the name to GRIFFIN in early 1982. We had the lion with the wings on the logo, so instead of a bird's head we put a lion's head to make it cooler.
Your first demo with the band was recorded in February 1982, a five song effort which only included one future album track with "Hell Runneth Over". Can you give us some details on the recording, the time spent on this and why the other songs never made an album appearance?
That took about four days- we just went in and banged them out. The songs on that demo were "Lick Your Problem", "Robot White", "Hell Runneth Over", "Freeway Lady" and "Set You Free". About the other songs that never made the album- Billy didn't think that they were representative of what we were doing at the time- so we squashed them. There's some really good songs on that that I liked, but Billy refused. That's a sore spot for a lot of us in the band, because Billy was a headstrong kind of guy and if anyone butted heads at practice it was him and I. We'd argue and I'd be the one to back down and let him have his way. He'd rant and rave until everyone gave in to his ideas.
Were you playing any cover material back then to mix in with the originals and if so which artists did you play?
At practice we'd jam on IRON MAIDEN, JUDAS PRIEST, ANGEL WITCH, DIAMOND HEAD, stuff like that of things that we liked. Actually one time we did a gig where we played in Alameda, our friend's band canceled out and they needed a replacement band. We did our originals plus another set of covers- which was funny because we were playing in front of a Dance crowd and we watched all these people headbanging to our music- everyone went wild. It was one of the few nights we made money- usually when we played out we just barely broke even. We played at The Stone, another place called The Old Waldorf- they'd have Heavy Metal Mondays and that was a great venue. We did a couple of headlining shows there.
In 1983 GRIFFIN recorded their second demo, a massive 12 song tape that helped gain the attention of record labels and gain a record deal. What do you recall about this recording, the studio, the songs and how well did this sell?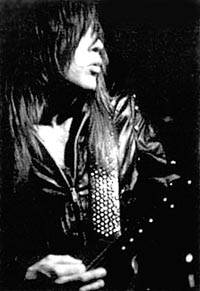 We did that in one day- we knocked it out. The track listing for that one was as follows: "Legion Of Ruin", "Heavy Metal Attack", "Break 'Em In Right", "Name Of The Dance", "Submission", "Dogs Of War", "Ten Years Ago (take 1)"- which was later to be renamed "Traveling In Time- StarStruck Studded", "Power To Burn", "Hawk The Slayer", "Ten Years Ago (take 2)", and "Flight Of The Griffin". This was recorded live to tape with no overdubs so with the absence of our fans and friends who came to see us for better or worse this tape represents what you would have heard at one of our earlier shows. It wasn't available to the public although a lot of copies got out- they wound up in Europe. Back then the scene was focused on tape trading- we'd get letters from people liking us and I wondered how they got ahold of the music. It wasn't hard for us to write material- by the time we had the first album ready we had another album ready to go and those songs should have seen the light of day. Those were some really good songs.
Were there any demos/rehearsals made of that material?
No, and that's unfortunate. I'm bummed about that- because I feel it outaccepted ACCEPT. It was strong and powerful but right after the first album Billy got into the first EXODUS album. I didn't mind EXODUS but everyone at the time was getting into the Speed/Thrash stuff and I wanted to stick to what we do and not be like everybody else. I wanted to be unique.
How soon thereafter did GRIFFIN receive a deal from Shrapnel Records? Were there other labels interested and what made you decide to sign with a local label from California?
Yes, there were a few other labels interested like Metal Blade. What was the label that METALLICA did "Kill 'Em All" on...? Megaforce. But we went with Shrapnel because we knew Mike Varney, we had good ties and Varney knew us, plus he was local so we thought we'd go with that.
You recorded "Flight Of The Griffin" in August of 1984 at Beggars Banquet Studios in Santa Rosa, CA- which was a typical of the times as most Shrapnel product was recorded at Prairie Sun Studios. Why did you choose a different studio and did the recordings differ from your earlier demo material?
Because we went up to Prairie Sun previous to recording the album to do a little demo for Varney so that he could hear all the little individual parts a bit better. We did everything live and it didn't really sound that good. Billy was tripped out about it- the guys didn't like the sound of the studio. I thought the studio itself was really good but not the sound of our recording. Steve Fontano the engineer of Prairie Sun, I worked with him later on in another band I did after GRIFFIN and I thought he was really good but of course Billy didn't like it. So we went over to Beggars Banquet to record the album. For the mixdown of the album I basically went in there for a couple of nights and afterwards horrendously argued with Billy over a number of things. We argued over things like my bass tone- I wanted more high end to not have it sound so tubby. I wanted fatness to my bass and not just high end treble and he was deadset against that until we finally compromised. I washed my hands of it- I think during the final mix Varney went in unbeknownst to Billy and cleaned things up. I called Varney and told him how the mix should sound and he agreed totally- the album sounded more like I wanted it to so I know he and Steve twisted some knobs.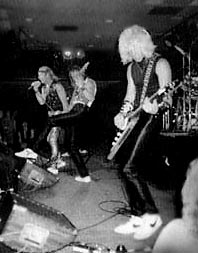 Did you guys get a decent budget to record the album?
We got a pretty decent budget on what we could spend but Billy and the rest of the guys hadn't had the studio experience like I did. They were learning and a lot of our time got eaten up by Billy's insatiable experimentation. It took a few weeks to record the album.
Who did the album cover- and did you catch flak for having a cross on the cover or being tagged as a "Christian/White Metal" band?
Well, we didn't want to be like other bands who had the cross upside down so we purposely put it right side up, because we didn't want to be one of those death, doom and destruction bands. The name of the guy who did the cover was Baker- he was an artist from North Carolina that Mike Varney had turned us onto.
How did the album fare back then?
We did pretty well but what we needed to do was get out on the road. The other guys were too homebound and didn't want to take the chance of going out and losing their places to live. They didn't want to make the effort so that kind of squelched that. Yaz's dad wanted to give us money to back us touring across the country and Europe- but Billy and the two Ricks didn't want to leave their homesteads.
Do you think the other three viewed music as a hobby whereas you and Yaz viewed it in terms of a lifestyle?
They wanted to do it professionally but they wanted this big album deal with the big recording budget and tour support- but I knew that wasn't going to happen. I knew we had to tour ourselves- go out in a little van and I've done that before. They didn't want to suffer the hardships but you have to give a little to get something back. We had a good following- but if we had promoted the album with more shows it would have sold more in the United States. Had we made it over to Europe who knows what would've gone on. I remember talking to my friends in LAAZ ROCKIT and they told me about touring Europe and people being bummed that GRIFFIN broke up. They were asked about us and when we were going to come to Europe to play. The audience was there but the circumstances there otherwise weren't.
Were you friends with other traditional acts like LAAZ ROCKIT, VICIOUS RUMORS, METAL CHURCH and so forth- what can you tell us about those bands, your memories and favorite shows of those glorious 1980's days?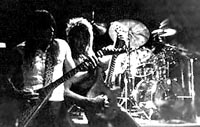 We knew the guys in VICIOUS RUMORS, METALLICA- I used to go over with Yaz and party at their house at night. I know all the guys in EXODUS- it was a cool local thing with everyone knowing everybody. Billy and the two Ricks didn't want to go out much- but Yaz and I did. We were in the scene- so we liked to hang out with other bands. One show memory I have was opening for LE MANS where we were middle bill. We came to the end of the night and after our final song we left. The band said they weren't going to give us an encore but the crowd kept pounding on the stage and made so much noise that they let us go out and do one more song. So we did DEEP PURPLE's "Burn" and brought the house down. When LE MANS came out they were acting like rock stars- and they tried to get the same encore treatment but the crowd could care less. It was like they were blown off for our cool show. Another gig we did before that one was at the Keystone Berkeley as middle bill to VICIOUS RUMORS, before Mark McGee or Carl Albert were in the band. We played that night and slayed the crowd dead- went into the dressing room and before VR went on at least 1/2 the crowd had cleared out. That was another victorious night. It was a great time for music- lots of cool venues and great shows.
When did you leave GRIFFIN and why did you leave?
I did the side gig with Rick Derringer, I was playing clubs at the time at night and some nights I just couldn't make it to band practice. They wanted to work day jobs but I could make money playing music at night. Yaz and I had to drive all the way over to Mira Loma always, they didn't want to find a place over in Alameda. I wasn't going to knuckle under- I found a way to play music for a living. The two Ricks and Billy gave me the ultimatum and fired me at that gig I spoke of earlier. This was in 1985.
Did you pursue other bands following GRIFFIN- and if so where did these bands go?
I played with another band called DIAMOND- kind of a Hard Rock band that went down to Los Angeles for awhile. It was a local thing with a guitar player named Danny Gill. This guy was a phenomenal player- the closest thing to Randy Rhoads I've ever heard. We did that for awhile until that fell apart- we would play shows with these big cabinets- four across and three high with Marshalls forming a huge wall and bass cabinets in the middle. We had a huge drum riser with the aircraft landing lights behind it- it was a great production with a good sounding band. It was a straight ahead Hard Rock band- we recorded a demo at Prairie Sun and that was a four songer that took about a week. I came back up to Alameda in 1987 and was in a band with a guitarist Greg Nelson and a singer from TESTAMENT- Chuck Billy. Chuck and I wanted to play heavy music and Greg wanted to do poser Rock- so we split apart quick and Chuck joined TESTAMENT. All the while from 1985 I'd jam with a guitarist who was the brother of LAAZ ROCKIT's singer- Bob Coons was Mr. rip roaring guitarist with diarrhea fingers. We had a Fusion band that we'd jam with and by 1987 we put the jams into streamlined songs- it was called NOISE R US (laughs). We did Metal, Jazz, Progressive- a three piece band with no vocals. In 1988 I got into a car accident and I'm now permanently in a wheelchair. That accident broke my neck and I've been retired from music playing since August 15,1988. Which was too bad because the manager of NOISE R US got a record deal with No Speak at the time I got into the accident. I now do 3D animation /special effects on my computer for movies and stuff. I'm a low level quadriplegic so I can move my arms and stuff around, but I still listen to the music.
Are you aware of Old Metal Records re-release of your debut album on CD?
Somebody told me that this album had been re-released overseas on a label called Steamhammer, but I didn't know about this. This is very interesting... I only got one royalty check in the old days. I'd love to get a CD of this. I don't use vinyl as much now that I have a CD player. I just recently ordered the MERCYFUL FATE back catalog on disc through the BMG music service....I bought "9" recently and it inspired me to get the other discs...

"9" is incredible...
But my favorite FATE album is "Don't Break The Oath". I love SABBATH too... I saw SABBATH back in the 1970's a few times at a venue in California called The Winterland. "Into The Void" is so sinister of a song live.
What do you think of "Flight Of The Griffin" reappearing 15 years after its initial release?
I'm pleased man. I always thought that our album had that classic Metal sound to it. I'm very happy that someone would want to put it back out. I don't keep in touch with anyone else though- I know that Yaz is out in Castro Valley, but he's not playing much anymore.
What did you think of GRIFFIN's second album "Protectors Of The Lair"?
I didn't really listen to much of it- after I heard the material I thought they were trying too hard to follow what everyone else was doing. I don't subscribe to that- I wanted to play our own style. On "Hawk The Slayer" we put a Speed/Thrash part in on the album where it wasn't on the demo version- we made changes here and there. We thought spot places of speed in our music was cool, but I wanted to keep us sounding like GRIFFIN. I thought our slower, more grooving stuff was very powerful.
Name five of your favorite bands as well as three essential Metal albums that all listeners/followers of the genre should own?
These are Metal bands, huh? I always liked JUDAS PRIEST, they were cool. IRON MAIDEN was one of my favorites- MERCYFUL FATE was another. METALLICA- and number five is tough. The last one would be ACCEPT. Three albums that everyone should own- there are so many! "Master Of Puppets"- a quintessential album. "Restless and Wild"- ACCEPT, I really liked that one. But it's tough, there's so many I like. I also thought that "Breaker" is close to "Restless And Wild". Actually I'll go with a SABBATH album where Iommi's playing took a turn for the better- "Heaven And Hell". Excellent album, every song just whips ass.
Where do you see Metal heading in the next millennium- and are you happy that people are rediscovering cult/underground acts worldwide that didn't gain attention back in their activity?
I would hope that things continue strong. I don't want people rehashing what's already been done- you need to carry the torch. We need the degree of musicianship to be strong- the riffs and songs should be cool. People need good lyrics, good song constructions, riff changes- less Yngwie styled noodling. I like a lot of the bass/drums that is heard in the productions today. Yes, I'm happy that people are rediscovering the older, cult acts and getting inspired. That's what GRIFFIN did in the older days.
Were you happy to see Yaz continue in HEATHEN following his departure from GRIFFIN?
Yes, in a way- but do you remember the cover they did of SWEET's "Set Me Free"? Guess who turned them on to it? Yaz hadn't heard of them before I played him the "Desolation Boulevard" album. He loved the second side of the album- so I was surprised. I made a comment to him, they put more of a Metal inflection to it but I told him the background vocals were weak compared to the SWEET version. I was surprised that he went to play bass with them but he was very good. I would always ride his case about switching from guitar to bass. Yaz and I used to hang out a lot, he left GRIFFIN right after I left because he got discouraged with the band's direction.
What does Heavy Metal mean to you?
It's like a breath of fresh air- it gets me going and keeps me alive. It's a good energy to get you moving- it's like a cup of coffee for me. I love my music heavy.
If you could have modified/changed anything that GRIFFIN did or didn't do, what would you change and why?
I would have tried to get more control away from Billy, get the band motivated to play on the road and take a shot at it. Sure it's hard to sleep in warehouses but you have to take a shot. I did that with other bands but it was fun. You either have the stomach or you don't- Yaz and I wanted it but the other three didn't.
How did you get the nickname "Hawk"?
I was the wild party one in the band. Billy came up with it- I'd be going for it. He thought I was pillaging and carousing like a slayer in a village.
Final thoughts for the Snakepit readers?
Keep the music alive- this is a good style of music and it's a viable, intense form. Don't let the style die- keep it alive!

Matt Coe